Baby quail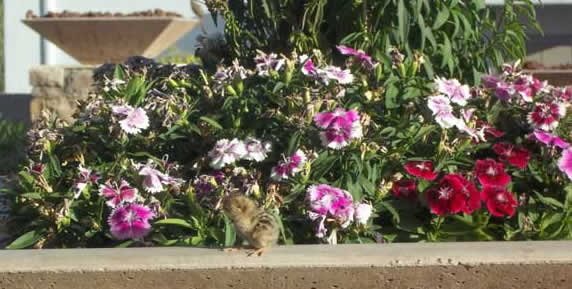 PHOTO BY SONDRA WINSLOW
"The new quail hatchlings are here! This photo was taken from inside my dining room looking out at my flowerpot that served as a nesting location for a female quail and her 10 hatchlings. This photo shows one chick less than one day old, right before he took a big 5-foot jump into the big world! I captured the photo at about 8 a.m. on Tuesday, April 22, 2015 from my home in Cave Creek near the rodeo grounds. "

To have your photo considered for publication, please send the original high resolution
jpeg file to news@sonorannews.com with Front Page Photo in the subject line.
Be sure to include your name, the date, time of day and general location where
the photo was taken, plus your permission to publish the photo.
PHOENIX – A group of Phoenix-based organizations, including the Battle of Midway Commemoration Committee, the Arizona Capitol Museum and the Arizona Capitol Museum Guild announced plans to present the 4th Annual Battle of Midway Commemoration on Friday, June 5, 2015, at the Historic Senate Chamber in the State Capitol Museum.


'MY VIEW' | BY DON SORCHYCH

Republicans were stupid and totally wrong for not filing for impeachment against Obama. While they fiddle he is destroying America. As I said last week, if he signs an executive order to legalize millions of illegals and then pardons them, we will be a one party nation.

SCOTTSDALE – When coyote puppies begin to arrive by the box full we know that baby season is in full swing! A farmer plowing a field discovered a coyote den and kindly put the puppies in a box, hoping that mom would return for them. She was nearby, but when a day passed and they were still there, he knew they needed help.