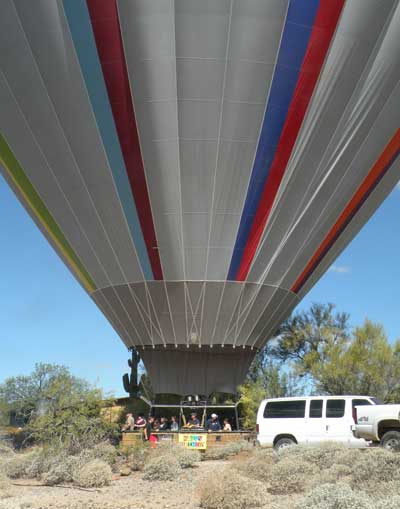 What goes up ... must come down!

PHOTO BY
SHARI JO SORCHYCH


A wayward hot air balloon makes a surprise landing at the Sorchych's residence. Don writes about their adventure in this week's
"My View"


To have your photo considered for publication, please send the original high resolution jpeg file to news@sonorannews.com with Front Page Photo in the subject line. Be sure to include your name, the date, time of day and general location where the photo was taken, plus
your permission to
publish the photo.

VOL. 21 ISSUE NO. 20 | MAY 20 – 26, 2015
Talamante stated any order relating to plaintiffs' request for an injunction would most likely not serve to end this litigation

CAVE CREEK – After taking a number of items under advisement, Maricopa Superior Court Judge David Talamante ruled on Monday in the case brought by Gerald and Janice Freeman, who sued the town, neighboring property owner Cahava Springs Corp./Morningstar Road Properties, Inc. and their neighbors Don and Shari Jo Sorchych, in an effort to prevent any trails from being developed near their property or roadway easement.


'MY VIEW' | BY DON SORCHYCH
About 9 a.m. on Saturday, May 7 Shari Jo heard the loud blast of fire used to levitate a huge balloon, but not immediately recognizing the sound, went out to investigate. Shari Jo was able to get pictures of the balloon heading our way.
NORTH VALLEY – The players warmed up, the umpire dusted off the bases, the snack shack opened and the parents picked out choice spots in the shade. It was "America's Favorite Pastime" on Saturday, May 2, and a special day for the Cactus Foothills North Little League because it was the inauguration of their new scoreboard, the icing on the cake of a recently refurbished field.
There are many things you can do to avoid dog bites, ranging from properly training and socializing your pet to educating your children on how - or if - they should approach a dog.