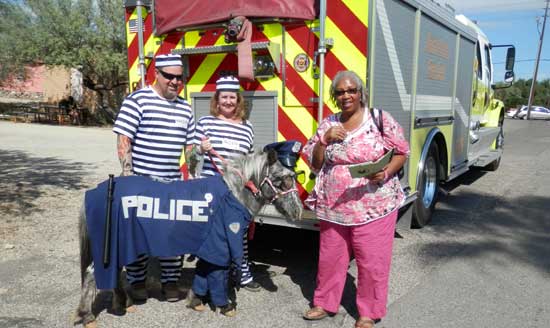 My mother-in-law and I went to Cave Creek Wicked with my five year old son. I wanted to
submit this picture as I feel this couple really deserve recognition. I hope you feel the same.
~ Jennifer Hinds

To have your photo considered for publication, please send the original high resolution jpeg file to news@sonorannews.com with Front Page Photo in the subject line. Be sure to include your name, the date, time of day and general location where the photo was taken, plus your permission to publish the photo.

SCOTTSDALE – Rep. David Schweikert (R-AZ) will join Scottsdale Mayor Jim Lane and Phoenix VA Health Care System (PVAHCS) Interim Director Glenn Costie at a press conference Thursday, Oct. 30 at 10 a.m. to announce the VA's plans to open a Scottsdale-based clinic next spring.


Tuesday, November 4, 2014 - 7 p.m.
Afrizo is a group of Daystar University students who sing in a variety of African traditions. Founded more than 35 years ago, Daystar University in Nairobi, Kenya is the first Africa-led Christian liberal arts university in Africa.


With the holiday season fast approaching, many families are planning their travels... and bringing along Fido and Fluffy to stay with them at pet friendly hotels! Be sure to plan ahead and take all the necessary precautions to ensure that your pets' travels during the holidays is a happy and safe one.