Over the Rainbow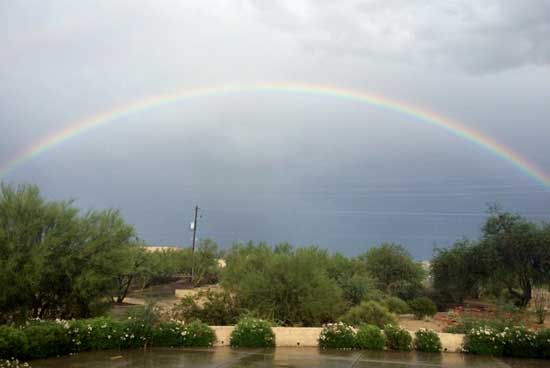 Taken after the last rain storm on Sept. 27 at the Weissner residence,
North 56th Street, Cave Creek, by Jane Weissner

To have your photo considered for publication, please send the original high resolution jpeg file to news@sonorannews.com with Front Page Photo in the subject line. Be sure to include your name, the date, time of day and general location where the photo was taken, plus your permission to publish the photo.

"In 2008, Arizona voters approved a state constitutional amendment to define marriage as a union of one man and one woman. Now, with their rulings, the federal courts have again thwarted the will of the people and further eroded the authority of states to regulate and uphold our laws.

'MY VIEW' | BY DON SORCHYCH

I hope you noticed our cartoons written and drawn by Dixon Diaz. He named some of them "Boombox" so if you Google that name you will get ads and sources for electronic boomboxes.


NORTHEAST PHOENIX/SCOTTSDALE - Kiwanis Club of Carefree is proud to announce the premiere season of Kiwanis Concert Series, raising funds for Kiwanis Club of Carefree Benefit Foundation, Inc. The Kiwanis Concert Series starts off with a bang on October 25 and 26, 2014, with "Sinatra & Friends" starring Robbie Howard.
For thousands of years, dogs have been domesticated and bred to have qualities humans deemed suitable–a literal transformation from wild animal to man's best friend. They are our companions, friends, family, and service dogs.