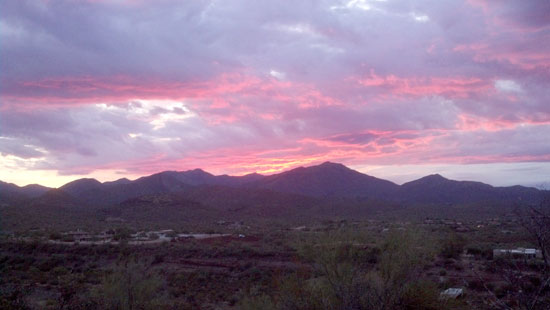 By Shari Jo Sorchych
Horizon early morning, Aug. 26

To have your photo considered for publication, please send the original high resolution jpeg file to news@sonorannews.com with Front Page Photo in the subject line. Include your name, the date and general location where the photo was taken, plus your permission to publish the photo.


'MY VIEW' | BY DON SORCHYCH

I am beginning to sound like a broken record. The more I see of Trump the more I see a brilliant, outspoken and tough man who may be the only Republican that can not only defeat a Democrat candidate, whoever it may be, but put America on the road of recovery from the damage wreaked on our country by Obama and his minions.


Wild animals arrive needing our help nearly every day. We nurse the sick back to health, heal the broken, and raise the orphans. For those with no hope, we end their suffering. We also care for many wild animals that have suffered cruelty at the hands of people. Some have been taken out of the wild while others have been purchased from breeders. Many are declawed and have their canine teeth pulled in an effort to make them better pets. Far too many are kept in small, indoor cages like a novelty to show off. Without you, and your financial support, there will be no more untold stories. Without you, we cannot be here for wildlife in need. We thank you for your continued support.
PHOENIX – Are you fascinated by reptiles? Do you have a yard big enough for a dog, but no time to take one for daily walks? Is someone in your family allergic to pets with fur or feathers? If so, consider adopting a desert tortoise through the Arizona Game and Fish Department. The department's Tortoise Adoption Program has over 40 tortoises to adopt out to homes in the Phoenix, Yuma and Prescott areas prior to the animals going into hibernation this fall.