BY LINDA BENTLEY | MAY 23, 2012
Rural/Metro tackles Monday morning Hawksnest fire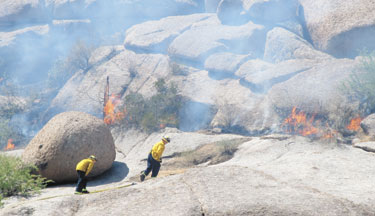 The boulder terrain on the east side of Black Mountain dwarfed Rural/Metro firefighters as they responded to a call at a construction site in the Hawksnest subdivision in Carefree.

A construction worker was cutting rebar with a grinder when sparks ignited the dry brush, causing a series of brush fires among the boulders at around 10 a.m. on Monday. Five-acre lots in the upscale gated Hawksnest community are currently listed at $1.6 million. Courtesy photo by Rich Burden
BY LINDA BENTLEY | MAY 23, 2012
Schweikert – 'It's not about ideology, it's about a calculator'
Democrat councilmen disrespect congressional candidate
CAVE CREEK – Mayor Vincent Francia invited congressional candidate Rep. David Schweikert, R-Ariz. currently serving Arizona's 5th Congressional District but running in the newly redrawn 6th Congressional District, which includes Cave Creek, to bring citizens one on one contact with a Washington representative. Keep reading ...
BY LINDA BENTLEY | MAY 23, 2012
Foothills Caring Corps receives AED from Rural/Metro
Rural/Metro challenges local businesses to add AEDs for customer safety
CAREFREE – Because of the large number of elderly citizens served by the Foothills Caring Corps, Rural/Metro Fire donated a portable AED (automatic external defibrillator) to the organization last Thursday. Keep reading ...
BY LINDA BENTLEY | MAY 23, 2012
Bizarre set of motions continue planning cases until September
Jean stated publicly, 'the dumpy little town of Cave Creek is good only as a place for Scottsdale residents to buy beer and T-shirts'
CAVE CREEK – Representing Park West Development, Attorney Paul Gilbert said this was the fourth time an application for a land use change from Desert Rural to General Commercial was before the planning commission for his client's two parcels totaling approximately 4 acres west of the CVS store on Cave Creek Road and Carefree Highway. Keep reading ...
BY LINDA BENTLEY | MAY 23, 2012
Development fees brought to Cave Creek Council during Call to the Public
CAVE CREEK – Call to the Public brought Wild West Pawn owner Dana Gonder to the podium to address council about the development fees he is being charged to remodel the former home of Cody's Steakhouse that he recently purchased. Keep reading ...