BY LINDA BENTLEY | MAY 23, 2012
Foothills Caring Corps receives AED from Rural/Metro
Rural/Metro challenges local businesses to add AEDs for customer safety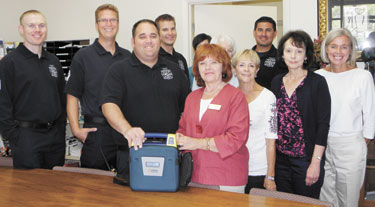 Flanked by Rural/Metro firefighters, Capt. Ryan Travis presented Executive Director Debbra Determan with an AED (automatic external defibrillator) for the Foothills Caring Corps on Thursday, as Caring Corps volunteers showed their gratitude for the donation.
Photo by Linda Bentley


CAREFREE – Because of the large number of elderly citizens served by the Foothills Caring Corps, Rural/Metro Fire donated a portable AED (automatic external defibrillator) to the organization last Thursday.

Rural/Metro recently donated an AED to the Desert Foothills Library in Cave Creek as well.

In addition to donating AEDs to both nonprofit organizations, Rural/Metro has also provided free training to approximately 75 area citizens, employees and volunteers on its use as part of its CPR program.

The AEDs are fully automatic and provide complete speaking instructions on the device's use and the newest models even determine when and if to automatically provide shock without requiring the person(s) assisting to push a button, as in earlier models.

Rural/Metro provides free CPR training, including use of the AED, to Carefree residents through its designated CPR fund and charges nonresidents a nominal $25 fee.

Participants receive CPR certification for two years.

Acknowledging the median age of Carefree residents is 56 years old, the town of Carefree has purchased eight AEDs and has certified its staff.

A grateful Ned Dobak, whose life was saved by an AED during a Carefree Council meeting, purchased one and donated it to the town.

Two years ago, Harold's became the first business in town to purchase an AED and have its employees certified in CPR.

According to Rural/Metro Capt. Ryan Travis, AEDs will eventually become standard equipment at businesses much like fire extinguishers.

Due to the large number of cardiac arrest calls in the area, Travis said immediate access to AEDs on the premises can mean the difference between life and death.

Travis put out a challenge to other restaurants and businesses in the area that purchase an AED with Rural/Metro offering to provide free employee training to those who do.

He said Desert Forest Golf Club just purchased one and is in the process of scheduling CPR training for employees.

Costco sells AEDs and even carries a home model for $1,200.