Seekers of the Soul by local author Sherry Ward
July 8, 2009
Seven stories of present-day individuals who have transcended reality and their path to mastering their craft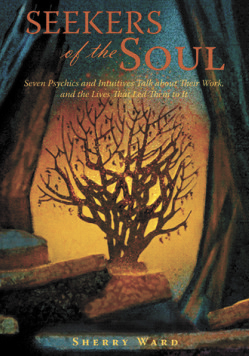 CAVE CREEK – Have you ever had that feeling? The one deep in the pit of your stomach that makes you question something even though you know it should be right. It comes from an instinct that tells you to go left when everything and everyone tells you to go right.

Sometimes we challenge the certainty of one thing and take a running leap on the chance of that feeling being correct.

Local author Sherry Ward took that chance and shares her experiences with the extra-sensory realm in her new book, Seekers of the Soul. Determined to find an alternative to radical surgery, she looked to psychics, mediums, shamans and seers for a second opinion.

In Seekers of the Soul, Ward profiles seven individuals who have mastered the metaphysical arts and documents her personal journey in understanding the psychic industry.

Ward decided she did not have cancer no matter what the doctors told her. Although tests revealed a mass in one of her kidneys, she was sure the mass was benign. Apprehensive to undergo radical surgery, Ward looked to her interest in psychic work for a second opinion – guidance that led her to a healthy, cancer-free future.

"I was told it was 95 percent likely that I had cancer," shares Ward. "My instincts told me to look for another opinion so after reading about a research project with psychics and learning that they were 95 percent accurate with their predictions if they were all in agreement, I knew I wanted to learn more. I gained respect for this craft and after speaking to a large group of these individuals, I chose to profile seven who, I believe, are true masters of this metaphysical art."

Sherry Ward began her writing career as the Sunday Features writer for a major Arkansas newspaper. Covering the gamut of topics, Ward had free reign with her weekly column. Years later, she started a corporate marketing business, which she later sold to a national franchise. Ward has finally come into her own as a writer.
Visit www.seekersofthesoul.com.
Arizona's economic recovery depends on small business
July 8, 2009
Data underscores importance

WASHINGTON – Arizona's economic recovery will depend on small business. That message is driven home in the updated Arizona Small Business Profile released by the Office of Advocacy of the U.S. Small Business Administration. The most recent data show that the state has 107,490 small employers, and they employ 97.4 percent of the state's workforce.

"Arizona depends on small business for jobs and economic growth," said Shawne McGibbon, Acting Chief Counsel for Advocacy. "During this time of financial stress and economic instability, policymakers need to remember that the state's small businesses provide the economic base for its families and communities."

To further highlight the importance of small business, the updated profile notes that small businesses created 60.4 percent of the state's net new jobs from 2004 to 2005 (latest available data).

Not only does the state's economy depend on the health of its small businesses, so too does the economy of the United States.

The U.S. has slightly more than 6 million small employers, or 99.7 percent of all employer firms, and they provide 50.4 percent of its private sector employment. These firms created 78.9 percent of the nation's net new jobs from 2004 to 2005, and they generated more than half of the private non-farm gross domestic product.

The Office of Advocacy, the "small business watchdog" of the federal government, examines the role and status of small business in the economy and independently represents the views of small business to federal agencies, Congress, and the President. It is the source for small business statistics presented in user-friendly formats, and it funds research into small business issues.

For more information and a complete copy of state and territory small business profiles, visit the Office of Advocacy website at www.sba.gov/advo.

The Office of Advocacy of the U.S. Small Business Administration (SBA) is an independent voice for small business within the federal government. The presidentially appointed Chief Counsel for Advocacy advances the views, concerns, and interests of small business before Congress, the White House, federal agencies, federal courts, and state policymakers.