Peak Concierge Services take the hassle out of living
By Curtis Riggs | August 13, 2008

Serving Scottsdale, Cave Creek and Carefree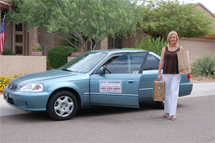 SCOTTSDALE – Karin Johnson takes the hassle out of both daily and special tasks and generally making life easier for her clients through Peak Concierge Services.

"I take care of the stuff that people don't have time to do," she said. She is willing to go to great lengths for her clients whether handling a daily task or responding to an emergency.

"Personal assistants are not only for the rich and famous anymore. Our lives have become so busy, it makes sense to delegate a person's personal to-do list to a professional and capable service company right here in north Scottsdale," she said. "This allows a person to lead a more balanced life, daydream a little, knowing we took care of the everyday chores."
Johnson uses the motto, "Call the Peak. Call it done" to explain just how much the service offers to people in their daily lives or for special occasions.

She uses a network of preferred contractors to do home repairs whenever an emergency occurs in the home. Either she or one of her employees will wait at the home while the repairs are being completed.

Through Peak Concierge's wait package a representative will wait for the cable guy, the repairman or other vendor.

Peak Concierge also offers pet and house sitting and a Senior Assistance Package, which includes transport to appointments, shopping, bill paying and other services.

"We provide peace of mind for family members that can't be around their loved ones," she said.

Peak Concierge Services can also do event or party planning and helps with both in-state and out-of-state relocations.

Clients can have Peak Concierge do their grocery shopping, transport them to movies and other entertainment, and pick up their prescriptions or dry cleaning. They also provides CPA, legal and realty services.

To learn more about Peak Concierge Services call 602-525-5805 or visit its website at www.peakservicesaz.com.