Film/art festival enters homestretch and heads for gala finale
By Curtis Riggs| July 9, 2008

CAVE CREEK - Film and Arts Festival finalists are awaiting the announcement of 41 festival awards in 14 categories. Most of the Coyote Showcases have been held and announcement of the winners is just a week away.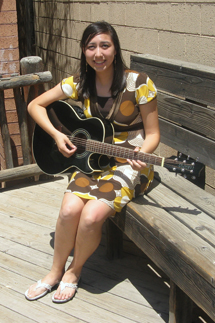 The 3rd-annual Coyote Awards Ceremony will be held at Harold's Cave Creek Corral on Saturday July 19 at 6 p.m.

Prior to the gala event on the 19th the short story Coyote Showcase will be held at Hammerhead Jack's on Sunday
July 13 at 4 p.m.

Coyotes are Cave Creek versions of the Oscars, which are awarded to first-place winners along with substantial cash prizes. Winners in the youth and adult divisions of the film, photography, visual arts, original song, choreography, short story and poetry categories will be announced at the July 19 event at Harold's.

MORE...
2008 Cave Creek Film & Arts Festival Finalists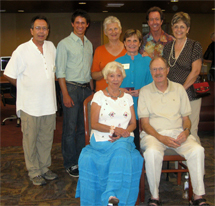 Cave Creek painters Kyle Hobratschk, second from left, Randy Galloway, second from right, and Linda Budge, far right back row are the finalists in the adult visual arts category for this year's Cave Creek Film and Arts Festival. Also shown are Cave Creek Mayor Vincent Francia, far left, adult arts festival chairwoman Kataliyn Ehling, Festival chairwoman Judy Bruce. Seated are festival finalist Ann Otis and visual art judge Merrill Mahaffey.

MORE...