"Celebrate Those in Service" party Memorial Day weekend at Silver Spur Saloon
May 13, 2009
Military, Law Enforcement, Firefighters, and others in Service to
receive 50 percent off meals Fri. through Mon., May 22 – 25

CAVE CREEK – Silver Spur Saloon & Eatery is honoring past and present service men and women by hosting the inaugural "Celebrate Those in Service" Party throughout Memorial Day Weekend.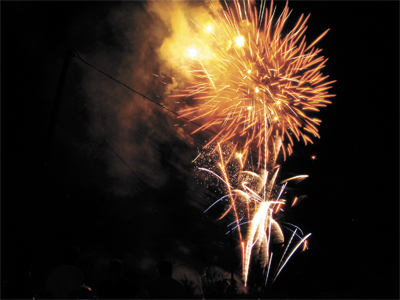 Beginning Friday, May 22 and through end of day Monday, May 25, military members, law enforcement officers, firefighters, and others in similar service roles will receive 50 percent off the cost of their meal with proper identification. The restaurant will also host a fireworks display and several fun promotions, games and contests throughout the weekend. Silver Spur Saloon is located in the heart of Cave Creek at 6245 E. Cave Creek Road in Frontier Town.

Marc Peagler, proprietor of Silver Spur Saloon & Eatery, said "Celebrate Those in Service" will be the first Memorial Day event of its kind in Cave Creek, particularly since it will feature a small fireworks display on Sunday night, May 24.

"This is our way of expressing our gratitude to all those who have worked hard to protect our freedom and to those who have put their lives in danger to keep us safe," Peagler said.

"And you don't have to be active to qualify for the discount. Just show us your identification or a medal or certificate. This also applies to non-uniform law enforcement employees."

Peagler said the entire community is invited to join in on the fun. The weekend schedule follows:

Friday, May 22: View a rare 13-star American flag that dates back to 1795 (on display the entire weekend). Live music from country band Surefire in the beer garden from 7 p.m. to 11 p.m.

Saturday, May 23: Who doesn't love a Dunk Tank? Test your skills at dunking some familiar community faces from 11 a.m. to 4 p.m. Kids can play on a large Bouncy throughout the day, or compete in the Pop-Tart eating contest from 1:30 to 2:30 p.m. Adults and teens will compete in an Apple Pie eating contest from 2:30 to 4 p.m. and couples from 4:30 to 6 p.m. The fun-filled day also features art, music and children's movies. Live music from country band Surefire in the beer garden from 7 to 11 p.m.

Sunday, May 24: Get your seat early for a Fireworks Display beginning at 8:30 p.m. During the day, enjoy live music by an "Old-Fashioned Honky Tonk" piano player, art, children's movies and music. Country band Tumblin' Dice from 6 to 11 p.m.

Monday, May 25: A jam-packed day beginning with Rural/Metro firefighters' "Drowning & Wildfire Safety Presentation" at 9:30 a.m.; a Tomato eating contest at 11 a.m.; an Ice Cream eating contest from 12:30 p.m. to 4 p.m.; and a Western costume contest for kids at 4:30 p.m. The special Memorial Day holiday also features art, children's movies, live music by an "Old-Fashioned Honky Tonk" piano player during the day and country band Tumblin' Dice from 2 to 6 p.m.

From Saturday through Monday, patrons can visit the "Packages from Home" trailer. The non-profit has been hit hard by the recession and is requesting cash or checks to assist them with shipping costs.

Throughout the weekend, patrons can also view a "Snippet of History" exhibit set up by Cave Creek Museum; view military vehicles and get readings by a psychic medium.
Admission to the "Celebrate Those in Service" Party is free.

The fee to enter the Apple Pie, Tomato and Ice Cream eating contests is $5 per adults; $2 for teens ages 13 to 18; and $1 for children ages 9 to 12. Kids ages 4 to 8 can enter the Pop Tart eating contest for free. Registration begins at 9 a.m. each morning under the gallows.
Silver Spur Saloon will donate 50 percent of proceeds from the contests to Packages From Home, with the other 50 percent going to fund Cave Creek's 4th of July Fireworks display.
For information or to make dining reservations, call (480) 488-3317 or visit www.SilverSpurSaloon.com.

Patrons visiting Frontier Town not only can dine at The Silver Spur Saloon and Eatery, they can stroll through a myriad of gift shops and view authentic artifacts from the Old West, including covered wagons, and a 13 step hanging gallows. Patrons can relax in the outdoor beer garden and even have their hair cut in the old western barber/beauty shop. Parking and admission is free. The restaurant is also booking weddings, parties and banquets through its www.wonderfulweddings.com website.