YMCA, PVCC campus to be in operation in fall
By Curtis Riggs | May 27, 2009
Area named Black Mountain Campus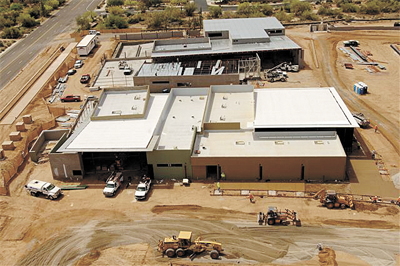 DESERT FOOTHILLS – The new Desert Foothills YMCA and a satellite campus of Paradise Valley Community College will open on 60th Street just south of the Carefree Highway this fall.

Venture partners, Valley of the Sun YMCA, PVCC, which has its main campus at 32nd Street and Union Hills, and the local Foothills Community Foundation, are calling the six acre area Black Mountain Campus.

Representatives of all three groups informed the Kiwanis Club of Carefree about their progress last week. It is fitting Kiwanis received a progress report since they recently made donations totaling $260,000 to complete the $10.5 million YMCA/community center fundraising effort. The Community Foundation will relocate to the FCF-Holland Community Center, named after Carefree residents George and Patricia Holland because of their $1 million donation.

PVCC is set to begin classes in its 10,000-square-foot Black Mountain home on Aug. 22. The Foundation will move into the 9,000-square-foot community center in mid-September and YMCA officials expect to hold a grand opening for its near 30,000-square-foot facility on Oct. 3. The YMCA will help fulfill a long held community desire, as it will have two outdoor swimming pools, one of which will be an Olympic-sized lap pool.

Long-time Kiwanian Kathy Haugner was a mover in getting money raised for the YMCA. She offers the Action Club, a group of mentally-challenged adults who will receive therapeutic value from swimming, as an example of those who will benefit from the new pool. A large number of area families and young people will also benefit.

"We hope to be very involved in the new Black Mountain Campus," she said.

The YMCA facility will have workout rooms and other exercise areas for both young and old.
There will be a multi-purpose room in the community center, which will feature the latest in audio-visual technology, a café and meeting rooms.

The PVCC building will be separated from the community center by just a few feet.
Bob Herrmann, who is heading up volunteer efforts for the foundation, says an unusual thing about this YMCA/PVCC effort is normally YMCAs are built inside communities and receive much municipal support. This is not the case for the Black Mountain campus. He said much of the fund-raising, which was headed up by former Foundation official Jim Reed, came from individuals in the Desert Foothills.

"We want programs to address every age group," he said about what the YMCA and community center will offer.

The idea for the three Black Mountain Campus partners is to share common ideas and values. Community service, life-long learning and health and wellness will serve as the three guiding principals for the venture.

Courtesy Photo
The new Desert Foothills YMCA, a satellite campus for Paradise Valley Community College and the FCF-Holland Community Center will be in operation this fall at the new Black Mountain Campus on 60th Street just south of the Carefree Highway.