Bird nesting boxes handed out in community

By Curtis Riggs | April 29, 2009
Part of national Nestwatch effort

DESERT FOOTHILLS – Volunteers with the Black Mountain Conservancy and bird watchers throughout the community are participating in the Nestwatch Nest Monitoring program, which is ongoing nationwide.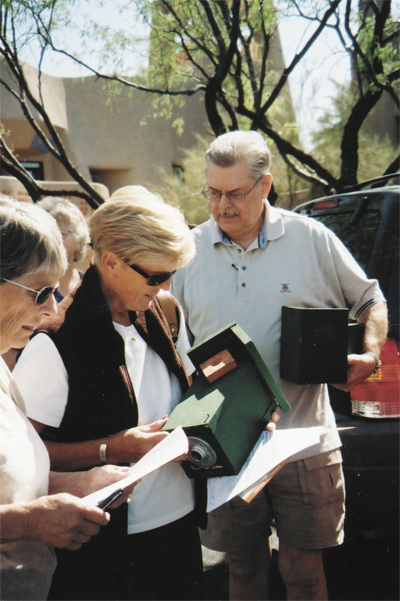 Over a dozen residents have already obtained nesting boxes they can place on their property and watch it to see if birds begin using them. The initial thought was to put the boxes along the trail up Black Mountain until it was determined the boxes would be in too much sunlight throughout the day for birds to use them.

BMC board member Joanne Rebollo said, "Now the idea is for private property owners to put the nesting boxes on their own property and check them themselves."

Nestwatch is held in conjunction with both the national and Arizona Audubon societies.

"With Black Mountain being such a spectacular habitat for all sorts of wildlife, the pairing of the conservancy and Audubon was a natural and a wonderful way to bring attention to the importance of preserving as much of the landscape as possible," Rebollo said.

Cathy Wise of Audubon Arizona recently conducted a workshop with interested citizens to let them know the best areas to place a box on the property and other important information to let people know the best things to go to get a nest in one of the boxes this spring.

"All those involved are extremely excited about the project and hope to be able to provide valuable information about the birds for our national (Nestwatch) database," Rebollo said.

Courtesy Photo/Black Mountain Conservancy
Area residents receive bird-nesting boxes they can place on their property and monitor recently. All of the nesting boxes have already been given out.