CC Regional Park "green" Nature Center opened

By Curtis Riggs | March 25, 2009
Facility to enhance desert experience

CAVE CREEK – With the sun baking the saguaros and equestrians riding in the background Maricopa County officials opened the new environmentally sensitive Nature Center at Cave Creek Regional Park last week in front of 175 enthusiastic nature lovers.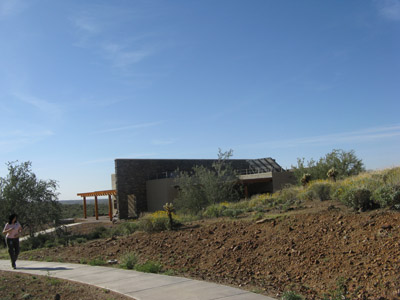 The mission behind the 4,000-square-foot, $1.1-million facility is to help locals and visitors alike learn more about the Sonoran Desert and its plants and animals. While highlighting the beauty of its pristine desert surroundings the Nature Center fits perfectly into the 3,000-acre park. Its desert roof has native plants growing on it to help insulate the building and the exterior is muted desert tones. Solar energy powers the Nature Center, which includes an outdoor amphitheater for wildlife watching and star gazing. A star gazing event will take place at the center, 32nd Street north of Carefree Highway, on May 1.

The Nature Center at Cave Creek Regional Park, which will soon be linked to the Spur Cross Ranch Conservation Area by ongoing preservation efforts, is one of three "green" Nature Centers built at Maricopa County parks in the past year.

"We are excited about the opportunities this facility presents," Maricopa County Parks Director R.J. Cardin said at last week's local opening.

Cave Creek Mayor Vincent Francia told the crowd, which included many Cave Creek park docents and volunteers; he knew he was in the right place for the opening when he saw several people in the crowd wearing hiking boots.

"You can tell they are in touch with the desert behind us," he said. He commented the new center will enhance both the Cave Creek park and Spur Cross experiences. "There is no better way to appreciate the fragile desert than to be in it."

Cave Creek Regional Park Supervisor Amy Ford hopes the new center helps local residents to get better acquainted with the park and all of the opportunities it presents. The classroom/meeting space at the center will be available for use by the public.

Photo: By Curtis Riggs. The new Nature Center at Cave Creek Regional Park fits into the park's pristine desert surroundings perfectly.