Deserving women receive Sorops awards
By Curtis Riggs | February 25, 2009
Awards given for service, education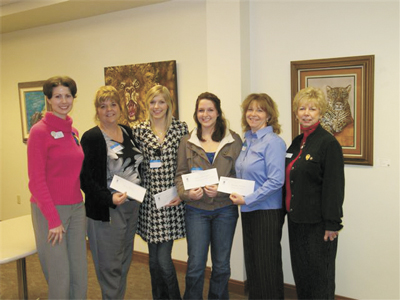 DESERT FOOTHILLS – The Soroptimists of the Saguaro Foothills service organization gave out their annual women's awards earlier this month to young women who are making a difference in the community and women who are putting their lives together by furthering their education.

The group awarded the Violet Richardson Award to Cactus Shadows High School student Hannah Nelssen for her volunteer work at Horseshoe Trails Elementary School. Nelssen won $500 and $500 was also given to Horseshoe Trails.

Cactus Shadows student Sarah Schmidgall won the Mary Margaret Laibe Award and $250 for her work with the Juvenile Diabetes Research Foundation. The Soroptimists also donated $250 to J.D.R.F.

The first-place winner of the Woman's Opportunity Award, which goes to a single woman who is going back to school in order to improve herself and her family, went to Jennifer Kreuziger. She won $2,000.

Terra Kastner won $1,000 for taking second-place in the Women's Opportunity Award.
Carolyn Lutz, the Service Chairwoman for the local Soroptimists, said the February meeting is her favorite meeting of the year because of the women's awards.

"That is what we work toward all year," she said.

The primary fundraiser the Soroptimists hold every year is the annual spaghetti supper, which is held at Harold's Cave Creek Corral every October.

Courtesy Photo/Soroptimists of the Saguaro Foothills
Soroptimists of the Saguaro Foothills President Gail Shriner, far left, and group Service Chairwoman Carolyn Lutz, far right, helped present women's service awards to, from left, Terra Kastner, Hannah Nelssen, Sarah Schmidgall and Jennifer Kreuziger.

Pianist Jeffrey Siegel to perform Mini-Masterpieces

February 25, 2009

Jeffrey Siegel's
Keyboard Conversations
The Longevity of the Short Piece
7:30 p.m. Thursday, March 12
Presented at Pinnacle Presbyterian Church, Scottsdale

SCOTTSDALE – As part of Scottsdale Center for the Performing Arts' 2008–09 "Detour" Season, American pianist Jeffrey Siegel will perform his Keyboard Conversations program The Longevity of the Short Piece at Pinnacle Presbyterian Church in Scottsdale on March 12.
Jeffrey Siegel's Keyboard Conversations are a unique, concert-plus-commentary format in which he speaks to the audience about the music before performing each work. New listeners have greeted these programs with enormous enthusiasm because they present an informal, accessible and highly entertaining introduction to the vast repertoire of the piano and to classical music in general. Seasoned music-lovers have been enriched by Siegel's erudition and delighted by his wit. Ongoing series flourish in numerous American cities, among them New York, Chicago, Los Angeles, Philadelphia, Cleveland, Scottsdale/Phoenix, San Francisco, Minneapolis/St. Paul, Dallas, Atlanta, Washington, D.C. and Denver. This season Keyboard Conversations debuted at the venerable Wigmore Hall in London. Scottsdale Center for the Performing Arts has been presenting Jeffrey Siegel's Keyboard Conversations since 1979, a testament to Siegel's superb artistry, innovative format and loyal following.

The Longevity of the Short Piece will feature byte-size musical jewels and gems – masterpieces in miniature – including Mendelssohn's Songs without Words, Grieg's Lyric Pieces, Brahms' Rhapsody, Stravinsky's Circus Polka and more.

Pinnacle Presbyterian Church is located in Scottsdale at 25150 N. Pima Rd. at the East Happy Valley Road intersection. Free parking is available at the church. Optional shuttle transportation between the Scottsdale Center for the Performing Arts and the Pinnacle Presbyterian Church is also available for a modest fee.

Single tickets are available for $38 online at www. scottsdaleperformingarts.org or through the Scottsdale Center for the Performing Arts box office at (480) 994-ARTS (2787). Group discounts and student discounts are available.