Blue Coyote Gallery to host Marjorie Reed art exhibition, book signing Friday, Feb. 13


By Curtis Riggs | January 28, 2009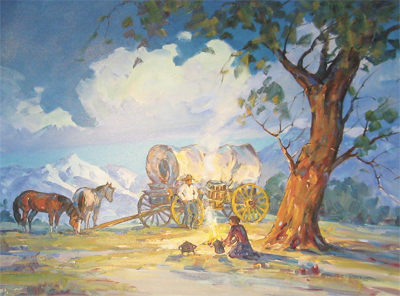 CAVE CREEK – Blue Coyote Gallery owner Gary Fillmore has proven his expertise in Arizona and Southern California art history with his new book "All Aboard! The Life and Work of Marjorie Reed."

Fillmore will hold a book signing and art exhibition dedicated to Reed, an acclaimed oil painter famous for her series of paintings depicting various scenes along the Butterfield Overland Stage Trail from San Francisco to Tipton, Mo., on Friday, Feb. 13. The event, which will feature over 50 of Reed's paintings and Fillmore's 264-page hard cover book, will run from 5 to 7 p.m. at the gallery, 6141 E. Cave Creek Road.

Fillmore is the first writer to have a book published about Reed's life. The book takes on an added importance because the 150th anniversary of the mail/stage route was celebrated last fall.

Reed, an art prodigy who became a commercial artist at age 14, lived in Arizona for more than 30 years beginning in the 1950s. She lived in both Flagstaff and Tombstone. Reed died in 1996 at the age of 81.

"She was a woman who knew exactly what she wanted to do and did it well," said Fillmore, who spent three years researching her life and interviewing her family and friends.

Reed is now considered to be one of the top 10 women Western artists based on how much her paintings bring at auctions. Fillmore said some of her better paintings now are now worth $10,000 to $20,000.

"Long-term she is just getting started," he said because she is "in a category by her self." There never were that many Western artists who were women.

Reed was known well enough as a Southern California artist that she had galleries in both Palm Springs and Los Angeles in the 1930s.

Reed was known as an outstanding colorist. Her gift for creating a sense of motion with figures in her paintings was best depicted in the movement of horses pulling a stagecoach.

"That's natural. You either have it or you don't," Fillmore said about her ability to show motion in her paintings.

She is also well known for the backgrounds of her paintings and her nocturnal scenes.
"They are exactly like looking out the window at the desert," Fillmore said. "Someone could easily mistake the canvas for another window."

The "All Aboard" exhibition will run through March 15.

For information call 480-488-2334 or visit www.bluecoyote gallery.com.

Photo By Curtis Riggs:
"The Call of the Fire" an oil painting by Marjorie Reed will be on display at the Blue Coyote Gallery during the All Aboard! art exhibit beginning Feb. 13.