BY MARIELLE D. MARNE | MARCH 20, 2013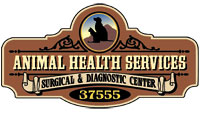 CAVE CREEK – When mere minutes can mean life or death for a dog bitten by a rattlesnake or a cat hit by a car, north valley residents are fortunate to have the compassionate veterinary professionals at Animal Health Services, founded by Dr. Cliff Faver, available 24/7. While that portion of the business continues to grow, keep in mind AHS still sees pet patients – including small mammals and birds – for routine care: shots, dentals, spay/neuters, even spa services! Be sure to check out their Iv San Bernard products.

Starting in April, bring your kitties in for the Cat Friendly Practice wellness programs, headed by Dr. Brian Ashmore and accredited by American Association of Feline Practitioners, which promotes "high standards of practice, continuing education, and scientific investigation." Cats are seen far less often than dogs at the vet's, yet annual checkups are just as important for preventative care to keep felines living longer, healthier lives.

Following the 2013 American Animal Hospital Association's annual conference, AHS received some well-deserved national recognition. AHS has been accredited by AAHA since 2007 (scoring in the 90th percentile) and was featured by Chicago's Matt Bubala of Black Dog Radio Productions. Check out www.ahsvet.com for upcoming links.

AHS has always been a state-of-the-art facility, and some of the benefits they offer pets include a cool laser, resulting in quicker healing and overall incredible results. Also, an oxygen generator was put in and there's a new commercial-grade analyzer for labs. Your pets cannot not be in better hands than at Animal Health Services!

Call 480-488-6181 for an appointment at their 37555 N. Cave Creek Rd. clinic.