NOVEMBER 7, 2012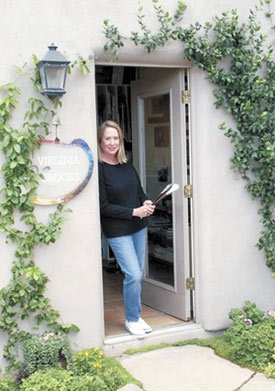 CAREFREE – Local artist Virginia Brooks has long been a fixture in the art community, exhibiting at the premier art events in the valley, including being one of the open studios during the Sonoran Arts League's Hidden In The Hills Studio Tour. "I love my life as a painter and teaching art has come very naturally to me."

Virginia offers an alternative to trying to learn in the standard large classroom with a multitude of other students. "I wanted to make learning experience more personal." And Come Paint With Me does exactly that. Virginia gives private and semi private lessons in her studio in Carefree and the resulting student paintings speak for themselves. Virginia's painters are rapidly improving their skills while being shown how to make a painting truly their own creation.

"We paint together, side by side. We paint the same subject, and I explain everything I am doing, step by step. The learning process is much faster, and it can be more easily remembered." Virginia also offers potential painters the option to learn to paint en plein air … the traditional favorite of the old masters.

All supplies are included, from canvas to paint to brushes. Many of her painters have previously only worked in watercolors or acrylics. "This is a wonderful way for people to try oils without having to purchase the materials." And many of them, after having experienced the pleasure of painting in oils choose to make a permanent switch to the medium.

"Painters are invariably fun, creative souls, whether they are beginners or the advanced painter wanting to learn something specific. I am particularly good at jump-starting the painter who has not picked up a brush in many years."

"Several of my current painters show the promise of making a career with their new painting skills. My students range from age 7 to a gal who is 84, and one of the best! The people who paint with me become my friends and it is a true pleasure to watch them grow and excel."

Virginia encourages potential painters to visit her at her home studio, Studio#11, during the Hidden In The Hills Studio Tour, November 16-18, and 23-25. "A true art lover should not miss this event," she smiles. "It is your chance to see us in action. Come see first hand how I teach."

Virginia Brooks Studio is located in Carefree. For more information visit www.virginiabrooks.com or call 480-220-6696.