BY PETE MOHR | JULY 4, 2012
Meet the Football Falcon seniors …
Matt Hartlen

"Progress Is Our Most Important Product!" proclaimed the well-remembered advertising slogan of G.E. (or was it Westinghouse?) Help me out, older readers. I'm certain that this issue's Football Falcon, Matt Hartlen, wasn't even born at the time that commercial statement first appeared. But it's with genuine admiration that I begin Matt's senior profile with an abbreviated chronicle of his "progress" as a Football Falcon – from his first step into organized football (as a CSHS freshman); to sophomore record-setter (most INTs in a single game … three against Flagstaff, including a TD run-back); then to a nine-touchdowns receiver last season; and now, in his upcoming senior fall, to being named one of five captains of the 2012 Falcons. I offer that Head Coach Greg Davis and his assistant coaches could not have honored a more deserving player. "Matt, more than 'well done'!"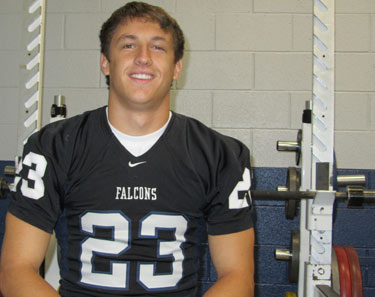 Knowing this senior Falcon as I'm privileged to do, I can guarantee readers that Matt Hartlen would have wanted me to first address why I think the Falcons will significantly "progress" from their 3-7 mark in 2011 (sorry, Falcs, I forgot your 4th Quarter comeback win over Barry Goldwater.) But I'm now at least 2,500 miles removed from the Desert Foothills, so hear out Matt Hartlen – not me.

"We're (Falcon seniors) really excited about this season. We're very close … bonded. We hang out together … we work hard to encourage each other. Most of all, we've now had a full year to play together and to get to know Coach Davis and his coaches. We're planning on coming out 'hot' … write down 'confident'; and the more confidence we have, the better!" Readers, those are the words of a deeply-committed "senior leader." And Matt Hartlen would be among the first to tell you that he's only one of the 15 seniors presently rostered. When the school bell rings, it's possible that more seniors may opt to play football. "But," Matt emphasizes, "we're moving forward!" And that means he has put 3-7 out of his mind – and the pressure that was upon him when his P.A.T. pass attempt in the game's final 20 seconds bounced to the "fight-to-the-end" John Leonard, leaving the Falcons on the 32-33 bitter end at highly-ranked Queen Creek in October 2010.

Then coach, Chad DeGrenier, made the right play call to go for the win on the road – after playing four quarters of exhausting football; but to ask a sophomore defensive back to attempt the pass?! That decision is historically questionable. But for Matt, he's long since shaken off that "goat" moment as "just being part of the game." Right there, fans, you see Matt Hartlen's character. Now it's the Falcons earning a home Play-offs opening game that matters most to him.

When a freakish walk-through injury took out Kyle Gladstone before 2011's second game (at Pinnacle), Matt stepped up to become the team's leading receiver (54 catches for 706 yards and nine touchdowns.) This 2012 season, he's out to top 800 yards receiving, score at least ten TDs and hopefully nab four interceptions from his free safety position. That's a tall order, Matt – as is your living up to being listed recently (along with Gladstone) by Richard Obert (of that "other newspaper") as one of the top 150 players in Arizona high school football. That recognition he characteristically neglected to disclose until after our cell phone interview.

He was born Matthew Joseph Hartlen in Toronto, Canada on September 8, 1994, the second child of (now) Creekers Bryan and Kelly Hartlen. Older sister, Heather, is a rising sophomore at U of A. Younger sister, Kirsten, is a rising CSHS junior. At Cactus Shadows, Matt somewhat reluctantly admits that his 3.9 GPA (weighted for honors courses) just might indicate that "I take my academics seriously," citing Mr. Steve Mitten's History course. Matt satisfyingly mentioned his participation in "Best Buddies," a CSHS interactive program with Special Education students.

Will Hartlen go on to play at the "next level?" He states, "I started the recruiting process somewhat late. I've received several early interest contact letters; but as of now, I have nothing definitive." If Matt doesn't play college football, he'll likely join sister Heather at
U of A.

Matt talked to me, with emotion, about his "feel of the game … being under Friday Night lights … playing in front of the whole school … the bonds I've formed with my teammates. I'm not going to forget these guys I've played with." Nor they you, Matt.