BY MARIELLE D. MARNE | MAY 9, 2012
For three years, EcoBlu Pools continues to make a splash
CAVE CREEK – Looking forward to swimming in the pool this summer ... but you don't have one? There's still time, Kevin Hahn, owner of EcoBlu Pools, assured, if you act now! Temperatures are still cool enough that concrete will cure without challenges, permits can still be secured and his schedule is open for a few new projects. And because Hahn is not a fan of one-size-fits-all, your pool will be unique and the envy of the neighbors.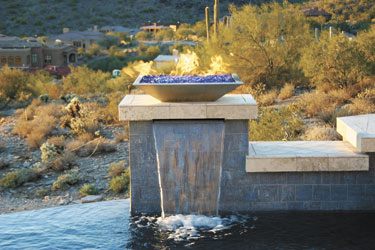 For those who moved into a home with a cookie-cutter water feature, EcoBlu is available for remodels. One exciting aspect of working with Hahn is that he doesn't pull out a limiting portfolio of photos of what he offers; he listens to what you want, what you envision. He then designs it and presents it in 3-D.

If you have a pool and you are happy with it, perhaps it's time for a checkup. You may have a pool maintenance service, but they typically don't do the thorough "history and physical" Hahn performs. He's discovered potentially dangerous gas leaks and exposed live wires the "pool guy" never noticed!

Need additional compelling reasons to contact EcoBlu? How about using less energy and pocketing more cash? Advances in pool equipment have not only rendered motors more efficient, but the savings are staggering. Hahn replaced three of his seven pumps and reduced his energy costs by 50 percent! Combine that with SRP or APS rebates and you can add a backyard BBQ, too.

For more information, see www.ecoblupools.com. Before any more time elapses, call Hahn at 480-626-8200 so you can do laps in your own pool by Flag Day.
BY MARIELLE D. MARNE | MAY 9, 2012
Cowtown and S.T.A. Training Group combine for a wide range of shooting experiences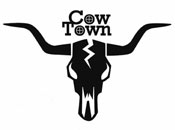 PEORIA – At Cowtown Shooting Range and Training Center, they like to joke it's the most famous range you've never heard of. Most people know Ben Avery, yet Cowtown is a private range seven miles to the west at 10402 W. Carefree Hwy. It's got a rich history having been originally established as a movie set and entertainment venue. Now, the 80-plus acres is used for corporate and other special events, both shooting and non-shooting.

Recently opened is Cowtown Studios. It's the perfect place to film commercials, particularly if you're seeking a western "ghost town" backdrop or require a rustic location.

Some heavy hitters train at Cowtown - professionals from the FBI, CIA, military and law enforcement - but now through S.T.A. Training Group, civilians can sign up for various classes. (The public range is not yet open but coming soon!) A unique aspect at the facility is the terrain. The east side is a flat range; however, the west side boasts every angle one would find in outdoor shooting. On the premises are multiple buildings, a recreated Afghan village, micro terrain and lots of hills and valleys that challenge visibility. See S.T.A. on Facebook to learn about their gun training and long-range precision courses. Students will only find the best and the brightest former military teaching here.

On May 17, S.T.A. is offering Tactical Trauma Immediate Response Shooter's Medical Class. This is basic training for what you need to do, before responders arrive, should you suffer a gunshot wound in the field. It could save your life! While geared to shooters, training could come in handy with any injury at risk of bleed-out. Lifesaving tactics are garnered from the battlefield and are encouraged for anyone who may suffer severe trauma.

Call 480-220-0283 or visit www.statraininggroup.com for more information.
MAY 9, 2012
Governor Jan Brewer: Arizona a top 10 state for business
PHOENIX – Governor Jan Brewer recently announced that Arizona ranks 10th-best in the nation in terms of its business climate, according to the 2012 report from Chief Executive Magazine. This ranking represents a three-spot climb from Arizona's ranking at this time last year. View the report.

"This report from Chief Executive Magazine validates what those of us who live here already know: Arizona is a premier location to grow or relocate a business," said Governor Brewer. "We are once again a national leader in job growth. I pledge to continue fighting for the lean regulations, competitive tax rates and ready workforce that helped get us here."

For its report, Chief Executive Magazine surveyed 650 business leaders nationwide and asked them grade states among a variety of areas – including tax and regulation, quality of workforce and living environment. Arizona received four out of five stars in each of these categories, and was positively-regarded for its surging entrepreneurial activity over the past year.

Texas ranked #1 in this year's report; California, for the eighth consecutive year, ranked last.