APRIL 25, 2012
Desert Foothills Key Club won honors for achievement, talent and early dues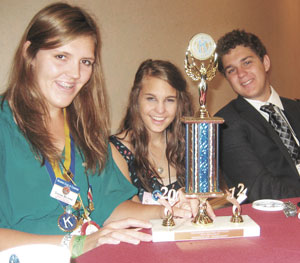 Desert Foothills Key Club won honors and elections at Southwest District Key Club Convention on April 14 and 15. The Key Club won second place in Club Achievement, a Talent Contest Award and received honors for paying their International dues early. Desert Foothills member Nic Deininger was elected to the position of Lt. Governor of the Lookout Mountain Division and Desert Foothills Vice President, Jenalee Beazley, was appointed to serve on Southwest District Executive Board in the position of Webmaster. In addition to the accolades the club donated $1,100 to the UNICEF Eliminate and Beads of Courage charitable programs. Desert Foothills Key Club is a community Key Club representing Foothills Academy, Cactus Shadows High School and Bella Vista Private School and is sponsored by Kiwanis of Carefree. The Southwest District convention was attended by 400 Key Club members representing high schools in Arizona, New Mexico and El Paso, TX. "It was the first time in years we've won awards and had members elected/appointed to serve at the District level. I was happy to see our members move into leadership and receive recognition for all the hard work they put into serving the community this year," said Christopher Dodrill, Desert Foothills Key Club Advisor.
APRIL 25, 2012
Kiwanis of Carefree Flea Market Saturday May 12
8 a.m. – 1 p.m. (Rain date: Saturday, May 19) Last sale until August!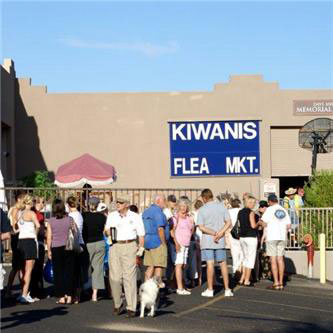 Special antique items include a barrel-shaped desk with wine rack, an antique piano forte style desk, a mahogany bookstand, wooden child's sled and jukebox in working condition.

Inquiries may be made by calling 480-488-8400.

Items for every room in the home, including the workshop, exercise room, yard and patio. A special item is a 16-foot round brown and beige rug with pad, good condition. Also hardware, toys, sporting goods, costume jewelry, books and miscellaneous to the rafters.

We test all electronics, such as TVs, computers and music components and mechanical items before placing them on our shelves.

Selected outdoor items half price at noon.

Location: Dave Anderson Memorial Building, 7177 E. Ed Everett Way near the SW corner of Tom Darlington and Cave Creek Rd. Look for the large Kiwanis Flea Market signs.

Cash, credit cards and checks (with I.D.) will be accepted.

Kiwanis is a 501©3 organization.
All proceeds benefit community programs.
Donations are tax deductible and can be dropped off at the flea market building, Wednesdays 1:30 – 3:30 p.m. and Saturdays 9 – 11:30 a.m.
Call 480-488-8400 for pick up or more information about the sale.
Courtesy photo
APRIL 25, 2012
Operation Homefront and Women's Self Worth Foundation announce 2012 Saban Military Wife Educational Scholarship Program
SAN ANTONIO – Operation Homefront and the Women's Self Worth Foundation (WSWF) announced that they have begun accepting applications for the 2012 Saban Military Wife Educational Scholarship.

This prestigious scholarship program is funded by a $250,000 grant by WSWF and is aimed at wives of uniformed service members, so they can attend vocational training programs in the medical field. This year's grant funds eight $8,500 scholarships and two $10,000 scholarships, which will be awarded for tuition for vocational training in one of the following fields: dental assistant, medical assistant, medical billing and coding specialist, medical insurance technician, patient care assistant/technician, nurse assistant training program, or medical transcription. One $30,000 scholarship will be awarded for tuition in a vocational nursing program.

Applications will be accepted from April 1 – June 1, 2012. The scholarships will be awarded to recipients in July 2012. Selection for the scholarships will be made by a panel of judges, and the award will be scored in two areas: the applicant's response to the essay question and her commitment to volunteerism.

"The wives of our service members face tremendous challenges, especially in these times of economic difficulty," said Cheryl Saban, founder of WSWF. "We're proud to support these scholarships, which will give these military wives an extraordinary opportunity to better themselves, improve their families' circumstances, and take a more active role in their communities."

"Every day, we at Operation Homefront work with military wives and see how extraordinarily talented and dedicated they are," said Jim Knotts, President and CEO of Operation Homefront. "They do whatever it takes to keep the family going, and these scholarships will give the recipients more options and will give their families better lives. We're grateful to the Women's Self Worth Foundation for their support of these scholarships, and their support for America's military families."

Detailed information on eligibility and application requirements is available online at www.OperationHomefront.net/scholarship.