bY PETE MOHR | MARCH 28, 2012
Extraordinary military college admissions "sweep" by Soccer Lady Falcons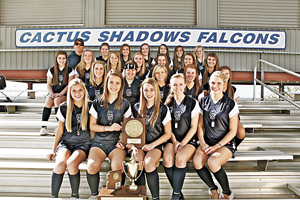 2011-2012 Lady Falcons were photographed in CSHS West Stands with their State Runner-up trophy. The 2nd place finish was the highest ever for girls soccer. Front row (l-r): Bridgette Sabanosh, Anika Brock, Savanah Sibold, Madi Bradshaw, Chandler Atkins; 2nd row: Saige Williams, Brenna Leech (MVP), Jessica Luhrs, Ashlyn Tucker, Kathleen Nagy; 3rd row: Jordan Nelson, Cassie Miller, Kelli Reid, Katelyn Marduz, Haley Dinota, Maddie Pascale, Sabrina Majerczyk; top row: Coach Jeff Kendall Regan, Shayna Blumberg, Danielle Mink, Emma Negri, Alexa Yardly, Nancy Best.
CSHS – From Dadeville, Ala. – It's never too late to report extraordinary teams, extraordinary student athletes and extraordinary events. It's my privilege and enjoyment to write this guest article about the Girls Soccer Lady Falcons, their 2011 - 2012 State Runners-up season, sportsmanlike, respectful tribute (Falcons Stadium) to (the late) Scot Bemis (Notre Dame's first and only football head coach and the head coach of the Lady Saints Soccer Team) and the extraordinary military college admissions "sweep" by Tri-Captains (in alphabetical order) Brenna Leech, Madi Pascale, and Saige Williams. A military college admissions sweep? Never to be equaled, I predict, in the future of CSHS athletics.
First, Madi, who received on January 11, 2012 her appointment to the U.S. Naval Academy, Annapolis, Md. She is the daughter of north Scottsdalians Chris and Niño Pascale. Soon-to-be (June 28) Plebe Pascale's application and eventual appointment were sponsored by U.S. Representative David Schweikert.

Next, at the Lady Falcons' Senior Night, the U.S. Navy presented Saige Williams with a four-year Naval Reserve Officers Training Corps (NROTC) Nurse Option scholarship.
"Midshipman" Williams reports to her battalion in August and plans to graduate from the University of Arizona School of Nursing in 2016. She is the daughter of Carefree residents, Kim and Jay Williams.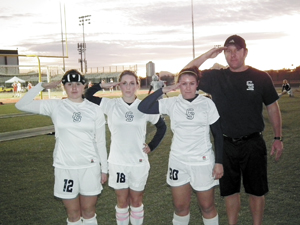 With Head Coach Vittorio approving, Tri-Captains Brenna Leech, Saige Williams and Maddie Pascale practiced saluting before the Feb. 11 State Championship game vs. (Tuscan) Catalina Foothills. The "other" Falcons won, 2-0.
Completing the "sweep" was Brenna Leech, who, in mid-February, received notice of her appointment to the U.S. Air Force Academy, Colorado Springs, Colo. "Douly" (first-year cadet) Leech will also report for duty on June 28, 2012. She is the daughter of Creekers Beth and Brad Leech. Brenna had the honor of being U.S. Senator John McCain's principal nomination to USAFA.

Congratulations, Madi, Saige and B! Now addressing the team and their tribute to (the late) Coach Bemis, who succumbed to lung cancer on January 22.

Head Coach Jeff Vittorio's Lady Falcons lost only one match during the regular season (to whom else but the other Falcons, Tuscon's Catalina Foothills). With Leech a late-1st half "knockout" (literally) and U.S. National Team-rostered goalkeeper Cassie Miller [CSHS '12] flight-strained in Florida, the LadyBirds yielded two 2nd Half goals to Foothills, which won its fourth consecutive State Championship, Saturday Feb. 11 at Gilbert's Campo Verde High School. The Runner-Up finish was the highest ever for CSHS Girls Soccer. Were the Lady Falcons disappointed? Of course. But listen to one of their tri-captains on the phone to this writer: "For us, this season wasn't just about winning State. We girls were a bunch of good friends who'd played soccer together for a long time. We went out to play our hardest for each other, Coach Vittorio and our school. I believe we did that. It was a great season!"
That, it most certainly was! The Ladies' 11-1 mark brought their four-year regular season record to an extraordinary 42-3, the only three losses being to Chapparral, in PKs to McClintock, and Foothills. And during the most recent campaign, the LadyBirds accomplished the extraordinary feat of defeating a major opponent (Notre Dame) three times, one season. Twice is enough; but three times (all shutouts) is nothing short of extraordinary. Now to the Scot Bemis tribute. The opinions expressed are those of this writer – not of Sonoran News, CSHS or Notre Dame.

If you're a CSHS sports fan, you're aware that since Notre Dame (98th Street, north Scottsdale) opened its doors some nine years ago, there's been little love lost, if any, between our Falcons and the Saints. Don't get this sports reporter wrong: I love rivalries! Rivalries most often bring out athletes' best performances and ratchet up student and parent fandom. But CSHS vs. N.D. has too often turned close to nasty – both on the playing fields and in the stands. Details of specific incidents – with plenty of fault on both sides – need not be recited. Neither reflects honorably on two fine secondary schools.

Coach Scot Bemis was a good man – beloved by the Notre Dame community and well-respected by his peers within the high school coaching fraternity. Coach Bemis is greatly missed.

When the Lady Saints came to Cactus Shadows on January 24, the Lady Falcons had a respectful surprise waiting for them: a memorial tribute to honor Coach Bemis' life.
Organized by Soccer Mom, Kim Von Dran (she of Carefree Post Office fame and mother of Cassie Miller), the CSHS gals had made tribute posters and wore special "TEAM BEMIS" game jerseys; players from both squads took to midfield introductions through an archway of blue-and-white and purple-and-gold balloons, the colors of the two arch-rivals. The P.A. announcer called for a moment of silence to be observed in honor of Coach Bemis; and a not-insignificant cash donation was presented to the Bemis family. All in all, readers, an extraordinary display of respect and sportsmanship, hopefully to raise to a higher standard the Cactus Shadows – Notre Dame rivalry. This writer would like to think that to be an instructive legacy from Coach Bemis. Well – done, Kim and Ladies!

From this writer's viewpoint, 2011 - 2012 was, indeed, an extraordinary season. Next year, "Coach Jeff," here's hoping your gals will finally avenge those other Falcons. And to Brenna (wanting to pilot F-35s), Saige (U.S. Navy Nurse Corps) and Madi (flying Navy or Marine helicopters): "Off You Go Into the Wild Blue Yonder!" and "Anchors Aweigh, my Ladies."

~ Pete Mohr
Sports Reporter Pete Mohr is currently recovering in his native Alabama from a stroke he suffered October 15, 2011 in Scottsdale. Sonoran News has invited Pete, when able, to submit feature articles like the above to us. You can write him at 165 Landing Lane Dadeville, AL 36853. Get well, Pete!