MARCH 14, 2012
Desert Foothills Theater needs you
Changing lives in the far north valley for over 36 years


Desert Foothills Theater needs your help! Their corporate and foundation support is down nearly 80 percent this year. They need to find a way to overcome those losses so they can continue offering the quality programs our community has come to love and enjoy.

If they can raise $15,000, they can get another $15,000 matched by some very generous DFT supporters.

So far they have raised $7,000. Can you help them make the next $3,000 by the end of March?

You may donate to The Foothills Community Foundation, on their behalf: www.desertfoothillstheater.com/donate.htm. All donations made through this page will be credited to Desert Foothills Theater.

You may also fill out a form to donate by check. Please make the check out to Desert Foothills Theater and mail to 34250 N. 60th Street, Building B, Scottsdale, AZ 85266. A link to the printable form is on the donation page of the website.

If you would like to speak with someone about making a donation, please call the DFT office at 480-488-1981.

DFT thanks you for your support and generosity. Your donation is worth celebrating!
MARCH 14, 2012
Desert Foothills Theater presents
The Wallace & Ladmo Show
March 15-25 at Cactus Shadows Fine Arts Center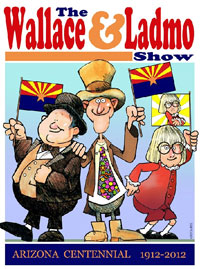 CAVE CREEK – What does it mean to reach "the big-time"? That's the question Ben Tyler hopes audience members ask themselves after seeing Desert Foothills Theater's production of The Wallace & Ladmo Show, running Thursday, March 15 – Sunday, March 25 at Cactus Shadows Fine Arts Center, 33606 N. 60th Street, in North Scottsdale.

Tyler, the comedic play's writer and director, introduced The Wallace & Ladmo Show to Arizona in 1999, while working as Desert Foothills Theater's artistic director. The play was so well-received it continued performances at the Herberger Theatre, selling out shows until its last show in 2001. Now sanctioned as an Official Centennial Legacy project, The Wallace & Ladmo Show is funded in part by the Centennial Theatre Foundation, in collaboration with Desert Foothills Theater and Actor's Theatre. The Centennial Theatre Foundation is a non-profit organization dedicated to helping local theaters and bringing new bodies of Arizona-themed work to our stages.

A Tempe resident and Arizona native, Tyler grew up watching the hit children's television show, Wallace & Ladmo, which starred Bill Thompson as Wallace, Ladimir Kwiatkowski as Ladmo and Pat McMahon as Gerald. When he was in third grade, he won a chance to go on the TV show. Years later, when he was in his mid-20s, he landed a job as a writer for the show.

"It was unbelievable. I would go to work thinking, 'I can't believe I'm here doing this,'" Tyler said. "The show had been on air for about 30 of its 35 years. The thing that struck me was how much fun Bill, Lad and Pat had doing it. None of them were burned out. It was the greatest experience I've ever had. They were purely devoted to what they were doing."

That devotion inspired Tyler to write a play that was much more than a nostalgia piece about a kid's show. "I wanted the message to be about how we measure success in our own lives," he said. "Bill, Lad and Pat used to joke about this all of the time. Pat, especially, had the chance to pursue a career in L.A. or New York, but he chose to stay here. I really identified with that. I knew early on that I wanted to work in theatre and broadcasting, but I decided to put my roots down here as a director, actor and writer, and I never regretted it. This is the big-time for me."

Tyler's original play focuses on the TV show's 1964 mock-rock band Hub Kapp (Pat McMahon) and The Wheels, which began as a joke band and quickly became an overnight sensation – even appearing on the Steve Allen Show. Locally, their sales skyrocketed and they were beating out The Beatles on the charts. Hollywood record producers came to call, wooing them with large contracts and glitz and glamour. "If you had removed any one of the three main characters, the show would have stopped," Tyler said.

The cast of eight includes Billy Lowry, Bill Thompson's grandson, as Wallace, and Cathy Dresbach, as Rita Davenport, Mrs. Fream and Miss Karen. Dresbach directed the original production in 1999, and some audience members will remember her as a cast member of the original TV show playing the character Jodi of the Pink Berets. Michael Kary plays Pat McMahon; Kirby Soderberg plays Ladmo; also cast in the play are Christian Miller, Eric Zaklukiewicz, Steve Scally, and Aaron Jacobson. Gavin Mcleod is music director.

Show times are at 7:30 p.m. for the Thurs., March 15 Preview Night; Fridays and Saturdays at 7:30 p.m. and Sundays at 2 p.m. Tickets range from $15 to $20 for children under 18, and from $22 to $30 for adults.

Visit www.desertfoothillstheater.com or call 480-488-1981.