BY MARIELLE D. MARNE | FEBRUARY 29, 2012
One salon, all-over beauty, inspiring location all at Sherrie's Professional Beauty Parlor
CAVE CREEK – Why run all over town for a haircut here, a facial there and yet another salon for a mani/pedi? Sherrie's Professional Salon in Stagecoach Village has clients covered from head to toe.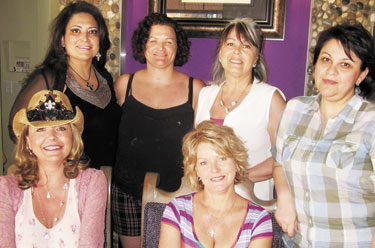 Sherrie Ruyle (623-297-8293) is one of two hair stylists at her namesake salon. She explained one of the aspects everyone likes at the shop is that they need not find coupons to make services affordable. "We don't cost an arm and a leg, but you still get the same excellent quality of service," she said.

She, along with stylist Janet Finch, keeps busy with appointments six days a week but can accommodate walk-ins, schedules permitting.

For truly gorgeous and healthy skin, see Lindsay Jackson of L Skincare (917-972-4114). "I truly believe that your skin care is like watering a plant: the more you feed it, the more it blossoms at any age." For just $35-$59, Lindsay offers facials that will leave you radiant!
From hair to face to hands, three nail techs are available. Georgina (602-524-5585) offered, "Excellence in nails is my passion. After 23 creative years in the industry, my motto is: 'You can never learn too much.'" Polina (602-384-0553) strives for perfection with every client. And, Brenda's (609-425-1340) personality and talent keeps clients returning again and again. Any one of these nail professionals will keep your hands and feet looking youthful.

To round out the salon experience, see Danielle (480-206-9868) who explained, "As a massage therapist for the last 12 years, I never get tired of giving someone that 'vacation feel' in just one hour."

Stop in 7100 E. Cave Creek Rd. or phone the aforementioned numbers for appointments.
FEBRUARY 29, 2012
Sell your North Valley home without an agent
NORTH VALLEY – If you've tried to sell your home yourself, you know that the minute you put the "For Sale by Owner" sign up, the phone will start to ring off the hook. Unfortunately, most calls aren't from prospective buyers, but rather from every real estate agent in town who will start to hound you for your listing.

Like other "For Sale by Owners" also known as "FSBOs," you'll be subjected to a hundred sales pitches from agents who will tell you how great they are and how you can't possibly sell your home by yourself. After all, without the proper information, selling a home isn't easy. Perhaps you've had your home on the market for several months with no offers from qualified buyers. This can be a very frustrating time, and many homeowners have given up their dreams of selling their homes themselves. But don't give up until you've read a new report entitled "Sell Your Own Home" which has been prepared especially for homesellers like you. You'll find that selling your home by yourself is entirely possible once you understand the process.

Inside this report, you'll find 10 inside tips to selling your home by yourself which will help you sell for the best price in the shortest amount of time. You'll find out what real estate agents don't want you to know.

To order a FREE Special Report, visit www.NorthValleyFSBO.com or to hear a brief recorded message about how to order your FREE copy of this report call toll-free 1-800-277-1959 and enter 5001. You can call any time, 24 hours a day, 7 days a week.

Get your free special report NOW to learn how you really can sell your home yourself.

This report is courtesy of Scott Gaertner with Keller Williams Northeast Realty. Not intended to solicit buyers or sellers currently under contract.
FEBRUARY 29, 2012
A new community in the heart of Cave Creek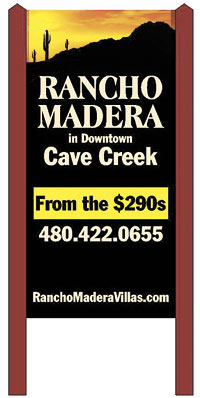 Keystone Homes is proud to introduce its new community, Rancho Madera, in the heart of Downtown Cave Creek. This community will consist of only 46 homes at completion and features a fabulous clubhouse with heated pool, spa, workout room and billiard room. The community is lined with paver streets throughout and is nestled at the foot of Black Mountain enjoying great mountain views and spectacular night stars. The community is located within walking distance of great local restaurants, shopping and local night life entertainment – within a couple hundred feet of the main street in historic Downtown Cave Creek.

The Grand Opening event is March 3 and 4. Come out for a COMPLIMENTARY lunch on either of those days from 11 a.m. – 2 p.m. The famous "Hot Dog Guy" will be there serving drinks and food. Also enter for your chance to win an Apple iPad.

Rancho Madera offers three floor plans: Two one-story plans range from 1,756 Sq. Ft. to 1,975 Sq. Ft. and one two-story plan at 2306 Sq. Ft. The very attractive prices range from the low 290s to 340s. These prices are very impressive for this area, especially considering the amenities that the community offers.

Keystone Homes has built approximately 500 homes in the valley over the last 23 years and they have a high regard for building a high quality and energy efficient home in communities that provide lasting value to their buyers. The homes at Rancho Madera include fantastic standard features such as 2x6 framed walls, stainless steel appliances, Milgard vinyl windows, granite countertops, Cathedralized spray foam insulation, Rinnai tankless water heaters and an Energy Star Certification.

The homes are available for viewing every day from 10:30 a.m. – 5 p.m. They are located at 6231 E. Mark Way, Cave Creek, AZ 85331. Additional information can be found by calling 480-422-0655 or visiting www.RanchoMaderaVillas.com.