BY LINDA BENTLEY | FEBRUARY 15, 2012
Celebrate Arizona's statehood with Cowboy Action Shooting
Winter Range at Ben Avery has grown to be the world's largest 'Western Encampment'
PHOENIX – It would be hard to think of a better way to celebrate Arizona's Centennial than by reliving Arizona's cowboy history at the 20th annual Winter Range event from Feb. 20-26 at the Ben Avery Shooting Facility.

The Single Action Shooting Society will be holding its National Championship of Cowboy Action shooting, which has grown to be world's largest "Western Encampment," drawing thousands of spectators along with Old West Enthusiasts.

This year there will be approximately 1,000 competitors from 42 states and five foreign countries competing in nearly two dozen categories in what has been designated an Official Centennial Event.

The fastest-growing shooting sport, Cowboy Action Shooting, requires contestants to compete with period firearms from the Old West, including single-action revolvers, lever-action rifles and shotguns from the era.

Participants must also adopt a shooting alias and attire of a character or profession of the late 19th century.

Each timed competition is staged with 12 unique Old West backdrops and scenarios, where shooters test their skills against steel targets set up within a course.

This year's themes will be based on events from Arizona's history.

Mounted shooting will also be featured this year in their own arena.

Male and female competitors range in age from 12 to more than 80 years old.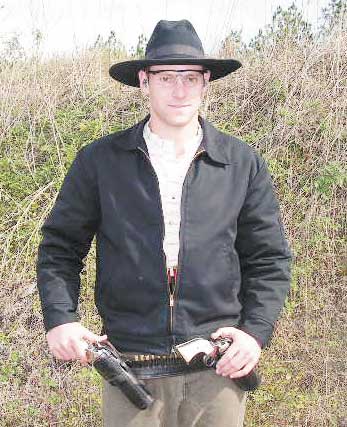 Spectators will be treated to the shooting skills of champions such as Spencer Hoglund (r) aka Lead Dispencer of California, who won his first world title in 2004 at the age of 19 and has won more state, national and world championships than we have space to print.

In addition to the shooting competitions, Winter Range 2012 will feature displays of period militaria, exhibitions of western skills and crafts, a fast draw competition and nearly 100 vendors offering period clothing, hats, wigs, antiques and reproductions.

Entertainment will include singers, cowboy bands, trick roping, trick horses and a variety of other forms of cowboy entertainment.

The Arizona Territorial Company of Rough Riders, a nonprofit organization representing numerous Cowboy Action Shooting clubs in Arizona, donates the profits from Winter Range to numerous charitable organizations throughout Arizona, such as the Boy Scouts, Youth Assistance Foundation of the Maricopa County Sheriff's Posse, Wounded Warrior Project and the American Legion for their work with the Veterans Hospital.

Last year more than $31,000 was distributed to such charities.

Daily event times are 8 a.m. to 2 p.m. Monday and Tuesday (Feb. 20 and 21) and 8 a.m. to 5 p.m. Wednesday through Saturday (Feb. 22-25) with the final awards ceremony taking place on Sunday, Feb. 26.

Admission is free but there is a $5 parking fee, which supports the Youth Assistance Foundation of the Maricopa County Sheriff's Posse and the Rotary Club.

While in the shooting areas, spectators must wear eye protection. Sunglasses and corrective lenses are fine. Ear protection is not required but recommended, especially for children.

The five-star Ben Avery Shooting Facility is located just west of I-17 on Carefree Highway.
Visit winterrange.com for more information.