FEBRUARY 15, 2012
Sweethearts for over 70 years!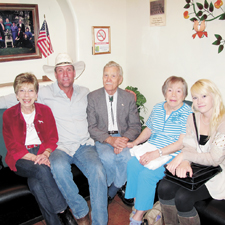 Still holding hands, Richard and Bess Bowen (3rd and 4th from left) of Mesa celebrated their 70th wedding anniversary this month with daughter Bonnie Mooreman of Cave Creek, grandson John Bowen and great granddaughter Megan Bowen both of Phoenix.

After serving in the military during WWII, Richard and Bess came to Arizona in 1952 to raise their family.



FEBRUARY 15, 2012
Valerie Watters named Retailer Of The Year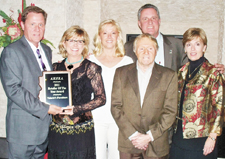 CAVE CREEK – Valerie Watters, owner of Valerie's Furniture & Accents, was awarded the 2011 Retailer of the Year Award by the Arizona Home Furnishings Representatives Association (AHFRA), in a ceremony recently held in Scottsdale, Arizona.

According to AHFRA president Scott Donk, Watters was nominated and chosen from retailers throughout markets that member representatives serve including Arizona, New Mexico, parts of Nevada and beyond.

"Everyone wants to sell to Valerie because of the quality of individual that she is. She was the overwhelming winner," Donk said.

Watters is actively involved in the industry locally, regionally and nationally. She is an executive board member of Western Home Furnishings Association, a trade association dedicated to home furnishings retailers on the West Coast.

"I am extremely honored. I have known many of the reps for more than 25 years. I know how hard they work. They are an essential part of our industry. I am proud to be associated with them and recognized by them."

Watters established the 6,500 square foot home furnishings store in 1989. She built and grew her brand, market share and reputation by dedicating herself to providing clients with one-of-a-kind western furniture and accessories, nearly all of which are American made.

Watters' clientele is not limited to Arizona. A large number of her customers live throughout the country. Watters is known for her clever advertisements which run throughout Arizona and in national publications featuring playful tie-ins with classic old western themes.

But it is her quality that keeps her in business, according to Donk.

Watters hand-selects each item in the store from artisans throughout the United States. "She personally works with all the suppliers of accessories, rugs, fabrics, leather and case goods," Donk said.

In addition, Watters scours the country for unique, sometimes antique, but always interesting western influenced pieces.

Other recognitions Watters has received include Top 50 Retail Stars Award by Home Accents Today Magazine and Best Cowboy/Cool Furniture from Phoenix Magazine. Watters is also known for her work for non-profit organizations, and animal rescue organizations are especially dear to her heart. Watters lives on a ranch in Cave Creek, Arizona and her more than 15 adopted rescue animals include five dogs, a donkey, a mule, a sheep, a llama, a cat, two pygmy goats, many hens and one ornery rooster.

Valerie's Furniture & Accents is located at 6070 E. Cave Creek Road in Cave Creek.
For more information, call 480-483-3327 or visit www.valeriesfurniture.com.
FEBRUARY 15, 2012
4th Annual "Oscar Night: Turning the Oscar Party On Its Head" Fund-raiser set for Feb. 26
CAVE CREEK – Desert Foothills Theater (DFT) is inviting you to its 4th Annual "Oscar Night: Turning the Oscar Party on Its Head" fund-raiser set for Sunday, Feb. 26 from 5:30 to 10 p.m. at Harold's Cave Creek Corral, 6895 E. Cave Creek Rd., in Cave Creek.

"Our Oscar Night party is all about fun," said Meribeth Reeves, Desert Foothills Theater's managing director. "Enjoy the ceremony broadcast with friends and family. We all love the movies and at DFT's Oscar Night we celebrate the best movies of the year with laughter, fun and a little friendly competition."

Enter the "Guess the Winners" for a chance to win free movie tickets for a year; or join in any of the table contests to win fun prizes for your entire table. VIP tables include wine, concierge service and special gifts.

Live pre-show entertain-ment will be provided. Silent auction and tin bucket raffles will feature fabulous items with all proceeds going to DFT and DFT Gecko Teatro.

Proceeds benefit the Desert Foothills Theater and Desert Foothills Theater Gecko Teatro youth theater program. These award-winning theaters have been producing quality work for over 36 years.

To purchase tickets, visit www.desertfoothillstheater.com, or call 480-488-1981.
FEBRUARY 15, 2012
3rd Annual Spur Cross Archaeology Expo
The Desert Foothills Chapter (DFC) of the Arizona Archaeological Society (AAS) would like to invite the public to attend the 3rd Annual Spur Cross Archaeology Expo on March 3 from 9 a.m. – 4 p.m. at the Spur Cross Ranch Conservation Area (SCRCA), 44000 N. Spur Cross Road, Cave Creek. This free event is in celebration of Arizona Archaeology and Heritage Awareness Month.

The expo is an outreach project by the DFC to educate and inform the public about the vast archaeological resources in Arizona. There will be guided hikes to archaeological features in the SCRCA and many booths with hands on activities for children. Special event speakers will talk on archaeological subjects throughout the day and members of the DFC will demonstrate pottery making and flintknapping. A detailed list of activities follows:

Speakers: DFC member and rock art specialist, Grace Schoonover, will speak about the rock art found in SCRCA and the surrounding Cave Creek area; author and DFC member Patrick Grady will talk about his books on Cave Creek and Phoenix history; Tonto Forest archaeologist and DFC member Scott Wood will be on hand to discuss regional archaeology. These talks will occur throughout the day with scheduled times posted on the AAS website, www.azarchsoc.org.

Demonstrations: DFC member and potter Glen Dotson will have a hands on demonstration of pottery making; DFC member Richard Bachman will show the ancient technique of making points known as flintknapping; Al Cornell will do Fire Starter demonstrations using the four new world prehistoric methods of Hand Drill, Artic Strap Drill, Bow Drill and Iron Sulfide/Chert.

Booths: DFC will have a booth with archaeological artifacts and provide children's activities such as coloring and making beaded jewelry; the Cave Creek Museum's booth will also include children's activities and information about the museum; the Cave Creek Museum Stamp Mill Team will have a display and information about the restoration of the 1800's era stamp mill located at the museum; the Desert Awareness group will have an exhibit about desert plants; the Animal Health Services will provide information and awareness of the many things that can affect your dog in the outdoors (there will be no live animals); and Liberty Wildlife will have a booth showing the types of animals that live in the SCRCA.

Hikes: Hikes led by SCRCA and Desert Awareness docents will be occurring throughout the day, with the longer hikes leaving in the morning. All those planning to participate in a hike should bring water, sun screen and wear appropriate footwear for desert terrain. Please check the AAS website at www.azarchsoc.org for exact times and hike destinations.

The DFC believes this Expo will help to both educate and entertain the public. There is an abundant variety of archaeological ruins and rock art in the Cave Creek area. These sites were inhabited nearly 1000 years ago by the Hohokam and archaeologists are still studying how these native peoples lived and worked. Sadly, many of these sites are being destroyed by looters and archaeologists are losing the information they contained. DFC President Glenda Simmons says that, "We believe that once the public is aware of how significant all of these archaeological resources are that they will become our partners in caretaking them." Expo Chair and archaeologist Mary Kearney says, "Archaeology is just plain fun! We hope the children who come to the Expo will be excited to hold some of the artifacts and see the live demonstrations."

The AAS is an independent, non-profit organization with over 600 professional and avocational members and sixteen chapters statewide. Its goals are to foster public awareness, interest, research and conservation of Arizona's rich archaeological heritage, with special emphasis on protecting these scarce resources. The DFC has been active in the Cave Creek area for over 30 years. Members enjoy professional lectures, hikes, classes and research projects. For more information about the DFC, please contact President Glenda Simmons at glendaann@hughes.net. To find a chapter near you, visit the AAS website at www.azarchsoc.org.