MY VIEW BY DON SORCHYCH | FEBRUARY 1, 2012
Primaries
If you like politics you are in heaven. The primaries roar ahead, now in Florida, with abundant mud slinging. Arizona Governor Brewer sticks her finger nearly up Obama's nose and an administrative judge in Georgia may determine Obama is ineligible to be on the ballot there.

Is this the beginning of the end for our fraud in office? Linda Bentley's article in this issue tells all about those proceedings. Many other states are processing similar legal challenges to Obama's constitutional eligibility to be in office. We are the only state though with a bona fide law enforcement organization seriously studying the hidden issues surrounding Obama. That would be Sheriff Joe Arpaio Cold Case Posse investigation. Now you know, if you didn't already know, why the Department of Justice has heaped allegations against Joe. This doubtless comes from the White House and is totally political.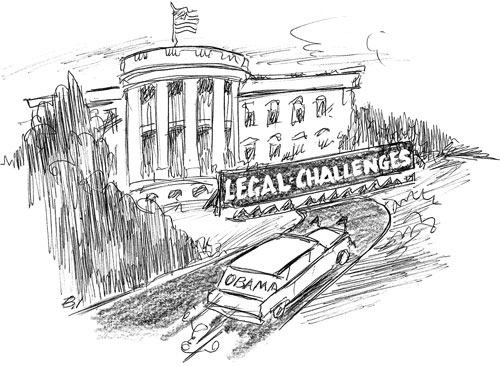 The Cold Case Posse is all volunteers and no tax money is being used. As a consequence they are seeking donations for travel and expenses as they pull together statements about his eligibility and have them notarized. It has been hinted that the results will be shocking. Elsewhere in this edition there is information about how to donate and also about supporting Joe's reelection campaign. Please consider helping both.

I know that 99 percent of the media is hooked on Obama or any Democrat. Yet, I assumed at least the Wall Street Journal (WSJ) would make mention of the Georgia findings and pending decision. None there. Of all the media, WSJ is the best, but even they over the years have been anti-gun and pro-immigration. I guess it is the New York air and water and why Rush Limbaugh abandoned New York for Florida. In Limbaugh's case New York taxes were the clincher though.

It will be interesting to see if the Georgia event is ever mentioned on national news. It will also be interesting to see if Fox discusses the issue tonight. I did scan the online issue of the Washington Times and only saw an entry in their blog posted by a reader before the hearing.

Of course the judge's decision will be passed to the secretary of state and there may be court actions and even appeals to the U.S. Supreme Court. But if it sticks, Obama will not get Georgia's 16 electoral votes. I hope the other states redouble their efforts.

E-mails were full of comment and comedy about the now viral picture of Governor Jan Brewer's finger in Obama's face. The best three comments printed on the color picture of them sent online were: "Grab my boob again and I'll bitch slap you right here." "You work for us shithead" and "Bite me."

According to KFYI, Brewer's book, "Scorpions for Breakfast" was lingering along on Amazon but received a huge boost after her kerfuffle with Obama. One online source said sales of the book surged 1,350,000 percent! She remains in the top ten of Amazon sales. There was much chatter online about how we must be respectful of the office of the president if not for the incumbent president. Others complain that Obama treated Gov. Brewer with disrespect. I maintain we have no royalty in this country and the president is no more due respect than any American.

Although I am not a fan of RINO Brewer, her chutzpah is greatly appreciated. As they say, you go girl!

I had the pleasure of attending a meeting presided over by Congressman David Schweikert at the Cave Creek Coffee Company (C4) last Sunday. He is an impressive and knowledgeable congressman. The questions to him were generally relevant and his answers were detailed and articulate. His public speaking skills have been polished by years as a legislator and as the Maricopa County Treasurer. In this day of huge budget deficits his financial knowledge is vital.

He asked the audience if anyone knew how derivatives work and only one in the audience of about twenty raised his hand. Schweikert explained and everyone learned something.
Schweikert says he is one of 47 conservatives that continue broadening their base in the House of Representatives. Although he is known as conservative and has a conservative perspective, he is ranked 17/100 on liberal matters and 53/100 on conservative issues. If I recall the distant past, Senator Barry Goldwater voted conservative 85 percent of the time.
The recent redistricting came up and Schweikert hopes the Arizona legislature will arrange a public vote to overturn the present insane redistricting.

Did you know the redistricting line includes Cave Creek and Carefree extending north to Prescott? We would be diluted out of any political strength.

The current redistricting pits Republican candidates who are already serving against each other. For instance, Schweikert may be pitted against Ben Quayle and they were both elected about a year ago in separate districts.

Schweikert is an able Congressman who will serve us well.