BY MARIELLE D. MARNE | FEBRUARY 1, 2012
Olsen Firearms shoots for outstanding service and wide range of weapons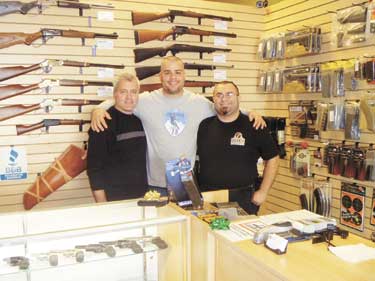 CAVE CREEK – You can learn a lot about weaponry at Olsen Firearms. The business is not new, having commenced in the Scottsdale airpark, so founder Kyle Olsen, along with his business partner, Karl Bendixen, are happy to offer advice based on their collective experience. Now in Tatum Ranch, since August 2011, Olsen Firearms is already being received with a bang.

The store carries a little bit of everything for gun enthusiasts – pistols, rifles, scopes, lights, ammo, holsters, cleaning kits, knives, and more. A best seller is the 1911 frame. Bendixen explained the design has considerable history, dating back one hundred plus years. They remain popular to this day, and Olsen Firearms has many manufacturers from which to choose.

They strive to carry American-made products, and as such, all the knives are made in the U.S. In fact, The Wilderness belts – with extra firm weave so holsters don't cause it to sag – are made in Phoenix.

Not only can you find a full line of firearms and accessories at Olsen Firearms, but you get the individual attention so as to purchase the appropriate product. "We have people who want guns for everything from hunting to personal protection, and we can guide them so they get the right item," Bendixen said. In addition to buying, trades, sales and consignments are options.

There's an interesting case in front of the store with some unusual guns worth a peek to collectors or the curious. Think of it as a mini museum and be sure to take a look!
Olsen Firearms is located at 28212 N. Tatum Blvd. near Ace Hardware. Open Mon-Sat., call 480-922-8221 for hours.
BY MARIELLE D. MARNE | FEBRUARY 1, 2012
Italian excellence served at Cibo e. Vino restaurant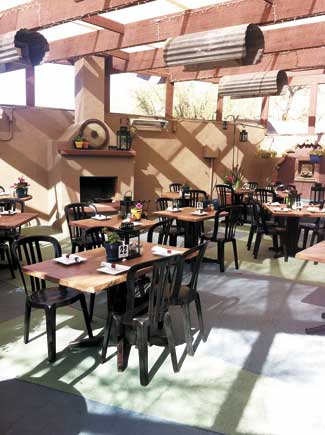 SCOTTSDALE – If you've not partaken of a meal at Cibo e. Vino lately, you're in for a surprise. In the 10 short months it's been open, the Italian restaurant has seen some big changes. First and foremost, it already has a loyal following. The gourmet pizzas are a hit, with one couple working their way down the menu to try every one!

Of course, pizza is just one offering. (Do note, the "crazy good" pizza recipe won a "Best of Phoenix" award.) The menu has expanded. From 3-5 p.m., early bird specials start at $8. Owner and chef John Collura said some of his best sellers are his braised short ribs with demi-glace, lobster ravioli and duck ravioli and, of course, manicotti and stuffed shells.

Collura explained this is one place you can bring the children, and have a kid-friendly meal, while at the same time, parents can enjoy adult fare with a glass of wine and in a grown-up atmosphere.

In addition to the recent menu inclusion of wine, beer and spirits, there's a beautiful and climate-controlled enclosed patio. "The community is loving the patio," Collura said. It has 10 heaters, a fireplace and fountain. Cozy this time of year.

Other news from Cibo e. Vino? Lunch and dinner served seven days, the continuance of the $5 lunch deal of a 12" pizza slice, bread and drink and Collura was recently featured making some of his tasty entrees on ABC's Sonoran Living with Andi Barness.

Check out Cibo e. Vino at 34522 N. Scottsdale Rd. (in Terravita's Albertson's complex).
Call 480-595-6600 or visit ciboevinoaz.com for further details.