MY VIEW BY DON SORCHYCH | JANUARY 11, 2012

Missing Pete Mohr

Noise and parking
Readers should remember Pete Mohr. Pete was our sports writer for 12 years. Pete's style is uniquely original and was aided by his love for sports and the athletes involved. Not only that, but in every article, he got the spelling right for the names of dozens of athletes and coaches.

Pete retired from an Atlanta firm where he had been a top bond executive and came to the Desert Foothills. He worked hard and made significant contributions to the successful purchase of Spur Cross Ranch.

On Oct.15 he suffered a stroke and was partially paralyzed on his left side. Fortunately, his daughter Anna was here and she cared for him before they flew to Atlanta, where he entered a rehabilitation facility. He has begun rehab and is able to walk with the help of a cane. Although Pete didn't promise he would return we are hopeful he will – and soon.
Pete can be reached at: Veranda, 165 Landing Lane, Dadeville, AL, 36853. I am sure he would like to hear from his many friends.

In our phone conversation today, he predicted the New Orleans Saints would beat the Green Bay Packers and we have a dinner bet here. I am anxious to see him regardless of the outcome of the game.

For those who have called about our lack of a sports reporter I have to say Pete is irreplaceable and I have hope he will return!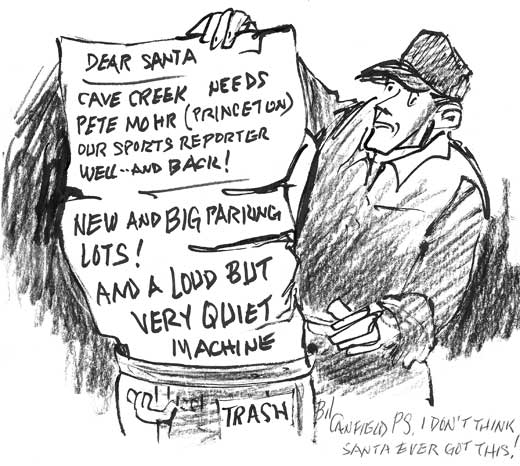 Parking
I have reported about Cave Creek council's reaction to complaints about noise and parking. Council pulled back from Draconian suggestions by staff and asked Town Manager Usama Abujbarah to meet with the businesses involved in the complaint. Here is the result:

"Town of Cave Creek Marshal's Office

"Usama and I would like to thank you for your attending the meeting at Town hall regarding how our local business owners can work together to help minimize adverse affects to neighboring businesses and the community.

"As discussed at the meeting:

• "We all agree there are some problems that need to be worked on, particularly noise and parking.
• "Consensus was that the business owners can work on communicating among themselves better, and work amongst themselves to provide resolutions to current problems.
• "Harold's and the Buffalo Chip agree to communicate when they have large events to surrounding businesses.
• "It was agreed that Harold's and the Chip will provide parking lot security at Binkley's and the Horny Toad during large events, Danny agreed to allow Kevin to pick the staff if need be.
• "The town agreed that parking is a problem at large events. The town will make signage and cones available to Harold's staff, for placement along curbs to discourage off road parking. Harold's agreed to replace any cones/signs that are damaged or lost, subsequent to events held at Harold's.
• "Research will be done to establish a safer crosswalk between Tap Haus and Harold's.
• "Harold's has agreed to re-angle their outside speakers during outside events to minimize the impact on Binkley's.
• "The Hideaway has agreed to work with Jeff from the Horny Toad and provide security staff to minimize illegal parking from the Hideaway's clientele on the Horny Toad's property.
• "The Buffalo Chip, Harold's, Tap Haus and Hideaway have all agreed to provide plenty of notice to Binkley's and the Horny Toad of any future events.
• "The Tap Haus has stated that they will be hosting outdoor events and Mark Bradshaw stated he will meet with Kevin Binkley to minimize adverse effects on Binkley's.
• "Tap Haus has stated they will aim their speakers towards Harold's to minimize adverse effects to Binkley's.

"The consensus was the meeting was a good meeting and all business owners have agreed noise and parking are two certain adverse effects of large events. It was noted that both problems would best be addressed by the businesses affected.

"It is our sincerest hope that we can continue to work amongst ourselves and handle these types of problems effectively in these informal type meetings. Thank you for taking the time to attend and for your willingness to address the outstanding problems."

That was good start and as several business owners have told me, "It will work if everybody keeps their word. We'll see."

The remaining problem is there are other affected businesses in the "hood."

For example, there is a shopping center which includes a Laundromat, a Gun Store and Chiropractor at 6812 E. Cave Creek Road.

On New Year's Eve day and New Year's Day the lot was full of motorcycles and cars. On New Year's Day the Laundromat had no business due to parking by Hideaway customers even though there are abundant signs threatening towing. Even though Hideaway customers have been towed twice, they persist.

On the other hand Buffalo Chip owner Larry Wendt called the Laundromat owner to report a large expected crowd Sunday when Super Bowl favorite Green Bay Packers play. Wendt offered to provide his security staff to assure parking for the Laundromat. That is the way things are supposed to work.

On New Year's Day the Circle K next door could not be accessed due to saturation parking by motorcycles. The manager said the bikers spent so much money with them they will not turn them away. So if you are a regular customer who needs something, forget it. A local business owner's theory is correct. Rather than paying the bar prices at Hideaway, they buy mini bottles of booze at Circle K and then go have fun at the Hideaway.

To complete correcting the problem the town needs a tough ordinance that penalizes illegal parking or more business owners like Larry Wendt.