MY VIEW BY DON SORCHYCH | DECEMBER 21, 2011

Christmas and family
With Christmas just around the corner, thoughts turn to family. Shari Jo mentioned her brother Mike could write a book about being the sole boy with three sisters. I have the identical background.

I was the third born, a depression baby with a birthday in 1931. Jeane, my oldest sister, will hate to read she is now 85.

Betty was a year older than me and died with Alzheimer disease in 2004. Rickey, just turned 69, was born in 1942.

As depression kids we never lacked for anything. My parents were frugal and wore patched clothes, but we children never did. Jeane said she wore hand me downs though.

It was interesting that my sister Jeane and I never had a cross word between us, ever. I adore her and I know she loves me. On the other hand, Betty and I did not get along. She was much like my mother, whom I now believe was bipolar.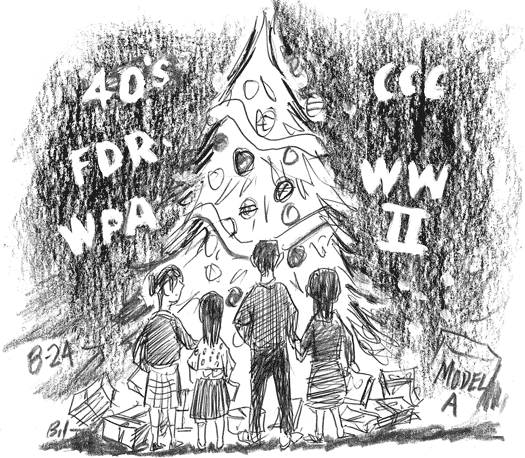 I remember the depression years as fun, although my parents joked about FDR's overtures. The Workman's Progressive Association (WPA) was alive and well in Depue, Ill., where we grew up. A town-wide project to bring sewers to town meant streets were torn up for years.
My first inklings about sex were from crude drawings on wooden privies erected by WPA "workers."

The joke of the day was WPA workers leaning on their shovels until quitting time. Many were town drunks, so the project to eliminate outdoor toilets took years. Stories abound about Halloween fun pushing outhouses over, sometimes with a person inside.

The trenches dug by the WPA were ideal for young kids to play war. Even though America was not yet involved in war, kids were quite aware of the wars in Europe and southeast Asia.

Our family frequently visited our mother's family in Henry Ill. And since most of our relatives there didn't work, or did seasonal work, Mom brought food for everyone. Henry was about twenty miles away and the highway was lined with Burma Shave signs. We drove there in a Model A Ford.

Grandma Minnie Clarence, my mother's mother, was a saint with snowy white hair. She and Grandpa Albert lived in a rented house and Grandma took in ironing for ten cents an article. Grandpa Albert sat in a rocking chair and chewed tobacco, using a two-pound coffee can as a spittoon. They also got some form of welfare.

I always felt that Jeane inherited her lovely ways from Grandma Minnie. Minnie had nothing bad to say about anyone and would counter any criticisms with positives.

Henry had a huge swimming pool where we swam in the summer. The pool was fed with cold artesian water. A fence closed the pool off from onlookers. Henry had a Civilian Conservation Corps (CCC) camp and a member of the Corps named Jim Atterbury had a crush on Jeane. They flirted through the fence even though Mom kept Jeane under close surveillance, probably because she had been pregnant with Jeane at age 15.

My youngest sister, Rickey, was born just after Japan's sneak attack on Pearl Harbor.
Jeane, in the meanwhile was working at Tinker's Pharmacy when she wasn't in high school.
As she neared graduation my parents bought the business and converted it to a confectionary and bus stop.

Without my desires considered, I was given the job of delivering Chicago Tribune newspapers at about 4 a.m. The only good part was I could drive the family's Studebaker to deliver papers even though I was unlicensed.

World War II was difficult. We got to know many draft age men at the store who were hustled off to war and many would never come back.

Betty became Mom's favorite and Mom often spoke of sending her to modeling school. Mom would appear at the store, open the safe, and stuff her purse full of money and then take Betty shopping. Betty was given liberties which Jeane never got.

Rickey was often at the store with us and Ray Brolley, whom I have written about, said Rickey's feet never touched the ground because someone was always holding her. She was an adorable child.

After graduation Jeane met Wilbur (Bill) Stites who was on leave after bailing out of a B-24 over Germany. They married and she went with Bill to a rest camp.

I thought, great, now they will sell the store. They didn't until dad and mom divorced. I stayed with my Dad and Rickey went with Mom, who moved to Chicago.

Betty met Don Quinn, a Henry native who had served in the Navy in WWII and was in the hospital with a broken leg after a motorcycle accident. They soon married and moved onto a family farm near Henry.

Jeane and Betty decided Chicago was no place for Rickey to grow up with her mother. Mom had lots of unsavory friends. Rickey moved to Betty and Don's house and grew up there.

Later Rickey went to college and then moved to Chicago where she met and married Nick Mitrovich who was a Methodist pastor. She had two children before he told her he was gay. She divorced him and met a Northwest pilot named Francis Hunt. They had an extraordinary marriage until he died of Leukemia. Rickey is living on Bainbridge Island, in the state of Washington. We chat frequently thanks to the influence of my caring wife. Although I know Rickey regrets not growing up in a family unit as the rest of us did, both Jeane and I are proud of her and we love her just as much as if she had grown up with us. She is lovely, devout and caring.

Betty divorced Don Quinn and married a man named Elmer Lord. After he died she developed Alzheimer's and died in a nursing home.

One picture I treasure is Jeane,with her arms around me, when I was a fat infant. She once sent me a note, which read, "I have loved you since the day you were born." And I feel the same way about her.

Jeane has lived in Wisconsin for many years. Bill died of Alzheimer's years ago. But she edits a newsletter for people who were in Bill's squadron, volunteers, travels and plays cards. She, like me, has lost many friends to age or accident but I never fail to call her on Saturday afternoons and then she and Shari Jo have a long chat.

We have lived our lives miles apart and were involved in child rearing, our professions and day to day living. Shari Jo has been instrumental in bringing the family unit together again.

Merry Christmas!