BY LYNNE HOSS| DECEMBER 7, 2011
Cattin' Around with the Bobcats
Enjoy what you can see in our Sonoran Desert Foothills
Wildlife sightings are frequent here in the desert foothills, connecting us to nature in a special way! One of the more elusive species in our area is the bobcat (Lynx rufus). Also called wildcat, bob-tailed cat or bay lynx, the bobcat resembles a house cat, but is about twice the size and has a short tail, 6 to 7 inches long. I have enjoyed watching young kits chase each other around, frisking like young kittens. With catlike faces, conspicuous side whiskers and a neck ruff, their body color ranges from tan to gray with whitish undersides and mottled dark spots. Their long erect ears are tipped with one-inch black tufts. Weighing 15 to 35 pounds, they are 2.5 to 3 feet long and males are larger.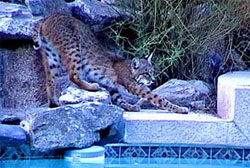 Bobcats occur below 8,000 feet from southern Canada to Mexico, but are mostly absent from north central states such as Illinois, Ohio, Missouri and Iowa. In Arizona, they are found in all habitat types, from low elevation desert to high up in the mountains. They can thrive as long as there is water, abundant prey and a rock crevice or refuge in which to rear their young. As opportunistic hunters and carnivores with keen vision and hearing, bobcats hunt in open or semi-open areas for any prey available, including insects, fish, amphibians, reptiles, birds and small mammals. In our area, they especially like rabbits and pack rats. They hunt in random, zigzag patterns, but seldom give chase, preferring meals that are easy to catch. They are also known to pounce from trees and have been seen atop saguaros.

With the extensive local drought and dried up natural water sources, bobcat sightings have increased in populated areas within sight of Black Mountain. It is likely that availability of water in pools and an abundance of prey (which increases when people feed birds and other wildlife ) create an amenable habitat. Although they are primarily nocturnal with peaks of activity at dawn and dusk, daytime activity has also been reported locally.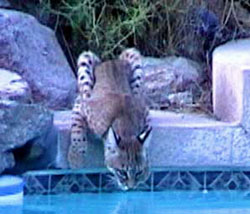 Bobcat territory ranges from 2 to 20 square miles, with size depending on population densities and density of prey species. Male territory overlaps several of the smaller female territories, which don't overlap. Territorial boundaries are marked with urine, feces and scent gland secretions, and scat is in segments, usually containing hair and bone of its prey. Bobcats select underground dens in rocky places, or may use a hollow tree or the underground den of another species. They often mate on rocky ledges. In our foothills area, this may translate to parapet walls on flat roofs!

Breeding times are typically reported to be in the spring, but in our area can occur in any month. Their piercing screams and squalls are loudest during mating season. A male mates with several females and is driven away after breeding so a female can raise the litter alone. With a 62-day gestation period and one litter per year, females usually birth 1 to 4 kits. Weaning takes place at eight weeks and hunting with the parent begins at five months. Both sexes are reproductively active throughout life; males reach sexual maturity at 24 months, females at 12 months. Life span reports vary, with one source reporting 2 to 5 years in the wild and 15 years in captivity, and another reporting 13 years in the wild and 31 in captivity. Quite a difference!

Bobcats don't bother people, usually slipping away when they detect us, although they can be fearless if cornered or wounded. Sometimes, instead of running off they are more "laid back," like when I planted ground cover next to a bobcat napping under a bush 12 feet away. I also filmed some unexplained behavior which involved two mature bobcats (gender unknown) taking a stance and facing each other several feet apart. They ran towards each other, jumped in the air, bumped bellies, and returned to their starting points! The ritual (perhaps related to mating?) was then repeated. Afterwards, they returned to lie under bushes five feet away from each other.

Wildlife-viewing highlights such as these contribute to our unique quality of life in the Sonoran Desert foothills. So keep your eyes open, and see what you see!
DECEMBER 7, 2011
Holiday Briefs
"WILD" event offers holiday fun


Help create gifts for wildlife at Scottsdale sanctuary


Animals at the Southwest Wildlife Conservation Center (SWCC) will enjoy gifts prepared by visitors, including presents filled with such delicacies as "mouse-cicles" and mealworms, during SWCC's holiday "enrichment party."

WHAT: Holiday Wildlife Enrichment Party
WHEN: Sat., Dec. 17 10 a.m. – Noon
WHERE: Southwest Wildlife Conservation Center; 156th St. and Dynamite Road, Scottsdale
Reservations and pre-payment are required, as space is limited. The cost for the event is $20 for children 12 and under and $30 for adults and children older than 12. Make reservations at www.southwestwildlife.org or call 480-471-3621.
A wild and unique holiday idea
Adopt a bear, mountain lion or other resident of wildlife sanctuary
You can adopt a bear, mountain lion, coyote, bobcat, wolf or other wild animal in the care of Southwest Wildlife Conservation Center. Several adoption levels are available, ranging from $25 to $600. Adopters receive a personalized adoption certificate, a photo of the animal, and a pack of Animal Kingdom Trading Cards. Some adoption plans also include a plush stuffed version of the animal species adopted and a certificate for a tour of the sanctuary.

For more information and to adopt an animal at the Southwest Wildlife Conservation Center, go to www.southwestwildlife.org/AdoptAnAnimal.htm, or call 480-471-9109.
The Scottsdale Concert Band
presents its Annual "Holiday Pops" Christmas Concert
3 p.m. Sunday, Dec. 11
The "Big Stage" at Chaparral High School
6935 E. Gold Dust Avenue, Scottsdale 85253.
The public is invited.
The concert is free.
There is ample parking.
The 60-member band, conducted by Musical Director Michele Kalo, is made up of professional musicians, former orchestra and band players, and advanced students. They will play a sparkling selection of familiar holiday pops classics.
North Phoenix family hosts annual light show in memory of Phoenix Police Officer to benefit 100 Club
From now until Dec. 31, Barb and Mike Mulvenna will be hosting their annual Christmas Wonderland Light Show at their home in North Phoenix to honor the memory of Phoenix Police Officer Brian Howe who passed away in 2008. More than 100,000 lights, a 40-foot Christmas Tree, 16-foot Christmas Wreath and, of course, a 12-foot Santa will deck the house with the Christmas spirit, open to the public. Collected donations benefit the 100 Club of Arizona.

WHEN: 5 p.m. – 10 p.m. through December 31
WHERE: Barb and Mike Mulvenna's Home
505 E. Desert Ranch Rd, Phoenix, AZ 85086
WEBSITE: www.100club.org
CONTACT: Ciara Franklin, 602-485-0100
EMAIL: ciara@100club.org
Christmas at Pioneer: St. Nicholas Becomes Santa Claus
WHAT: A progressive story-telling event that evolves as guests visit selected houses/buildings.
WHEN: 9 a.m. – 3 p.m. December 17 – 18
WHERE: Pioneer Living History Village
Guests will follow Santa's story from early admiration, through troubled times, to his transformation into a modern icon. They will learn why the date of celebration moved from Dec. 6 to Dec. 25. They will also follow the trans-formation of his image and name through many countries and cultures as St. Nicholas evolved into Santa Claus.

The Dutch Oven Cook Off that was rained-out on Saturday, Dec. 3, has been rescheduled for Saturday. There is no registration fee. It will be open to the public and awards will be presented. Registration begins at 9 a.m. Cooking will begin at 10 a.m. and your dish will be judged upon completion. Visitors can sample for $.50/ticket.

Pioneer Living History Museum: Northbound I-17 at Pioneer Exit 225 north of Carefree Highway. Entrance: $7 for adults, $5 for students 5-17 years, $6 for seniors 60+. Children under 5 years of age are free. Visit www.pioneeraz.org.