DECEMBER 7, 2011
Greasepaint kids are performing with the national tour of The Wizard of Oz in Phoenix!
PHOENIX – We are thrilled to let you know about our GP kids who are performing with the national tour company of The Wizard of Oz!

Ten Greasepaint regulars were invited to be a part of this exciting opportunity and have
been rehearsing the roles of Munchkins with choreographer Jodie Weiss and our Event Coordinator Andrea Parker-Swenson for the last several weeks.

They will be performing at both the Mesa Arts Center and the Orpheum Theatre in downtown Phoenix through December 11. WOW!

These talented young performers are between the ages of 8 and 12 and have performed on the Greasepaint stage in the last season or two.

We are very proud of these kids and hope that many of you will be able to take your family to this beloved show!

Here are the links to purchase tickets: Mesa Arts Center Shows; Orpheum Theatre Shows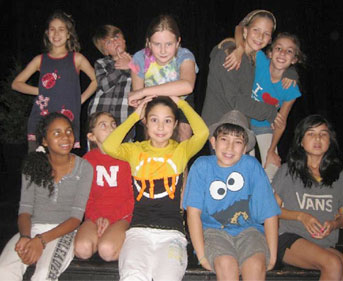 "Munchkins" take a break during a recent rehearsal. Pictured Bottom row (l to r): Isis Bennifield, Malia Wiliams, Mercedes Bischoff, Charlie Seigel, Thea Eigo. Top row (l to r): Berkeley Lock, Viktor Ekeberg Schneider, Madeleine Bates, Katharine Wilhemsen, Olivia Parker-Swenson.

Photo courtesy of Andrea Parker-Swenson.