MY VIEW BY DON SORCHYCH | NOVEMBER 30, 2011

The Strawns

Daughter Dawn et al
I wrote last week about experiences in the Melbourne Hunting and Fishing Club. It was pleasing to hear from previous camp member. David Strawn, and his wife Fran. The beauty of online communications is with us. You may have noticed emails from various countries around the world.

Sunday, David called and we brought each other current on our lives. He was calling from their North Carolina summer home but lives in Deland, Florida and owns a large orange grove. He said he met with Billy Kempfer the co-owner of the ranch which hosted our hunt club. Kempfer told Strawn the club has changed dramatically since he was in the club. Kempfer took him for a drive through and he said it was way more upscale since we were members.

Oh, for a time machine!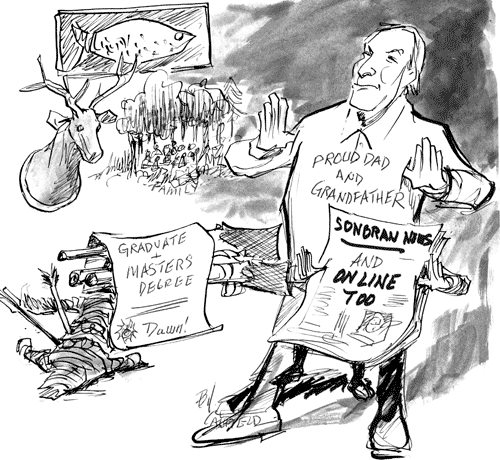 This is a good time to explain Sonoran News is a weekly newspaper. We print one week and have a fresh edition online every week. Many readers use their computers or smart phone to check us out as soon as the edition is posted online. Online editions with virtually unlimited space can have longer articles, more pictures and vivid color.

Our sportswriter, Pete Mohr, took advantage of online editions and wrote voluminous articles with parades of pictures.

Sadly, Mohr had a stroke about a month ago and his left side is partially paralyzed. He is wheelchair bound most of the time but can make limited use of a cane. His daughter Anna, from Virginia, took care of him and flew with him to Alabama where Mohr will be in rehabilitation. We are praying he will return soon. Thanks to many fans who visited him and cheered him during his hospital stay and rehab.

Getting back to the hunt club, the recent passing of Thanksgiving and a long talk with my oldest daughter on the phone reminded me of the many Thanksgivings our families spent with a dinner and fun in the woods. The feast was all about game, the turkey was always wild turkey harvested at the club. There was venison too, feral hogs and even waterfowl. Kids enjoyed hikes and my two daughters learned to drive in my 1948 Jeep at these events and other weekends.

Fortunately, the weather is moderate then and the mosquitoes had vanished until the next year.

My daughter Dawn hunted and fished with me almost as soon as she walked and killed her first deer at age 10. She went to college and for her undergraduate degree and master's degree, she was given a .243 rifle and 20 gauge shotgun, respectively.

She married Attorney Jerome Hoffman and they had three children, whom she home schooled, even taking the three to Italy for four and one-half months. Later they were in private and public schools, Nicholas graduated from Emory University in Atlanta and will soon be entering medical school. Alexandra is a sophomore at Emory and Hunter is a freshman at Emory. They are all scholars and could have gone to any Florida school for free. Both Nick and Alexandra are hunters and they both killed nine to 10-foot alligators, as did Dawn, this year, with bow and crossbow.

Hunter on the other hand, is a chess prodigy and musician. Nick plays the guitar and Alexandra plays the harp.

And yes, I am a proud granddad.

When parenting slowed down, Dawn and partner Tom Monahan developed a consulting business teaching gun handling, knife fighting, security and marksmanship. A few years ago, Dawn founded her gun business in Tallahassee. This statement is made on her web page:

DSH Firearms is located at 2613 Centerville Road in Tallahassee, Florida. 850-386-5370

We also have a training academy located in Midway, Florida 20 miles west of Tallahassee. The 200 acre property borders the Florida Public Safety Institute. Some of our clients have included Nuclear Power Plants, Military Contractors, College ROTC Programs, Security Companies, USDA Wildlife Services, Department of Homeland Security, and State/ Local and International Law Enforcement Agencies.
In addition to conducting firearms training, we sell and transfer firearms including Class III SOT and AOW firearms to the Public.

This business kept the whole family busy during the summer and with her kids off to college she will lower the unemployment rate by hiring.

Yep, proud Dad, too.