BY LINDA BENTLEY | NOVEMBER 22, 2011
LearnYes and CCUSD93 may have violated FCC regulations
FCC recommends filing a complain
CAVE CREEK – During LearnYes.org's recent political campaign advocating passage of Cave Creek Unified School District's 15 percent M&O override on Nov. 8, which failed by a vote of 6,901 to 8,495 (45 percent Yes to 55 percent No), Sonoran News received numerous calls from parents saying they'd received prerecorded phone calls to their wireless phones from the political action committee urging them to vote yes. Keep reading ...
BY LINDA BENTLEY | NOVEMBER 22, 2011
Arizona Supreme Court reinstates Mathis as chair of IRC
Senate leadership says 'court should never have inserted itself in this legislative action'
PHOENIX – On Thursday evening, only hours after hearing oral arguments regarding the removal of the Independent Redistricting Commission (IRC) Chair Colleen Mathis, the Arizona Supreme Court overturned Governor Jan Brewer's decision to oust Mathis for "gross misconduct" and "substantial neglect of duty." Keep reading ...
BY LINDA BENTLEY | NOVEMBER 22, 2011
Wild at Heart's dedication to raptor rescue, rehab and release
The all-volunteer organization, dedicated to the rescue, rehabilitation and release of birds of prey seeks volunteers and donations
CAVE CREEK – Tucked away in the fringes of a Maricopa County Island just south of Cave Creek lies Wild at Heart, a nonprofit organization that focuses on raptor rescue, rehabilitation, release and relocation. Keep reading ...
BY LINDA BENTLEY | NOVEMBER 22, 2011
New Hampshire could use a motto makeover
Dr. Orly Taitz, Esq. places N.H. officials squarely between a lie and hard spot
CONCORD, N.H. – According to the New Hampshire Department of Justice's website, the attorney general enforces New Hampshire's election laws, as well as certain federal voting rights. Keep reading ...
NOVEMBER 22, 2011
4th Annual Carefree, Arizona Christmas Festival Dec. 9 – 11
Three day Christmas Festival features Electric Light Parade and Holiday Fireworks Extravaganza, Real Snow, Live Music, Carolers, Christmas Gift and Food Market
CAREFREE – Imagine a quaint town named Carefree set high in Arizona's Sonoran Desert, transformed into a lighted Christmas winter wonderland. Keep reading ...

NOVEMBER 22, 2011
58th Annual Desert Foothills Christmas Pageant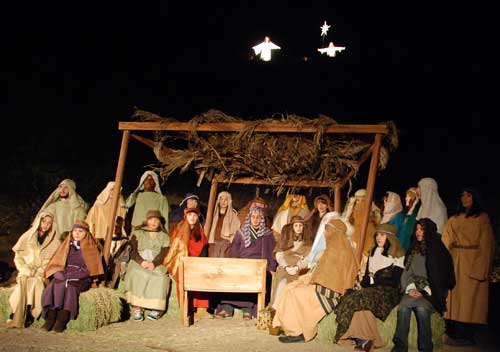 The 58th Annual Desert Foothills Christmas Pageant will be held at 7 p.m. on Saturday, Dec. 3 and Sunday, Dec. 4 at Spur Cross in Cave Creek. Bring a flashlight and blanket or chair and sit out under the stars. For information and directions call 480-488-8400 or visit www.desertfoothillschristmaspageant.com.

Sponsored by Kiwanis Club of Carefree. Courtesy photo