NOVEMBER 16, 2011
2011 fishing licenses are now half price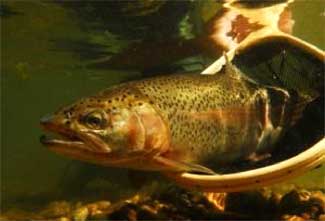 PHOENIX – If you don't already have a 2011 annual Class A fishing license or the Urban fishing license for Arizona, you can now get either one for half price.

No, that's not a typo.

In November and December each year, the annual fishing licenses for that year go on sale for half price. That means residents can buy a 2011 state Class A fishing license for only $11.75 (for nonresidents, it's $35.13). Or, if you like fishing the Urban Fishing Program waters, residents and nonresidents can get a Class U fishing license, good for the 21 waters in the urban program, for only $9.25. Both the 2011 Class A and Class U licenses are valid through Dec. 31, 2011.

This year you are just in time for the great fall bite (which only started a week or so ago) and the ramp-up of the winter trout stocking. In fact, the Urban Fishing Program lakes in the Phoenix and Tucson areas will be stocked with trout starting Nov. 17.

In other parts of the state, Canyon Lake was recently stocked with rainbow trout, and the Lower Salt River near Phoenix will be stocked with trout this week for the first time this winter.

"The Lower Salt River is a unique seasonal rainbow trout fishery in the desert just minutes away from our major metropolitan area, yet it is wild-like with deer, bighorn sheep, bald eagles and peregrine falcons being seen fairly routinely, especially at first light," said Rory Aikens, the fishing report editor for Game and Fish.

The Verde Valley is also a popular trout angling destination this time of year – this week Game and Fish will be stocking the Verde River between Camp Verde and Cottonwood, along with Dead Horse Ranch State Park.

"Plus, the high country is still providing some terrific fishing opportunities. Big Lake has been going great guns recently. The reports from Woods Canyon, Willow Springs and Knoll lakes along the Mogollon Rim have also been excellent," Aikens said.

Also, you might want to put on your calendar the "Welcome Back the Trout" celebration at Tempe Town Lake from 3 to 5 p.m. (after school) on Nov. 22, the Tuesday before Thanksgiving.

"This fishing celebration has become an Arizona holiday tradition, especially for outdoor-oriented families. Come on out and join us. We'll have a fishing clinic, and you can even help us stock rainbow trout," Aikens said.

Other lakes with great fishing opportunities include Saguaro, Lake Pleasant, Bartlett, Alamo, Lake Havasu and Lake Powell.

"If you want a world-class fishing experience for wild rainbows, head for Lees Ferry in northern Arizona," Aikens advises. "Plus, it's one of the most scenic trout fisheries on the planet."

If you're fishing for trout in state waters, you'll still need to buy the trout stamp at full price ($15.75 for residents, $57.75 for nonresidents) in addition to your Class A fishing license. A trout stamp is not required for the Urban Fishing Program waters.

Fishing licenses can be purchased at Game and Fish offices, at license dealers throughout the state, and online at www.azgfd.gov.

For more information on where to fish, visit www.azgfd.gov and click on the weekly fishing report or winter stocking schedule.
NOVEMBER 16, 2011
Status of three wild-hatched condor chicks in Arizona: one fledged, one still in nest, one found dead
GRAND CANYON – Two of three California condor chicks that hatched in the wild earlier this year are doing well, including one that recently took its first flight from the nest and another that is close to fledging. However, one chick recently was found dead below its nest cave in the Grand Canyon.

The three young birds set a record this year: the greatest number of chicks hatched in the wild in one breeding season since the effort to recover endangered condors in the Grand Canyon region began in 1996.

"Another first – three chicks in a single season," said Eddie Feltes, field manager for The Peregrine Fund, an Idaho-based conservation organization that oversees the condor recovery program in Arizona and southern Utah. "We remain hopeful that the two remaining chicks will join the ever-growing flock."

The young bird that died had a broken wing and may have fallen from its nest, but due to the condition of the carcass, examiners were unable to pinpoint a cause of death.

The young condor was last seen alive on Sept. 27. After Grand Canyon National Park biologists made several investigative trips into the rugged terrain of a side canyon, the carcass was recovered on Oct. 23.

Recent sightings of the two other wild-hatched juveniles show that they continue to thrive and be well cared for by their parents. Three adult birds are tending the fledgling, which took its first flight from its nest in the Kaibab National Forest in late October. This is the first time that a trio has successfully produced a fledged chick in the wild.

The other remaining chick is expected to fledge soon as well. National Park Service biologists are monitoring its nest cave in the Grand Canyon.

"The surviving chick in the park appears to be close to making its first flight," said Martha Hahn, chief of Science and Resource Management at Grand Canyon. "Park wildlife staff have observed the chick flapping its wings and hopping around, which is typical behavior of condor chicks before fledging."

The carcass of the dead chick was sent to the San Diego Zoo Institute for Conservation Research. Besides the broken wing, pathologists identified small bits of trash in the condor's stomach, but the foreign items appeared to be incidental.

The presence of tiny pieces of metal, plastic, and other indigestible material in the bird's stomach is not that unusual for scavengers found near areas where people live or visit.
"We have found foreign items in and around other condor nest caves in the Grand Canyon and the chicks fledged without issue," said Chris Parish, director of The Peregrine Fund's condor recovery program in Arizona. "This event does, however, demonstrate the volume of trash that exists in the environment, and we can all help by packing out what we pack in."
Even the smallest bits of trash can be mistaken for food items, he said.

"Because microtrash has been such a problem with fledglings in California, we are forever on alert," Parish said.

The condor recovery effort is a cooperative program by federal, state, and private partners, including the Arizona Game and Fish Department, U.S. Fish and Wildlife Service, Bureau of Land Management, National Park Service, Utah Division of Wildlife Resources, Kaibab and Dixie national forests, and Zion National Park.