BY MELANIE HABER | SEPTEMBER 28, 2011
Surviving pet loss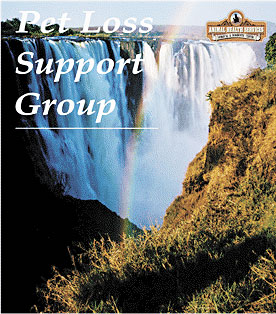 Pet loss can be devastating whether it is expected or sudden. Some pet owners are surprised by their strong emotional reaction at the loss of their pet. The five stages of grief and dying that were originally applied for human loss have also been found to explain the grief stages experienced when someone suffers the death of their pet. To suddenly lose a friend that is faithfully by our side day in and day out leaves a considerable hole in our lives. Knowing this, it is no wonder many pet owners are inconsolable at the passing of their pet. In fact often times they don't recognize the emotions for what they are.

So how do we recognize these feelings and cope with the emotional roller coaster of pet loss? First, understand that you are not over-reacting but are actually reacting naturally considering the loss of a beloved friend. Second, understanding the stages of grieving: denial, anger, bargaining, depression and acceptance, can start you on the journey to healing. Many pet owners also experience another type of grieving called anticipatory grief. This is the anticipation of a pet's death when the veterinarian diagnoses a terminal illness. The anticipation of their pet's impending death can be even more stressful than the grieving process itself. Once the pet has passed, some pet owners feel guilt once the pet is gone but at the same time may feel a sense of relief that their pet is no longer suffering. Talk about emotional chaos! Finally, recognizing the emotional and physical symptoms of grieving, emotional thoughts or actions can make the path to healing easier.

Help can be found in many resources, books, articles and inspirations to aid in the road to recovery, however, no one should have to suffer alone. Seek help. Join a pet loss support group to have the emotional support of others that know exactly what you are dealing with. If you are experiencing any of these grieving stages, anticipatory grieving or symptoms of pet loss, please join us for a Pet Loss Support Group. We'll discuss the symptoms of pet loss, stages of grieving, bereavement, conquering guilt, surviving loss, deciding if "it's time" and helping children cope. Meetings are every other Thursday at 7 p.m. starting Oct. 6 in the second floor meeting room at Animal Health Services, 37555 N. Cave Creek Rd.
Call 480-488-6181 or visit www.ahsvet.com for more information. We are here for you ...
SEPTEMBER 21, 2011
The Scottsdale Classic Delivers a Winning Combination
September 29-Oct 5 at WestWorld
When it comes to blending the right amounts of fun, professionalism and prestige, the organizers of The Scottsdale Classic in Arizona have a winning formula. Throw in a liberal amount of great weather, stir it up at a world-class facility, and it is no wonder that exhibitors keep coming back for more. Now entering it's ninth year, The Classic will once again offer up an equine extravaganza of Quarter Horse shows, Futurities, Special Events, parties, shopping and of course, superb competition. Horses and riders from around the country, as well as from abroad, will compete for points, prizes and over $140,000 in cash awards during the seven days of competition. The show will be held at WestWorld, Sept. 29 – Oct. 5,. This year's dates work perfectly for those who want to show at the Classic, and still be able to compete at the Congress, which starts on Oct 7.

Some exciting new additions join the list of favorite events this year. The Classic is thrilled to be one of six shows around the country to host NSBA Stallion Incentive Fund Classes. These classes are open to NSBA licensed horses sired by a stallion in the SIF program for 2011. Incentive Fund classes are the 2 Year Old Open Western Pleasure, 3 Year Old Open Hunter Under Saddle and 3 Year Old Non Pro Western Pleasure. They join a full slate of NSBA Western Pleasure and Hunter Under Saddle futurities and maturities offered at the Classic. Added money sweetens the pot for the additional NSBA classes. You won't want to miss the $5,000 added 2 Year Old Open Western Pleasure and the $7,500 3 Year Old Open Western Pleasure classes as they are expected to once again offer an exciting challenge. Additionally, saddles, buckles and trophies await the champions.

Last year, the Classic added a Special Event Trail and Western Riding day to the schedule. Its popularity ensured it a place on this year's schedule, and will kick things off on Thursday September 29. Over in the Reining Arena, NRHA classes will get underway that day as well. Even if you are not a reiner or showing in the Special Event, you will want to get settled in on Thursday so that you can enjoy the Welcome Party that evening. Susie Johns & Family, Kathy & Jerry Tobin & Family, Jim & Deanna Searles graciously sponsor the inaugural event of the Classic's Party schedule. All are welcome to enjoy some great food and the opportunity to catch-up with your friends. There will be plenty of party entertainment that evening as the Equidome will be turned over to the dogs for the popular Classic Dog Agility Sweepstakes. The agility event is a benefit for Vets and Their Pets, a local charity that assists homeless veterans in caring for the needs of their pets.

The full schedule of AQHA and NSBA classes, including the Youth divisions, starts on the 30, with action in five arenas throughout the day. Things do not slow down when the sun goes down, as the Equine Chronicle Party gets underway with more great food and plenty of fun.
The Scottsdale Classic attracts an ever-growing number of reining enthusiasts. Offering AQHA and NRHA classes to fit every level of horse and rider, combined with perfectly groomed reining arenas, everyone from the greenest of green to reining celebrities love to kick up some dirt at the Classic. The payoffs are pretty nice too. Trophies, saddles, buckles, prizes and a whole lot of cash reward the best runs. In addition to hosting the NRHA Southwestern Regional Affiliate Finals, The Classic is excited to be a part of the Reining Super Series for 2011. Four of the reining industry's premier events have come together in this series to give Open and Non Pro exhibitors yet another chance to pocket some big money. Exhibitors who compete in the Ariat Tulsa Reining Classic, the High Roller Reining Classic, the Scottsdale Classic Reining Futurity and Horse Show and Southwest Reining Horse Association Futurity and Horse Show are eligible to win $10,000 in both the Open and Non Pro divisions.

Big checks are a big part of the reason exhibitors chose the Classic. The $50,000 Open Reining Futurity will be held Saturday Oct. 1, running concurrently with the $8,000 Intermediate Open and the $2,000 Limited Open. Expected to draw over 130 entries, the three divisions will provide a full afternoon and evening of exciting competition. As night falls, the crowd will be treated to the Rancho Oso Rio Reining Futurity Party. Jim and Pat Warren along with Fappani Performance Horses host the event. Party-goers will also have the chance to bid on a wonderful array of jewelry, accessories, home décor and personal services at the Three Cowgirls and an Outlaw silent auction. All money raised at the auction benefits America's Horse Cares, a program designed to enrich the lives of special needs children through therapeutic riding.

In between all the activity in the arenas, exhibitors and spectators will be able to shop for horse and home. From practical to extravagant, you will find what you need to outfit yourself and hour horse from head to toe. Cumulatively, the 9th Scottsdale Classic is shaping up do what fans expect: deliver a great show along with a great time. This winning combination has rightly earned it the reputation as the "Fun Show." Join in the fun and join us in Scottsdale.