BY LINDA BENTLEY | SEPTEMBER 28, 2011
CCUSD – Can anyone spell cat?
Parents still peeved at district's spending priorities and sale of private contact information
CCUSD – Parents continue to express displeasure with Cactus Shadows High School World Language Department Lead, National Board Certified Teacher in World Languages Other than English, Spanish teacher Jocelyn Raught's command of the English language and has them wondering if Raught's spelling and grammar in Spanish may also be lacking. Keep reading ...
BY LINDA BENTLEY | SEPTEMBER 28, 2011
Woman pursues Obama's SSN mismatch notice
'Obama may not be a natural born citizen … Why would anyone let him get away with the crime of the century?'
SEATTLE – After Linda Jordan, a Seattle resident, entered Obama's name, birth date and Social Security number into the E-Verify system, a system set up to determine employment eligibility, she received a "Notice of Mismatch with the Social Security Administration Records." Keep reading ...
BY LINDA BENTLEY | SEPTEMBER 28, 2011
One man's quest for justice
'Before I answer your questions, I have one of my own'
CAREFREE – Sam Puskar came to Sonoran News a few years ago with some allegations about his former business partner William "Bill" Milliner, a Carefree Real Estate Broker. Keep reading ...
SEPTEMBER 28, 2011
"The Taste of Cave Creek" Oct. 15–16 at Stagecoach Village
Celebrating 25 years of incorporation and 140 years of Western heritage
Presented by: The Town of Cave Creek.
Where: Stagecoach Village, 7100 E. Cave Creek Road, Cave Creek.
When: 11 a.m. – 5 p.m., Saturday, Oct. 15 – Sunday, Oct. 16.
Tickets: $10, or both days for $15. Available at the gate and at
participating restaurants. Food tastings from $1 – $4 each.
For more info: www.tasteofcavecreek.com or 480-488-1400.
Event organizers expect an average of 5,000 attendees each day.
Highlights include:
• Delicious tastings from more than 20 Cave Creek area restaurants.
• Desert Foothills Film Festival showings.
• Live country and rock music with Cave Creek's favorite bands.
• Craft beer garden.
• Wine, beer and Cruz tequila tastings.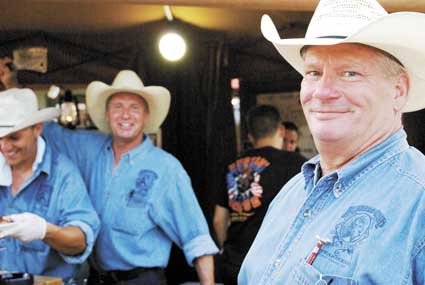 Larry Wendt (far right), owner of the Buffalo Chip.
BY LINDA BENTLEY | SEPTEMBER 28, 2011
It's not your daddy's Astro Turf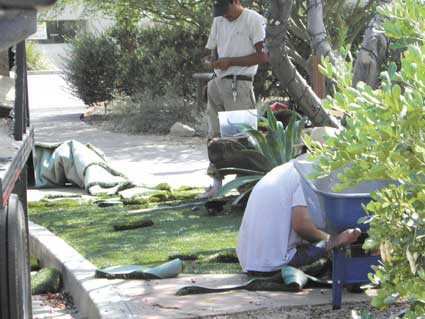 As the Carefree Town Gardens have been getting a complete makeover, several residents seemed mortified that Southwest Greens was installing synthetic grass in the gardens. However, if the carpet-like material was already completely installed and the truck advertising synthetic grass had never been seen, most folks would be none the wiser.
Photo by Linda Bentley