BY PETE MOHR | SEPTEMBER 28, 2011
Kinsler fires to Hartlen (74-yard catch/run); next to Pritchard (8-yard winning touchdown); then to Linn (2-point conversion) for 21-15 Homecoming victory over Prescott!
Two TDs, Falcon defense keep 'Birds close before fumble recovery ignites first win in "The Greg Davis Era"
FALCON STADIUM – September 23. After opening the 2011 season with four straight losses (three on the road, including back-to-back games at Division 1 heavily-favored opponents Boulder Creek and Pinnacle), the Falcons shook off "bad luck" (a holding call that negated a Bryce Kinsler-to-Matt Hartlen two-point conversion that would have knotted the score at 15-15 at 10:18 of the 3rd quarter); then, trailing 13-15, the 'Birds were gifted the "good luck" of a sure touchdown pass flat-out dropped by a Prescott receiver (charitably unnamed) on a 3rd-and-10 from the CSHS 18 early in the 4th quarter. Cornerback Emeka Esemonu broke up quarterback Brad Hall's 4th down pass to turn away the Badgers with zero points.
But back came the visitors: on this trip, to a 1st-and-10 at the CSHS 15 with 8:05 left to play. Then the Falcon "D" rose up with the momentum-changing stop. On 3rd-and-8 at the 17, senior linebacker Ashton Keown, on his first play into the game, unhinged Prescott's standout running back Brady Mengarelli, who fumbled the ball forward into an alert recovery by senior Michael Schlotman. Causing the huge turnover "made" the only "good luck" the Falcons would need to win the game. Winning teams usually make their own "good luck."
With his team reprieved from a Badger scoring threat for the third time, Kinsler threw his best pass of the night to Hartlen, in full stride on a "gas" route down the right seam. Hartlen broke free at the CSHS 45 and appeared headed for six before being hauled down from behind at the Badger 8. "I was really huffin'-and-puffin' thinking I was gonna make it," Hartlen recounted to Sonoran News. "But hey, Bryce hit Tommy (Pritchard) for a touchdown on the next play. That's all that mattered." With "The Nest" (the student cheering section) in jubilation, Kinsler rolled out and fired a strike for two points to fullback Bryan Linn running along the goal-line toward the right pylon. Falcons, 21 - Badgers, 15.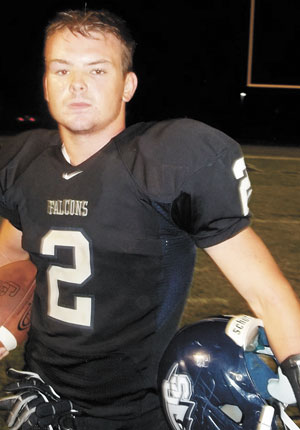 On Prescott's "last gasp" sequence, an overpowering rush led by Schlotman left the Badgers in a 4th-and-30 hole at their 8. Hall's desperation throw fell incomplete. Kinsler took a clock-expiring knee. Now it's my privilege to share with readers the emotional highlight, to date, of my reporting Falcon Football, beginning with the 2001 season.

After the two teams had exchanged traditional handshakes, Prescott Head Coach Steve Moran unknowingly guided his team into the South end zone, normally the Falcons' postgame turf. So the victorious 'Birds waited expectantly for Head Coach Greg Davis in the North end zone. The most hard-working (and loyal) of all Falcons, Assistant Coach and Equipment Manager Kevin Sterner stood close-by, as usual, with the two game balls to be awarded Coach Davis's nominees. After bestowing praise upon his team for their 2nd half performance ("the definition of excellence"), Coach Davis tossed the first game ball to the entire Falcon "D." It was appropriately snagged by Schlotman to the affirming cheers of his teammates.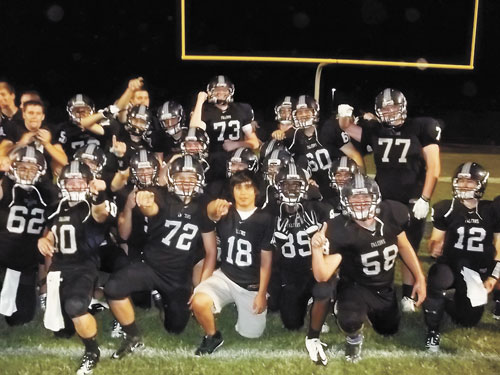 Photo By Pete Mohr
Before Coach Davis could announce the "O" winner, Coach Sterner flipped the second ball toward him, exclaiming, "This game ball belongs to Coach Davis!" Whereupon "Coach Greg" was spontaneously – and affectionately – swarmed by his exalting players!
Coach Davis: congratulations to you, your staff – and, of course, to the "didn't quit' Falcons on last Friday night's breakthrough win. May uncountable postgames to come find you and your victorious HomeBirds celebrating in the North end zone!
This writer superstitious? Nah, not on your life!