BY LINDA BENTLEY | SEPTEMBER 21, 2011
At CCUSD, does the end justify the means?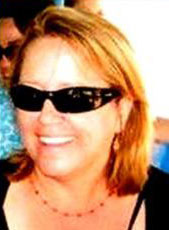 Cactus Shadows High School English teacher Lori Hart, who teaches journalism and oversees the CSHS newspaper, yearbook, and literary magazine, has been accused of telling students in her classroom to seek as many bundles of Sonoran Newsas they could find and destroy them.


CAVE CREEK – Last week, a Cactus Shadows High School parent contacted Sonoran News upon learning English Teacher Lori Hart was instructing students in her classroom to seek as many bundles of Sonoran News as they could find and destroy them.

The parent, who spoke under condition of anonymity, furious at the indoctrination in the classroom that has apparently morphed into a teacher encouraging her students to commit crimes, contacted CSHS Principal Steve Bebee.

Sonoran News contacted Superintendent Debbi Burdick to ask what the district planned to do "about this 'campaigning' in the classroom for students to commit felony acts."

Burdick responded, "Thank you for the information. We will look into it immediately. Could you please have the parent contact me?"

When informed the parent had already contacted Bebee, Burdick said, "Good – then M. Bebee will look into it."

Asked again what action, if any, the district planned to take, pointing out this was a very serious allegation when a teacher advises her students to steal and destroy other people's property, Burdick stated, "Mr. Bebee would start by meeting with Ms. Hart to share what has been reported and hear her response."

On Tuesday afternoon, after learning from the parent that Bebee had spoken with both Hart and the student, Sonoran News contacted Bebee.

Bebee said he had completed an investigation of the allegations brought forward, but since it was "a personnel issue," he was not at liberty to discuss anything.

When asked if it was still a personnel issue, Bebee replied, "Yes."

The parent was told by Bebee the district would "take appropriate action."

It's not clear whether or not Hart is a teacher whose position might be on the chopping block if the 15 percent override does not pass. She is also the wife of Attorney Stephen Hart, chairman of the LearnYes Political Action Committee.

However, if the allegation is true, the lesson taught in Hart's classroom appears to be the end justifies the means and it doesn't matter if people lie, cheat or steal, so long as, in the end, they get what they want. In this case, the district wants more money.

And, as a side note, the LearnYes campaign is claiming passage of the override will somehow protect home values from falling.

Higher property taxes for the Cave Creek Unified School District, however, do not appear to have any nexus to home values, except perhaps a negative one, as home values within the district have plummeted by as much as 50 percent since the current seven-year budget override was passed in 2007.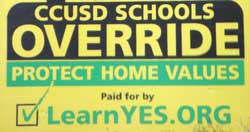 The LearnYes campaign claims higher property taxes for CCUSD will "protect home values." Home values, however, have plummeted substantially since the current seven-year budget override was passed in 2007.