MY VIEW BY DON SORCHYCH | SEPTEMBER 14, 2011
Visit Russ and Joe • We are moving

Sept. 17 is a special day. The Buffalo Chip Saloon and Steakhouse will host a special event honoring Senate President Russell Pearce with dinner proceeds going to Pearce's campaign funds. Pearce is being harassed by a coalition of illegal aliens and their supporters who are seeking to recall him.

Pearce is the author of SB 1070, which is being battled in the courts. This bill goes a long way toward eventually ridding Arizona of expensive illegal aliens, which not only are costly but a smear on the constitutional rights of legal Americans.
Attempting to do what our elected federal government officials refuse to do, Pearce had the audacity to deal with it. Even now, Obama has supported Janet Napolitano's continuing statements that Homeland Security would only deal with "criminals" and not deport other border crashers, who, by definition, are criminals too.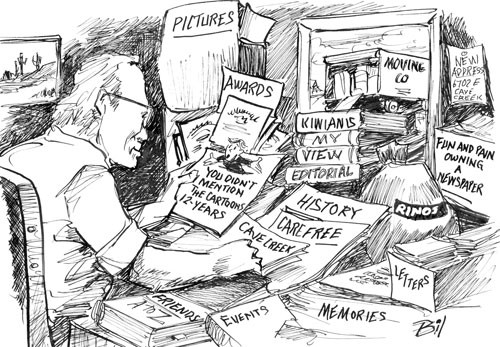 The American public is being swindled by both parties with Democrats and RINOs joined to keep cheap, although illegal, labor in our country. Typically the RINOs want cheap labor while Democrats want their votes.

If this country is ever to return to its illustrious roots the Pearces of the world need to be increased several hundred fold. This is a good place to start. Think and vote conservative. Support those who, like Pearce, believe in the Constitution and reserve the country for law abiding citizens.

You have a chance to meet a true patriot who deserves praise, not a recall. Not only Pearce, but illegal-alien-busting Joe Arpaio will be there. Here is a chance to meet a one-of-a-kind conservative and a one-of-a-kind law enforcer. Phoenix Councilwoman Thelda Williams will also be there supporting Pearce. The $25 fee all goes to Pearce's campaign but you get a BBQ dinner with sides and soft drinks.

Mark your calendar, Saturday, Sept. 17 from 5 – 9 p.m. at the Buffalo Chip Saloon and Steakhouse. See the advertisement on page six.
The move
By October 1 Sonoran News will be operating at 6702 E. Cave Creek Road in suites 2 and 3.
After 17 years in our current location the accumulation of paper is scary. Shari Jo has removed countless banker boxes of stuff and we are about half done. But what a history lesson! Long forgotten memos, letters, articles and pictures beg for attention. So the process is slow, but fun and instructive.

I relived the long and arduous Spur Cross Ranch adventure with its many twists in the road. I tracked the Cave Creek change from a recalled mayor to ever improving councils and town managers. Carefree was similar yet way different. In our beginning there was seldom a vote that wasn't 7-0. Early on, votes were decided before the meetings and the good old boy system continues, controlling the town and Kiwanis. But there appears to be gradual change for the better.

All in all there is enough material for several books. But who would read them?

In the spring of 2002 I was offered an opportunity to buy this shopping center; I agreed to purchase it in September, along with the Laundromat. In September the owner said he had made too much money and didn't want to sell until February, at which time he then decided the building was worth much more than the purchase price we had agreed upon. I learned that hand shakes which had worked through many companies and deals didn't work here.
Recently I closed the service side of the Laundromat but retained the coin-operated side. When the financials have been recomputed to accurately reflect current numbers, it will again be offered for sale.