AUGUST 8, 2011
It's time for school and safety
It's back to school time.

Children are everywhere – on bikes, on foot and in cars. They are alone, in pairs and in groups. They dart out when you least expect it and are easily distracted from watching out for their own safety.

Whether taking children to school or just driving through a school zone, everyone can do their part to keep kids safe.

All school zones are always 25 mph or under – many 10 or 15, so watch closely as you travel about the Valley. Leave a bit earlier than normal to avoid having to rush –or resign yourself to being late.
BY PETE MOHR | AUGUST 3, 2011
'Kinder, gentler' two-a-day for Falcons;
Full pads on Saturday, Aug. 6
CSHS – "Sweet Home, Alabama!" Given Monday's monsoon humidity – not to mention the toasty 105 degrees – it felt like this writer's native Alabama. But in the present combination of triple digit temps and higher-than-usual humidity, Head Football Coach Greg Davis is opting for a "kinder, gentler" practice regimen for this week's two-a-days: the Falcons will show up at 7 a.m. for an hour of weight training and strength conditioning, before returning for a full three-hour practice at a "cooler" 5-8 p.m. Coach Davis observed to
Sonoran News
before the start of Monday afternoon's practice, "In this heat and humidity, caution has to be our watchword."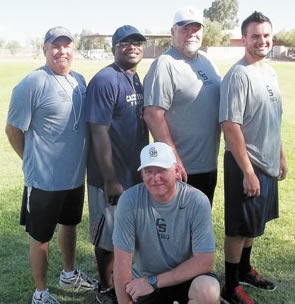 Photo by Pete Mohr
Pre-season practice regulations, as proscribed by the Arizona Interscholastic Association, allow the donning of "helmets only" through Wednesday; "shells" (shoulder pads), Thursday and Friday, with "full pads" (translate "contact") permitted Saturday, August 6. When the CSHS bell rings, Monday, August 8, the Falcs will attend a mandatory study hall each school day, 2:45 - 3:45 p.m., then go on the practice field until 6 p.m.

Counting from August 6 gives the Falcons only ten days of full practice before their August 18 controlled scrimmage at Millennium. Coach Davis, succinctly to Sonoran News, "We have a lot of work to do." After the Millennium scrimmage, it doesn't get any easier for the 'Birds, as they'll travel to Boulder Creek (Anthem) for their season opener, Friday evening, August 26.
BY PETE MOHR | AUGUST 3, 2011
Meet the Football Falcon seniors … Joey Murphy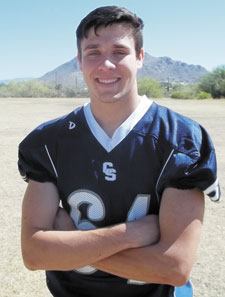 If readers were to ask me to name the most significant Cactus Shadows game, from 2001 (my first season reporting Falcon football) to present date, that would have to be the 4A - Division II State Championship victory over Higley, Dec. 4, 2006, the first (and only) State title in CSHS football history. But the most dramatic moment? That's even easier to identify: mid-October 2009, when older brother, Tommy, CSHS '10, leaped high to block Saguaro's extra point attempt in the game's final 30 seconds, thereby preserving the Falcons' 21-20 thriller win, Saguaro's first loss at home in three seasons.

And so I asked Joseph ("Joey") Andrew Murphy, who turned 17 on July 26, 2011, "Was Tommy 'a tough act to follow'?" He answered thoughtfully, "No, not really, because we played different positions." Tommy, at cornerback, the Falcons' single season INT record holder (12 in his senior season), and a wide receiver scoring threat as both a junior and senior. Joey has always been an "O" lineman. Character-wise, my perception is that these Murphy brothers – quiet, modest and determined – are a lot alike. "Yeah," he concedes, "a lot of people say that."

Joey, the son of Creeker Walt Murphy and Gilbert resident Carol Murphy, was born in Mesa. Younger brother, Matthew, 10, is a rising 5th grader at Black Mountain and, of course, a Cave Creek Youth Football player. Joey began his football career playing "flag" as a 1st grader, eventually progressing to letter as a Falcon junior.

"I grew up playing football," he points out. "It's what I've always done. I enjoy the physical contact; and playing under "Friday Night Lights" is cool!" For his senior season, his most important personal goal is to earn the start at offensive right tackle. At 6' 2", he's plenty tall enough, but he'd like to add maybe 10-15 lbs. of muscle weight. This spring, he'll be a discus thrower and shot putter for the fourth consecutive Track season.

He praises his senior teammates for "having put our differences aside. I believe we're ready to lead this team. I'm not a vocal leader. I let my play speak for me. Coach Davis (Greg) has given us a fresh start. The team has improved a lot since early summer. Now we're ready to act like a team."

Enrolled in Honors classes, Joey owns up to being "a pretty decent student," with Math as his favorite subject, especially pre-calculus under Ms. Carrie White. He sees no football in his future, but possibly an engineering curriculum at a presently undecided college choice.

But Joey Murphy is not undecided on what he wants to accomplish as a Football Falcon. If he'll just keep on being Joey, I predict his senior season will be everything he's working hard for it to be.