BY PETE MOHR | JULY 13, 2011
CSHS Girls 2010-2011 "Coach of the Year"? Rika Cuff is Sonoran News slam-dunk choice!
After six consecutive State Championships, her Competition Cheer squad is already focusing on winning number seven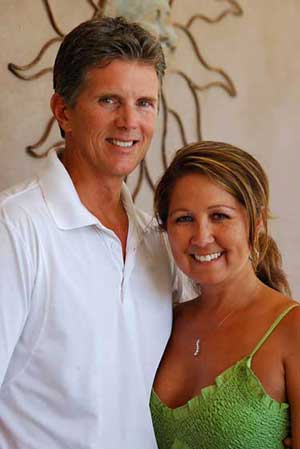 CSHS – In the spring of 2005, Rika Cuff was selected by an 11-member search committee to succeed Eric Contreras as head coach of Cactus Shadows' cheerleading program. Contreras needed to devote more time to his Desert Storm Elite (North Scottsdale) choreography/tumbling enterprise, which continues to play an important role in the success of CSHS Cheer. Coach Cuff's Lady Falcons have proceeded to win six consecutive State Championships (2006-2011), the centerpiece of four Arizona Interscholastic Association "Spirit Line" titles which combine Cheer, Dance and five-member Stunt team competition. By any standard, that's a "winning tradition."

Hers is a record of coaching success that may never be equaled in Arizona high school athletics. Six straight State titles?! From this sportswriter's perspective, that's "remarkable!" How has she done it? And why does she coach?

Coach Cuff affectionately (and gratefully) acknowledges "without the support at home of my husband, Hugh, there's no way that I could make the huge commitment of time and energy required to be a successful coach." She continued, "I have 30 teenage 'daughters', who know that they have their Cheer 'family' to count on. They never have to be alone. I'm here for them 24/7, whatever their circumstances. All of us, each to the other, are like a second family."

"I don't coach for trophies. My calling – from a much 'higher source' – is to inspire my girls with self-confidence, self-respect and self-esteem. Those inner resources are the most important foundation of our team's unity. They come to understand, 'This team is bigger than me.' And that to be a Cactus Shadows cheerleader, mutual respect is a must."

"All of the above" is what Rika Cuff terms "coaching from the neck up, 75 percent of what I have to teach. That's my job, which demands that I be both mentor and role model. It's that 75 percent which I believe separates us from the very physically talented teams against whom we compete. My girls have bought, 100 percent, into that principal of mental toughness and self-discipline – life lessons that will serve them well."

"One of these days," she smiles, "we're not going to win. That's okay. A humble team is a successful team – win or lose."

She and Hugh parent four children: daughters Taylor, 21; Paige, 17; and Brooke, 15. Rooting for their football and basketball player, son Christopher, 12, has set Coach Cuff's sights on retiring from her Cheer responsibilities at the end of the 2013-2014 season. "If, by then, we've won nine State Championships in a row, would I stay on to go for ten?" Right now, she doesn't think so; but you can see her coaching "wheels" are beginning to turn!
Congratulations, Coach Rika Cuff – and to your Hugh. I believe the Bible observes, "Many are called, but few answer." The ways in which the two of you have unselfishly "answered" are truly to be admired. And my faith tells me the "higher source" you credit with your "calling" will continue to energize and sustain you.

And … "Happy (42nd) Birthday!"
BY PETE MOHR | JULY 13, 2011
Meet the Football Falcon seniors … Ben Souva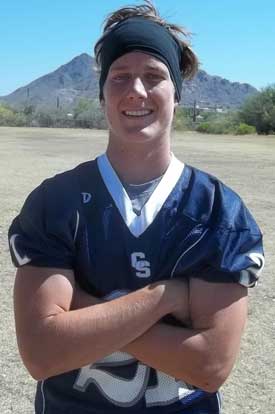 "Yeah, I'm feisty," Benjamin Robert Souva ("Soo-vay") conceded, when asked about a "dust-up" with a teammate/classmate at an early June practice. Until their "D" jells, which it will, Falcons can use all the feistiness they can get out of the likes of free safety Ben Souva, who'll also see action as a back-up wide receiver.

So why, in his senior profile photo, is Ben smiling? I suspect because, as he told me, "I love it (football)! I wake up knowing that I'm going to have something good to look forward to every day." With only one healthy campaign (knee injuries) in his first three years as a Falcon, Ben is more than ready for his senior season: "It's gonna be good. I'm feeling 100 percent again. I can't wait to get started!"

Ben, the "middle" of Creekers Bob and Maggie Souva's three football-playing sons, was born Dec. 2, 1993 in Los Angeles. The family moved to the Valley in 2000. Older brother "Charles" (uh, I mean Tyler, CSHS '10) will play his second season at Glendale Community College. Brad, a rising sophomore, will give the Falcs much-needed lineman size on both sides of the ball. Sister Alli, 13, will be an 8th grader/volleyball player at Sonoran Trails.

Will Ben be a senior leader? "That's definitely something I'm going to strive for. We seniors need to pull together and have a good season. After the Passing League Tournament last month at San Diego State, we definitely molded closer. We're gonna do it!"

Ben's personal goals? "My first, definitely, is to stay healthy. I'd like to start on 'D' at safety, helping out at wide receiver when needed. Making at least Honorable Mention on 'D' – that would please me." What about the team? "We trust the new coaches all the way… make the State Playoffs … don't beat ourselves … play with no regrets … go all-out!"

At Cactus Shadows? "I'm an average student. My favorite subject is Math. Mention Ms. Kohl (Diane), my pre-calculus teacher." Ben enjoys wake-boarding at Bartlett and Telluride snow-boarding. "Me, I'm just football."

And for Ben, "Football this season will be all about winning, proving to everyone that we can do it."

Ben Souva is out to do his feisty part. At 6', weight training toward 185 lbs., look for him to be a Falcon "warrior." He's waited a long time. Sic 'em, Ben!
JULY 14, 2011
Grand Canyon University to hire 100 new adjunct professors for 2011-2012 school year

Adjuncts needed to maintain small class sizes as student enrollment increases
PHOENIX – Grand Canyon University (GCU) is on the hunt for 100 new adjunct professors for this fall to keep up with increased student enrollment and maintain an average class size of 20 students. University officials expect 2,300 new students on campus in August, bringing total on-campus enrollment to nearly 4,400.

"We are committed to small class sizes with highly-engaged faculty-student interaction," said Dr. Mark Wooden, dean of the College of Arts and Sciences. "Our preferred applicants have a passion for their discipline and service to others."

A total of 250 new adjuncts are needed, but GCU has already hired approximately 150, leaving 100 open spots. Adjunct faculty candidates must have at least a master's degree and academic or professional experience related to the content area. Adjuncts are needed primarily in the areas of biology, introductory English and mathematics, but the University will accept applications for all disciplines, in anticipation of future growth.

To ensure their teaching experience at GCU is a positive one, adjunct faculty members are provided with a full-time faculty mentor who is available to answer questions and assist with course instruction, student engagement and University procedures. All faculty members are invited to participate in professional development opportunities and engage in the University's community activities.

To apply to be an adjunct professor, log on to hr.gcu.edu. For assistance or more information, contact David Spilker at 602-639-7613 or toll-free at 800-800-9776, ext. 7613.