JULY 8, 2011
BLM seeks bids for new pasture facilities to care for and maintain wild horses
As part of its responsibility to manage and protect wild horses and burros, the Bureau of Land Management is soliciting bids for new long-term pasture facilities located in the continental United States that provide a free-roaming environment. The solicitation is for one or more pasture facilities accommodating 800 to 5,000 wild horses. Each pasture facility must be able to provide humane care for a one-year period, with a renewal option under BLM contract for four one-year extensions. The solicitation is open until August 19, 2011, and is 100 percent set aside for small businesses under the North American Industry Classification System.

The BLM's bidding requirements are posted in solicitation L11PS00651, the details of which are available at www.fedconnect.net. To obtain the solicitation: (1) click on "Search Public Opportunities"; (2) under Search Criteria, select "Reference Number"; (3) put in the solicitation number (L11PS00651); and (4) click "Search" and the solicitation information will appear. The solicitation form describes what to submit and where to send it. Applicants must be registered at www.ccr.gov to be considered for a contract award.

The BLM manages wild horses and burros as part of its overall multiple-use mission. Under the authority of the 1971 Wild Free-Roaming Horses and Burros Act, the BLM manages and protects these living symbols of the Western spirit while ensuring that population levels are in balance with other public rangeland resources and uses. To make sure that healthy herds thrive on healthy rangelands, the BLM must remove thousands of animals from the range each year to control the size of herds, which have virtually no predators and can double in population every four years. The current free-roaming population of BLM-managed wild horses and burros is 38,500, which exceeds by nearly 12,000 the number determined by the BLM to be the appropriate management level. Off the range, there are nearly 40,000 wild horses and burros cared for in either short-term corrals or long-term pastures. All these animals, whether on or off the range, are protected by the BLM under the 1971 law.

The BLM manages more land – over 245 million acres – than any other Federal agency. This land, known as the National System of Public Lands, is primarily located in 12 Western states, including Alaska. The Bureau, with a budget of about $1 billion, also administers 700 million acres of sub-surface mineral estate throughout the nation. The BLM's multiple-use mission is to sustain the health and productivity of the public lands for the use and enjoyment of present and future generations. The Bureau accomplishes this by managing such activities as outdoor recreation, livestock grazing, mineral development, and energy production, and by conserving natural, historical, cultural, and other resources on public lands.
JULY 6, 2011
Rescue organization receives wild babies for rehab
Southwest Wildlife caring for several species, including unusual spotted skunk
SCOTTSDALE – Baby coyotes, raccoons, javelina and skunks – several of them orphans – have arrived at Southwest Wildlife Conservation Center (SWCC) in Scottsdale.
The animals were rescued and brought to SWCC, which rehabilitates and returns to the wild about 70 percent of the animals it takes in.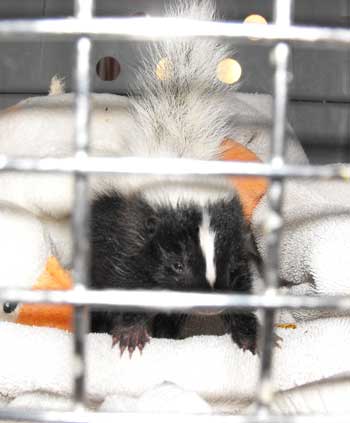 In recovery now at SWCC are:
• A coyote puppy rescued near Coolidge
• A raccoon mom and baby that were trapped in an attic, as well as another baby raccoon
• Two javelina orphans; one of which was rescued near Carefree
• Two striped skunks, both orphans, found in the Globe area
• A spotted skunk, which was found in a trap by an exterminator

Jennifer Martin, Director of Development for SWCC, says the hot, dry weather is a major factor in the survival of young wildlife. "Access to water is the biggest issue at this time of year."

Martin also says that it is unusual for the organization to get a spotted skunk. "Most people are not even aware we have spotted skunks around," she notes.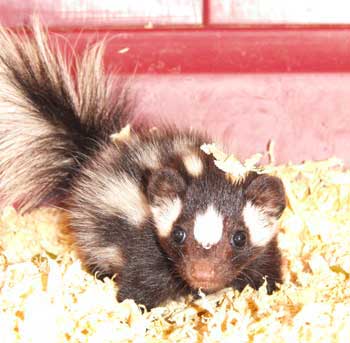 The Western Spotted Skunk is a small, relatively slender skunk with glossy black fur interrupted with a pattern of white lines and spots, including spots on its forehead and in front of each ear. It lives in rocky areas and vegetated canyon beds, and can also be found near homes, where it sometimes nests in rock walls or buildings. The striped skunk has two broad white stripes on its back, meeting on the top of the head or shoulders, and a thin white stripe down the center of its face.

What to do if you find a baby animal
Animal mothers choose their nesting sites carefully, knowing they will need to leave their young alone for long periods of time to hunt for food. If you find a baby animal, leave the location and call SWCC at 480-471-9109 and press 2. You can also call 480-433-5656 and leave a message. SWCC staff will help you assess the situation but, if the babies appear to be healthy, they should be left alone.

If it is determined that a mother has become unable to reach her babies, human intervention is required. Do not try to raise an orphaned wild animal as a pet — it is illegal to possess native wildlife as pets in Arizona. SWCC provides specialized care to orphans and will raise them as wild animals, so they can be returned to the wild once they are mature enough to survive on their own.

More about Southwest Wildlife Conservation Center
Southwest Wildlife rescues, rehabilitates, and releases injured, displaced, and orphaned wildlife. SWCC operates a sanctuary and nature center in northeast Scottsdale that provides a home for animals that cannot be released because of injuries or because they have become imprinted on or habituated to humans and would be unable to fend for themselves in the wild. Residents of SWCC's Nature Center include foxes, coyotes, wolves, mountain lions, bobcats, coatimundis, bears and others. The Nature Center serves to educate children and adults. Wildlife education includes advice on living with wildlife and the importance of native wildlife to healthy ecosystems.

With a focus on Arizona native wildlife, SWCC is the only organization in the state that is qualified to care for and permitted to rehabilitate large carnivores and one of only a few in the Southwest. The sanctuary also serves as a holding facility for the Mexican Gray Wolf Recovery Program. In addition, it provides veterinary interns from around the world the opportunity to practice wildlife medicine.