'MY VIEW' BY DON SORCHYCH | JUNE 29, 2011
Cave Creek court splits
If you plan to screw up in Cave Creek, keep it civil rather than criminal. If Town Manager Usama Abujbarah has his way, MCSO will take criminal matters to other court locations, most probably the Desert Ridge Justice Court at 40th Street and Union Hills Drive.
Why would he do that? For starters Cave Creek would save approximately $100,000 each year, which is the amount paid to Judge George Preston and Town Prosecutor Mark Iacovino.
Iacovino, who is also the prosecutor for the town of Fountain Hills complained to a high level MCSO employee that officers in Cave Creek weren't making enough arrests and court revenue was declining. This, of course, was attacking the competence of our MCSO commander, Rich Burden.
Burden was a breath of fresh air when he arrived and after a short period was transferred downtown. Letters from people who respected Burden's performance caused MCSO management to leave him here.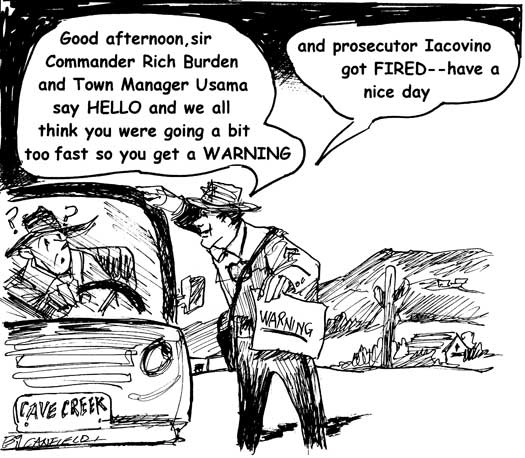 Abujbarah and Burden had a meeting of minds and both agreed deputies should ticket only citizens who threatened health, safety and welfare, otherwise warnings would be issued. If you have lived in Cave Creek for over 20 years as I have that is a welcome change. Burden challenges his deputies to be friendly and smile. Maybe you have noticed that change.
Listen to what Burden told the Cave Creek council during the recent council retreat, as reported by Reporter Linda Bentley.
"While discussing council's upcoming ratification of the town magistrate and prosecutor, Abujbarah mentioned the recent visit by Maricopa County Sheriff Joe and Chief of Enforcement Brian Sands and said, 'There has been some confusion as to what we want as far as law enforcement goes. The policy in Cave Creek has always been public service and has never been viewed as a way of generating revenue.'
"Abujbarah said Town Prosecutor Mark Iacovino had been complaining about the low number of cases.
"Burden said his goal when he took over as commander about two years ago was total satisfaction. When he first arrived, he said he was receiving at least one or two complaints per week about deputies.
"Noting response times to 911 calls hovered around 19-20 minutes when he first arrived are now down to about two minutes, Burden said, 'I don't want someone to wait on a 911 call while deputies are writing traffic citations.'
"He's made it clear to his deputies that they can use their discretion based on people's attitudes as to whether to write tickets, give warnings, cite someone for criminal speed or a civil infraction, etc.
"Burden said complaints about deputies have dropped to zero.
"Burden, who said he's been with MCSO for 24 years, then told council when stats were coming down, Iacovino contacted his superior's boss to tell him he was inadequate and performing poorly as commander 'and all sorts of nasty things.'
"He said Iacovino called the chief again when mistakes were made with regard to jurisdiction, whereas deputies sent citations to the Desert Ridge Justice of the Peace Court instead of Cave Creek.
"Burden pointed out MCSO deals with 88 courts within its jurisdiction and an occasional mistake is bound to happen.
"He said Iacovino also asked Burden to advise his deputies to issue criminal speed citations for those who do more than 20 miles per hour over the speed limit so Iacovino could use reducing it to a civil infraction as a bargaining tool for plea agreements.
"Council was clearly incensed by what they were hearing and agreed the court had no business telling law enforcement what it should be doing.
"Abujbarah said he eventually called Iacovino and asked him to stop doing this and told him the town was satisfied with the service it was receiving from MCSO.
"While LaMar called Iacovino's behavior 'totally inappropriate' for a town prosecutor, Francia wasn't so kind when he commented, 'Where the (expletive) does Iacovino get off doing that?"'
Iacovino made it his business to collar some of the councilmen to tell "his side of the story." Some council members felt they had to vote on whether Iacovino remained as prosecutor.
However Town Attorney Marlene Pontrelli opined the town code gave the town manager exclusive rights to hire and fire town prosecutors.
On June 23, Abujbarah sent this letter to Iacovino:
Pursuant to Cave Creek Town Code Chapter 34, Section 34.55:
Prosecutor. The Manager may appoint a Chief Prosecutor and one or more Associate Prosecutors to serve at the pleasure of the Manager, and the compensation of each Prosecutor shall be as determined by the Town Council. The Prosecutor's duties will be to represent the state or the town in contested matters where the defendant is represented by counsel or in cases where the Prosecutor's participation is requested by the Town Council or one of the town officers, and to assist the Presiding Magistrate and the Court Administrator in the proper functioning of the Town Magistrate's Court, as requested by the Presiding Magistrate with the approval of Town Council.
Your services as Town Prosecutor for the Town of Cave Creek are no longer necessary effective June 30, 2011.
Sincerely,
Usama
Town of Cave Creek
Town Manager
Abujbarah's firing of Iacovino will immediately save Cave Creek over $5,000 each month.
Iacovino won't be missed. Mayor Vincent Francia has it right; who does he think he is? I had a personal experience with Iacovino. He was presented with evidence that a man had stolen campaign signs. He even agreed the pictures sent to him proved theft. His plea bargain was to take the thief off the hook if he paid the owner of the signs their cost of $90. So a thief walked for $90. How does that differ from a bank robber being caught, giving the money back and walk?
Preston is on slippery ice. In his case the council has the authority to hire or fire the magistrate. Firing him saves the town about $35,000 each year. Since the town code requires a magistrate, Abujbarah has located a magistrate on the council approved pro tem list who agreed to work free for six months.
It should be goodbye Judge Preston.