BY LINDA BENTLEY | jUNE 15, 2011
Retreat helps Cave Creek Council frame issues for future agendas
Policy in Cave Creek has always been public service, never viewed law enforcement as a way of generating revenue
CAVE CREEK – Cave Creek Town Manager Usama Abujbarah and Cave Creek Town Council met on Tuesday afternoon for a retreat, which is basically an informal working session of council where they can openly discuss issues and policies they may or may not wish to place on a future agenda.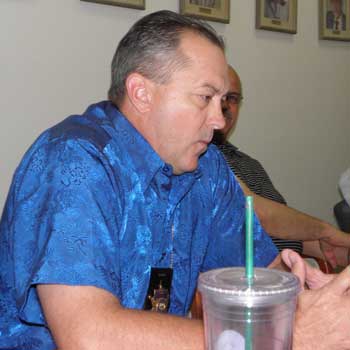 While the retreat and agenda was a noticed public meeting, there were no members of the public in attendance, except a brief visit by Maricopa County Sheriff's Office District Commander Lt. Rich Burden (l) to discuss an item on the agenda.
Abujbarah began the meeting with a discussion about the town's agreement with the state land department regarding open space.
According to Abujbarah, due to depressed real estate values and budget constraints the state land commissioner has indicated it has no intention of auctioning off land for open space in the near future.
Abujbarah also said if the land department were to auction off the open space at this time, the town was in good financial shape to purchase it all.
He said, "We're really in good shape financially. We're in an upward trend."
While Abujbarah threw out the idea of council considering a resolution to document the history of its agreement with the state land department for future councils, after discussion, all agreed the best action at this time was to do nothing.
Councilman Steve LaMar raised concerns about the agreement, which is for 20 years, and questioned if the land department could revert the open space zoning without any action by Cave Creek.
Abujbarah said Town Attorney Marlene Pontrelli had reviewed the agreement and there didn't appear to be any cause for concern and that time was on the town's side.
He also said the money raised through special events to help purchase the open space is being kept in a completely separate account until such a time that the land department will consider applications for purchase.
Mayor Vincent Francia said he has been in conversations with Abujbarah regarding fire coverage and said they came up with an idea that has nothing to do with property tax.
Francia discounted the notion people who do not subscribe to Rural/Metro Fire and claim they can simply pay the full price if they have a fire, which they claim is covered by their insurance.
He asked if town-wide coverage was a worthy goal and if the town would be protected if there were a fire in Spur Cross.
Abujbarah said there were several options and explained Paradise Valley funds fire protection 100 percent through its general fund and contracts with the city of Phoenix to provide its fire protection services.
However, he said the agreement is not working out so well.
Carefree, on the other hand, pays for its fire service with sales tax revenue and has an agreement with Rural/Metro for operations, while the town separately provides a fire station and equipment.
However, he said, 55 percent of Carefree's sales tax revenue goes toward its fire coverage.
In Cave Creek, ½ percent in sales tax generates approximately $500,000, which Abujbarah says will be higher in the future, and is approximately ½ the cost of providing town-wide fire coverage.
He said the other half of fire coverage could possibly be paid through a property tax.
Abujbarah also said, in the future, revenues will start to exceed expenditures and the town has no need for any additional large capital improvements requiring a large amount of money.
Francia stated, "This issue is not going to go away."
That was also something Abujbarah said council might want to consider in the future – the amount of its reserves, as the town starts building them up again.
When Councilwoman Shelley Anderson questioned if the town has ever considered partnering with Carefree, she was met with rolled eyes and council members declining to comment.
Francia indicated Carefree has always been amenable to discussion but things don't generally go anywhere.
Abujbarah stated Daisy Mountain Fire is very interested, but not in competing on a contract basis. They only want to provide service as fire district.
While discussing council's upcoming ratification of the town magistrate and prosecutor, Abujbarah mentioned the recent visit by Maricopa County Sheriff Joe and Chief of Enforcement Brian Sands and said, "There has been some confusion as to what we want as far as law enforcement goes. The policy in Cave Creek has always been public service and has never been viewed as a way of generating revenue."
Abujbarah said Town Prosecutor Mark Iacovino had been complaining about the low number of cases.
Burden said his goal when he took over as commander about two years ago was total satisfaction. When he first arrived, he said he was receiving at least one or two complaints per week about deputies.
Noting response times to 911 calls hovered around 19-20 minutes when he first arrived are now down to about two minutes, Burden said, "I don't want someone to wait on a 911 call while deputies are writing traffic citations."
He's made it clear to his deputies that they can use their discretion based on people's attitudes as to whether to write tickets, give warnings, cite someone for criminal speed or a civil infraction, etc.
Burden said complaints about deputies have dropped to zero.
Burden, who said he's been with MCSO for 24 years, then told council when stats were coming down, Iacovino contacted his superior's boss to tell him he was inadequate and performing poorly as commander "and all sorts of nasty things."
He said Iacovino called the chief again when mistakes were made with regard to jurisdiction, whereas deputies sent citations to the Desert Ridge Justice of the Peace Court instead of Cave Creek.
Burden pointed out MCSO deals with 88 courts within its jurisdiction and an occasional mistake is bound to happen.
He said Iacovino also asked Burden to advise his deputies to issue criminal speed citations for those who do more than 20 miles per hour over the speed limit so Iacovino could use reducing it to a civil infraction as a bargaining tool for plea agreements.
Council was clearly incensed by what they were hearing and agreed the court had no business telling law enforcement what it should be doing.
Abujbarah said he eventually called Iacovino and asked him to stop doing this and told him the town was satisfied with the service it was receiving from MCSO.
While LaMar called Iacovino's behavior "totally inappropriate" for a town prosecutor, Francia wasn't so kind when he commented, "Where the (expletive) does Iacovino get off doing that?"
Moving on down the agenda, council discussed possibly bringing forward an ordinance to amend the town code from council selecting its vice mayor to provide for a rotating designation of vice mayor every four months in alphabetical order.
Although Francia said it was fine with him if council wanted to do that, he said he was happy with the way things are.
LaMar said, "I don't like the lobbying that goes on after the election."
Francia said he was against it because the vice mayor attends many meetings with him and if at a later date they need to meet again when Francia can't be there, the vice mayor can step in.
However, he added, "I also don't like the drama you were talking about."
They discussed the town manager review process, which Councilman Dick Esser suggested be done every year and use some sort of established criteria on which base the review.
Abujbarah said the review is done every other year in even years so it would be done by council that has been seated for one year. He also said not having established criteria gives council more flexibility based on current circumstances rather than established criteria that may or may not be relevant.
Esser agreed with the reasoning for the review every other year, but still felt they needed to establish criteria.
While discussing ratification of the town magistrate and prosecutor's contracts, Town Clerk Carrie Dyrek stated neither had a contract for any specific time period.
Abujbarah said it might be time to put out an RFP (request for proposal).
He said the last time they did that, the board of adjustment acted as the committee because they could meet in executive session.
However, Abujbarah also stated it is a policy decision to have criminal cases heard by Cave Creek Municipal Court and council could, in the alternative, send criminal cases to the Desert Ridge Justice Court, eliminating the need for a town prosecutor or judge.
The town would still have a court for civil infractions.
Councilman Jim Bruce brought up noise and said, "We've got noise in this town."

Noting it's always been an enforcement issue, he said, C4 (Cave Creek Coffee Company) is now the only business that has come into compliance.

Bruce said, "We need a full-time compliance officer for noise and signs."

He said the Hideaway is blasting away live music and is now advertising live music on "Taco Tuesday."

Then, he said there's bull riding on Wednesday at the Buffalo Chip and again on Friday.
Bruce suggested a full-time enforcement officer who can write citations.

Abujbarah said the problem with active enforcement is selective enforcement.

He also questioned if the town could possibly be enforcing the ordinance but the ordinance was not providing the desired results.

Vice Mayor Ernie Bunch suggested adopting an outdoor music ordinance like the one in Austin, Texas.

Francia said he spoke with one of their attorneys and was told it took Austin 17 years to come up with their ordinance.

Bruce said the music has gotten to be all the time and suggested perhaps a phone number where people could call and leave a recorded message complaint.

Abujbarah stated, "I'm against active enforcement, but we have a problem. Council needs to take an active role."

Francia said they should bring it back to council, despite the town having dealt with noise issues for two and a half years before coming up with the current ordinance.

Bunch stated those holding special events with outdoor music could be required to have a sound engineer sign off as part of the permit process.

Council seemed to agree that was a good idea, since it places the responsibility on the party holding the event.

Esser said he was working with some people to revisit the Zip Code issue – getting Cave Creek its own Zip Code.

He also said he was working with a number of small cities and towns to form a coalition in MAG (Maricopa Association of Governments) so they can have a larger voice in how money is distributed.

Just before council adjourned, Dyrek informed members the July 5, Aug. 15 and Sept. 6 council meetings would be canceled.