BY MARIELLE D. MARNE | JUNE 8, 2011
Grace by Design Kitchen & Bath remodel motto: Your Home. Your Dreams. Our Mission.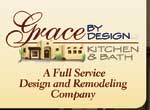 ANTHEM – The years go by, trends change, styles evolve. Since people are staying in their homes in lieu of selling, this is an ideal time to update the most oft used rooms in the house – your kitchen and baths. These two areas frequently date a home and render it more challenging to sell if not remodeled. And while it may seem an overwhelming task, neighbors are blessed to have Grace by Design in their midst.

Upon entering the Anthem showroom, visitors immediately know owners Patrick and Linda Loeb offer quality remodels. They work within budgets as well, never sacrificing excellence. "A lot of what we're doing now is refacing," Patrick explained. Cabinets that are structurally sound can be given a "facelift" and change the whole mood of a room. It's a wonderful alternative to gutting and starting from scratch.

However, a complete remodel is an option, and folks at Grace by Design will walk clients through start to finish. There's even a designer, Debra Bittles, who can help get you started. Once decided, everything is taken care of in-house. "We handle everything – the plumbing, the electrical, the installation. We don't give people the name of a granite place and send them to pick something out. We pick them up and take them and help them decide what would work best."

Additionally, they stand behind their work. "If you buy a faucet from us and it malfunctions while under warranty, unlike places who will replace the faucet free but charge to reinstall, we come out and replace the product at no charge to our customers."

It's the outstanding support you get from Grace By Design that has resulted in countless referrals. Given they are located in Anthem, the business is highly regarded by its neighbors. The secret is out and the Loebs are looking to expand into Cave Creek, north Scottsdale and surrounding localities.

The name Grace by Design was chosen carefully by the Loebs. They wanted it to reflect their good Christian values. As such, clients can expect to be treated with respect, they can be assured they will receive the highest quality workmanship and they will know their business will be regarded with gratitude.

For more information, visit the Grace by Design showroom at 4220 W. Opportunity Way #107 in Anthem, visit gracebydesignaz.com or schedule an in-home consultation by calling 623-551-8776.