MAY 25, 2011
Arts shine during City of Scottsdale's 60th anniversary celebration
Young Artists and Authors Showcase
The theme is "Shaping Your Community for a Greener Future" for the 23rd Annual 'Young Artists and Authors Showcase' exhibition sponsored by the Scottsdale Sister Cities Association.

The competition of high school art and writing submissions from through-out Scottsdale will be professionally juried.

When: Through July 20; Monday - Saturday 10 a.m. - 5 p.m.; Sunday noon - 5 p.m.

Where: Scottsdale Center for the Arts, South Hall, 7380 East Second Street

Info: Free, 480-423-1800, www.scottsdalesistercities.com

ArtBridge – every Thursday
ArtBridge Thursdays is a weekly artisan market showcasing local artists and crafters as well as live music, entertainment and artistic demonstrations.

When: 6-10 p.m. every Thursday

Where: Marshall Way bridge on the Scottsdale Waterfront

Info: Free; visit www.artisanmarketsaz.com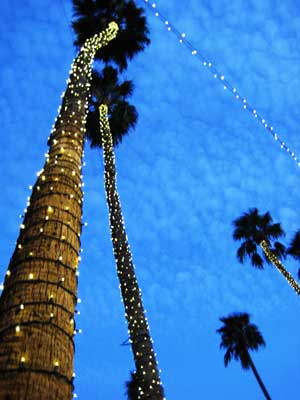 ArtWalk – every Thursday
"America's Original Art Walk" is in its 36th year and features dozens of art galleries, free parking and free trolley service to all corners of the Arts District.

When: 7-9 p.m. every Thursday

Where: Scottsdale Arts District, just west of Scottsdale Road along Main Street and on Marshall Way north of Indian School to 5th Ave.

Info: Free, visit www.scottsdalegalleries.com

"Art"ini Thursdays – Thursdays through July 28
Create your own piece of art by custom painting your martini glass, $10 for glass and one martini. Appetizers at happy hour pricing. $5 martinis when you bring back your glass.

When: 5-9 p.m. every Thursday through July 28

Where: 44fifteen Bar and Bistro at the Hotel Indigo, 4415 N. Civic Center Plaza

Info: 480-824-6181, www.scottsdalehiphotel.com
MAY 25, 2011
"Noodles and Notes" dinner to raise money for DFT Gecko Teatro Youth Theater
Spaghetti dinner at Harold's on Tuesday, May 31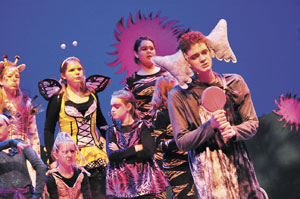 Courtesy Photo/JEREMY ANDORFER, VANGELIS PRODUCTIONS
Hot off their extremely popular production, Seussical, Jr., young actors involved in the youth theater arm of Desert Foothills Theater (a program of the Foothills Community Foundation) are coming together to help raise money for next season's productions with a spaghetti dinner at Harold's Corral in Cave Creek on from 4:30 – 8:30 p.m. Tuesday, May 31.

As would be expected of any presentation of DFT Gecko Teatro, "Noodles and Notes" will be a colorful and fun affair with young artists from the DFT Gecko Teatro stage entertaining spaghetti eaters throughout the evening. "Our young artists are so amazingly talented. I am really looking forward to seeing what they bring to the show on May 31," said Sara Bernstein, director of Seussical, Jr.

Proceeds from the event will help underwrite production costs for future DFT Gecko Teatro productions. "If you enjoyed Seussical, Jr. – or just heard how great the production was; this is a wonderful opportunity to help support the continued growth of our youth theater," said Meribeth Reeves, managing director of Desert Foothills Theater. "In just a few short years our program has come so far and we are so excited about where it is going."

The spaghetti dinner price includes spaghetti, garlic bread, salad and soft drinks. A cash bar will be provided. Delicious desserts will be available for a nominal fee. Spaghetti dinner tickets may be purchased online at www.desertfoothillstheater.com, by phone at 480-488-1981 OR from your favorite Desert Foothills Theater adult or youth actor. For further information, visit www.desertfoothillstheater.com.
MAY 25, 2011
Arts Council of the North Valley brings Arts to the schools
PHOENIX - The Arts Council of the North Valley brings the Arts to the Schools!

On May 13, 2011, two hundred and fifty students from Cactus High School and Foothills Arts Academy participated in a full day residency of Puerto Rican culture and folkloric dance sponsored by the Arts Council of the North Valley.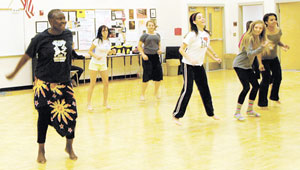 Showcased for the residency was Grupo Folklorico I'Naru, a professional company that provides unique and authentic native Puerto Rican dance presentations and master classes. They instructed the students on the rich cultural history of Puerto Rico and its influences on music and dance. Combining the island's native sounds and distinctive African-rooted music and dance forms, the group performed the Bomba and the Plena.

High school dance and seventh grade dance students enthusiastically attended the master classes. "We are working on being diverse dancers, so they really enjoyed it," said Danielle Angieri, Cactus High School Dance Teacher. Attending student comments ranged from "it increased my understanding of the Puerto Rican culture' to "that was so fun."

"Arts Council of the North Valley is an organization dedicated to bringing arts enrichments programs into the schools as well as recognizing and rewarding students for their dedication to the arts." said Holly Matson, ACNV Executive Director.

On hand to watch the budding relationship between the students and the artists was Donna Kublin, ACNV founder. "What a magical experience to watch the light bulbs go on as students learned the history and culture through the art of dance and music."