New summer art exhibit arrives at Adelante Gallery

June 3, 2009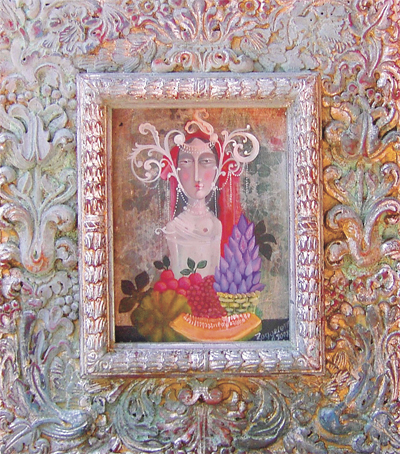 SCOTTSDALE – Adelante Gallery at el Pedregal Shops & Dining at the Boulders Resort has announced the arrival of a new summer exhibit with artwork by Argentine artist, Sergio Roggerone.

Roggerone is a multi-talented artist that draws inspiration from such disparate cultures such as Byzantium, Central Asia, native Argentine folkways and medieval Catholicism. The works of Sergio Roggerone express an intricate and magical combination of Argentine culture and his Mendoza birthplace.

At the forefront of Mendocino art, his passionate style incorporates fabrics and textures that define the depth and emotion of his subjects.

Said that viewers "experience themselves" through his paintings, from the blessing of the fruit to the parade of queens to the cosecha (harvest), which emphasizes the Mendocino sun, golden leaves and emblematic grapes. Beautifully ornate, the frames are as much a part of his artwork as the paintings themselves, each with medieval elements and religious connotations that are delicate, with a touch of wit as well.

Born in 1968, his defined style exhibits his rare ingenuity to combine elements and experiences that have shaped his life into great works of art. With a commitment to his work, he is changing the conscience of art in communities to create a place for Argentine art in the rest of the world.

Adelante Gallery is known for its distinctive selection of art and jewelry. A featured gallery on CNN International's program "Art Club," Adelante is celebrating its 15th year at el Pedregal in September. Adelante showcases paintings, sculptures, and jewelry by local and international folk and fine artists, whose work runs the gamut from the devotional to the irreverent.

For more information on Adelante Gallery call 480-488-1285 or visit the website at www.elpedregal.com.

El Pedregal encompasses 80,000 square feet of space filled with fascinating boutiques, Southwestern apparel, intriguing art galleries, and fun and casual dining. Over 15 shops surround an enticing courtyard and amphitheater, which features a variety of entertainment offerings.

For more information please call 480-488-1072 or visit the website www.elpedregal.com.
Art Night to continue second Fridays
By Curtis Riggs | June 3, 2009
'Silent Auction Summer' to run June through August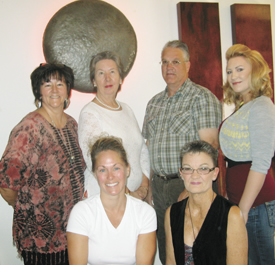 CAVE CREEK – The Art Nights in Cave Creek were so successful this past season the five participating galleries are extending the Friday night events.

"Silent Auction Summer" will run June through August. One piece of original art will be auctioned monthly at each of the five galleries through 'sealed bids.' Bids will be accepted daily all month long. Minimum bids will be posted. The bids will be opened at 9 p.m. each month on Art Nights.

"The response has been so enthusiastic we are going ahead and planning them through the summer," said Lee Perrin of the Steven DeWitt Perrin Gallery.

Level 9 Gallery's Mickey Meulenbeek said the Art Nights are being extended "to give locals a chance to come in."

Another recent Art Night change is inviting artists from other parts of the Valley to participate in Cave Creek events by being a visiting artist. "We are trying to give the public a chance to meet other artists," Galeria Bellas Artes' Karen Ladron de Guevara said, adding many Art Night visitors during the season came over from Fountain Hills.

The five local galleries participating in Art Night in Cave Creek are Level 9 Gallery, Steven DeWitt Perrin Gallery, Galeria Bellas Artes, D. Lyon Art Gallery and the new Studio C4 Gallery at the Cave Creek Coffee Company.

Art exhibitions, openings of new art shows, in-gallery specials, month-long exhibitions of the work of visiting, emerging artists keeps art patrons coming back for Art Nights in Cave Creek. Art Nights run from 6 to 9 p.m. the second Friday of the month.

There is so much buzz about the Friday Art Nights that artists from other areas are beginning to call about it to see how they can get involved.

The June 12 Friday Art Night in Cave Creek will include the exhibition "Paintings of Italy, France and Mexico" by Galeria Bellas Artes' Sergio Ladron de Guevara, the new show "Inspired Printmakers" at the Studio C4 Gallery and a special exhibition by jewelry designer Amy Juneau.
Photo by Curtis Riggs:
Art Night in Cave Creek gallery owners (back row from left) Level 9's Mickey Meulenbeek, Galeria Bellas Artes' Karen Ladron de Guevara, D.Lyon Art Gallery's Dustin Lyon, Ashlynn Swindoll, art director at the new Studio C4 Gallery and Lee Perrin (front right) of the Steven DeWitt Perrin Gallery, are enthusiastic about continuing Art Night in Cave Creek through the summer. Also shown is Cave Creek acrylic artist Barbara Bowman (front left) who will show her abstract expressionist pieces at the DeWitt Perrin Gallery this Friday.