S.A.L. festival back at Town Center this weekend

By Curtis Riggs | April 1, 2009
CAREFREE – The Sonoran Arts League will hold its signature spring event in the Carefree Town Center this weekend.

The 8th annual Sonoran Festival of Fine Art will feature 100 local and nationally acclaimed artists. It will be held on Easy Street, and in the Town Center, from 10 a.m. to 5 p.m. the weekend of April 3 through 5. Admission is free.

Besides the 100 painters, sculptors, jewelers and other artists there will also be artist demonstrations and live entertainment at the festival. The Carefree Farmer's Market, which features fresh produce, chef demonstrations and organic meats and cheeses, will also be occurring in downtown Carefree during the festival.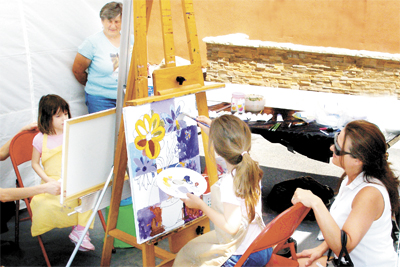 The popular art interactive activity "A Brush With Fine Art" which allows festival patrons to try their hand at painting will again be part of the festival. Two tents will be set up with several canvases, paints and brushes for people to use. They will contribute to an overall piece of art, which will be painted over the weekend. Similar to a mosaic style, adults and children will be able to paint a square on the canvas while adding to the overall painting.
Inka Gold will perform contemporary music while using traditional instruments made of raw bamboo and clay on Friday. Michael SG, a talented folk rock artist from California, will play from 10 a.m. to 1 p.m. on Saturday. Dave Kenney, of the jazz duo Mood Indigo, will perform on Saturday afternoon. The Pete Pancrazi jazz duo and Michael SG will both perform on Sunday.

Festival chairwoman Michelle Russell said the success of the Out West Art Fest, which was held at Stagecoach Village in Cave Creek in February, has helped to generate more interest in this weekend's festival in downtown Carefree.

"The Sonoran Festival of Fine Art has always been well received by artists and art collectors, but we are seeing even more interest after our February show," she said. "Our roster of artists participating in this show is top notch."

Scottsdale sculptor Al Glann is this year's featured artist. His contemporary sculpture entitled "Fashion" was chosen for this year's festival poster.

The posters will cost $15. A portion of the proceeds will support Sonoran Arts League scholarships. Poster sales are crucial to the League, as they provide the primary funding for student art scholarships and other League programs.

For information about the festival visit the website www.SonoranArtsLeague.org or call
480-575-6624.

Courtesy Photo
Art patrons enjoy the "Brush With Fine Art" activities, which have become a regular part of the Sonoran Festival of Fine Art. The festival will be held in downtown Carefree this weekend.