Beautiful art, weather to attract art lovers to Carefree

By Curtis Riggs | March 4, 2009
Another T'bird show this weekend

CAREFREE – The Town Center and Easy Street will be an art lover's paradise this weekend when the ever popular Thunderbird Artists' Carefree Fine Art & Wine Festival hits town. The third Thunderbird Artists offering of the season will be held March 6 through 8. The booths of the 165 artists participating in the festival will be open from 10 a.m. to 5 p.m. The March art/wine festival typically attracts crowds as large as 35,000 or 40,000. Thunderbird Artists owner/operator Judi Combs hopes the March festival is as successful as the one in January.

"It was overwhelming, considering the economy," Combs said. The Thunderbird festival in November was lightly attended because of cold weather and uncertainty about the economy.

Thunderbird art festivals have been held in Carefree for 17 years. The March shows have been held for 14 years. Town officials asked Combs to add a third show for Carefree several years back.

"Carefree is like a family. It feels like home to us," Combs said. The Carefree festivals are traditionally ranked as the top art shows in the country by art magazines. Stone sculptor Greg Kinne will be the featured artist for this weekend's festival. The Quincy, Calif. resident uses geological shapes, organic textures and primitive images to speak through time. He incorporates many materials into each of his pieces; including concrete, stone, copper, sand and gravel. He also builds hand-constructed waterfalls.

Native South American sounds by Inka Gold and the jazz stylings of pianist/composer Jeffrey Michael will set the tone for the art weekend. Romantic guitarist Patrick Ki's Hawaiian music will add to the ambiance.

Admission to the festival is $3. It is free to Carefree residents.
Fine Art Expo excitement continuing to build

By Curtis Riggs | March 4, 2009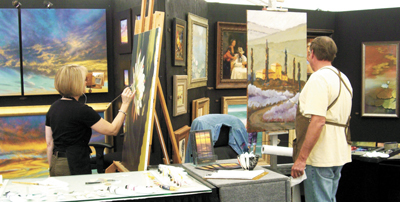 SCOTTSDALE – The chance for art patrons to see more than 100 artists creating their art in a beautiful environment is available through the end of March at the 5th annual Arizona Fine Art Expo.

The Thunderbird Artists-sponsored 74-day show is open seven days a week at McDonald's Ranch at the southwest corner of Scottsdale and Jomax roads. The tent show began on Jan. 15 and ends March 29.

"People like this show because they get a chance to meet the artists," Cave Creek painter Beth Zink, who has participated in many Fine Art Expos.

Cave Creek gourd artist Jane Boggs agrees. "People get to talk to the artists much more than at a three-day show," said Boggs, who is participating in her first Fine Art Expo. Pen and ink artist Marlan Masteller calls this year's Expo "exceptional." He receives many commissions at every Expo.

"We always do better at the end of the show because people wait because they expect to get a better price," he said. The tendency is not to rush to an art show which lasts for 74 days. Scottsdale sculptor Hal Stewart agrees with Masteller on the best times of the show for art sales "The last two weeks are the best because everybody knows we will still be here," he said. Thunderbird Artists owner Judi Combs admits the challenging economy has hurt sales at this year's Expo.

"We are feeling it, but there are more high-end sales," she said about this year's trend. "The middle income just isn't there like it used to be." Both artists and patrons also enjoy the two-acre sculpture garden on the grounds. This year participating Expo artists started holding Garden Parties on Thursday evenings to give people more of a chance to experience the Expo.

The next Garden Party will be held from 4 to 6 p.m. on March 12. For Expo information visit the website www.ArizonaFineArtExpo.com.

Photo by Curtis Riggs: Cave Creek oil painter Atalanta creates some excitement at the Arizona Fine Art Expo every year with her nude portraits.