Treasures in Art Show on May 16 and 17 with demonstrations by featured artists

May 6, 2009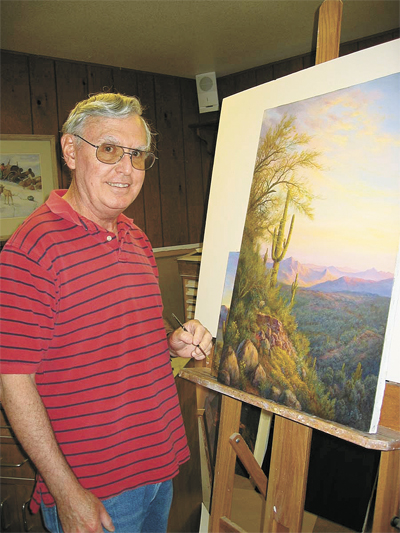 SCOTTSDALE – Meet acclaimed artists in person and watch demonstrations at the Treasures in Art Show on Sat. May 16 and Sun. May 17 from 9 a.m. – 4 p.m. Located at 8711 E. Pinnacle Peak Rd. on the southwest corner of Pima Rd., owner Dottie Renneker invites the public to see all the original works of her featured artists including paintings, sculpture, pottery, fine jewelry and furniture. During the show, refreshments will be served and Dottie will be conducting a sale of everything in the gallery.

One of the Treasures in Art featured artists, Doug Miley, is one of only 20 Master Artists invited from around the nation to the Inaugural Grand Canyon Celebration of Art, September 14 – 19 at the South Rim of Grand Canyon National Park. Miley and 19 other premier Grand Canyon artists will participate in a juried competition, exhibition and art sale at Grand Canyon's historic Kolb Studio. Each artist will donate 50 percent of the sale proceeds of their works to the effort to establish a permanent art venue at the Grand Canyon. For more information about Grand Canyon Celebration of Art visit www.grandcanyon.org/celebration.

In addition to Grand Canyon scenes, Miley focuses on realistic representations of Sedona and Arizona desert scenes in his paintings which have been purchased by collectors from nearly every state. Miley admits, "I can't remember the first time I drew something. I must have been two or three." He discovered his media for life when he received a set of oils at age eight from the same uncle from whom he received colored pencils at age four. Doug has been painting ever since, except for his stint in Vietnam. In 1993, he married artist Lilly Sandige, who is his manager.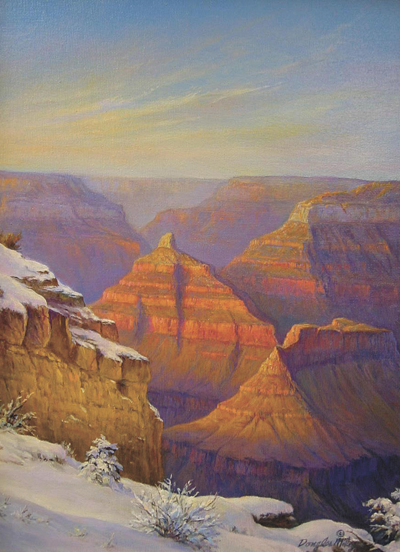 Virginia Wattles, another featured artist at Treasures in Art gallery, paints landscapes in oil and pastels. She also showcases the people and cowboys of the Old West. Many of her paintings are in corporate, private, collegiate and museum collections, including the library of former President Bill Clinton.

For more information on the show or the featured artists, stop by the gallery or contact Treasures in Art at 480-585-9800 or visit www.treasuresinart.com.

Courtesy Photos: Treasures in Art featured artist, Doug Miley, has been selected as Master Artist to participate in the Inaugural Grand Canyon Celebration of Art.

"Canyon Snow" by Doug Miley.