October 7, 2015
Realtor Joanne Eannacone asks, "Where has the time gone?"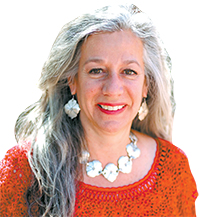 Joanne Eannacone most certainly understands the adage "Time flies when you're having fun!"
Her love for real estate, "the ground itself," along with her passion for people means the last 21 years of being a "realtor" have flown by!

Joanne first discovered this area while living and working on the East Coast. Gannett Newspapers was her first passion – the daily grind of a deadline and located within the tristate area of NY, NJ and CT printing 11 daily papers. Her background is advertising/marketing and she brings that knowledge into the real estate field. While on an assignment in Tucson in the 1990s and true to her curious nature she started to explore what Arizona had to offer. Was she ever amazed! Joanne realized you could vacation in just this state for 10 years and see and do something new every time. She has yet to see Antelope Canyon but you can bet if it is next on her list, then it will be done.

Extremely goal oriented, determined and focused are a few of the reasons for Joanne's long-term success.

She likes to share how she discovered her first home in Arizona – with only hours left to catch her plane – she drove out of town, heading north, and voilà, she saw Black Mountain and the beauty of the Sonoran Desert. She was sold immediately on this area and knew she'd just found home. She parked in a driveway with (yes) a "for sale by owner" sign. They were instant friends. Joanne purchased the home and closed on her birthday! What a present. She has never turned back, not even for a New York minute. Once here it was not only easy, it was Joanne's next path to become a Realtor. You see, her dad was a builder and being on job sites, reading blueprints, understanding construction from start to finish was in her blood.

Joanne Eannacone is incredibly knowledgeable and intelligent, full of energy, loves people, loves real estate and brings joy to life itself. She is the one to call at 602-803-0633 to assist in selling/buying homes, land and investments while keeping it enjoyable and always building relationships and making connections along the way.