BY MARIELLE D. MARNE | MARCH 18, 2015
Cibo e Vino reopens to bigger, better, tastier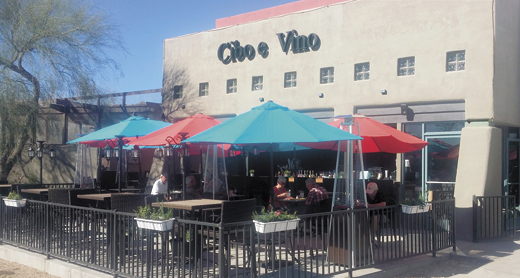 SCOTTSDALE – The wait is over, and Cibo e Vino is again open for business. The restaurant has expanded and been remodeled so much so that even longtime patrons think it's a totally new eatery. Rest assured, owner and chef John Collura is still in the kitchen creating his culinary magic.

Diners can continue to expect the authentic Italian cuisine for which Collura is known, but he's also flying in fish daily. He's got swordfish, sea bass, salmon, clams, mussels and even LOBSTER dishes on the menu. He's serving up prime meats – steak, short ribs, lamb chops, yet Collura still manages to maintain moderate pricing. As a result of the larger kitchen and added staff, service has improved, Collura said, since the kitchen is bigger and more cooks can prepare food alongside him. "Overall," he offered, "since being remodeled it's more comfortable, more airy, more spacious. It's everything I pictured and the customers love it."

Even more to love would be the nine jumbo Samsung high-def TVs, perfect to catch all the March Madness games. Commercials may not seem as maddening when you can enjoy happy hour all week (11-6 Mon-Fri and all day Sat & Sun). If basketball isn't your thing, take advantage of al fresco dining, even in the evening since the patio is equipped with heaters.
If once you've returned home and find you already miss being amongst friends at Cibo e Vino, know you can turn to Youtube.com to find the many appearances Collura has made on local TV. Look for John later in the month (March 21) airing live on Channel 3.

For your next meal, be sure to check out the recently remodeled Cibo e Vino, located at 34522 N. Scottsdale Rd., Ste. D1 (Terravita Marketplace). Call 480-595-6600 or visit on Facebook for more details.