NOVEMBER 5, 2014
Virginia Brooks announces new small art studio workshops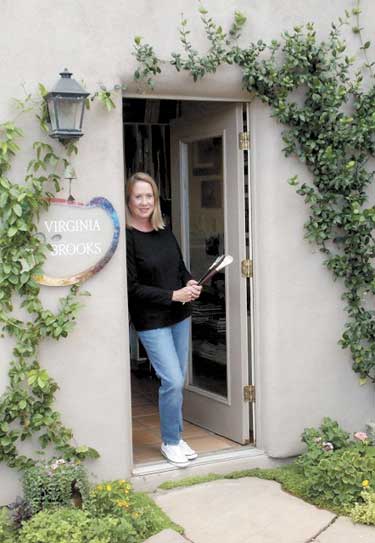 Virginia Brooks has long been a fixture in local art community. She is a founder of the Sonoran Arts League's Hidden in the Hills Studio Tour and a regular exhibitor at the Thunderbird Artists' Carefree Fine Art and Wine Festivals. Virginia will be opening her studio to the public, studio #40, during the Hidden in the Hills Studio Tour. The tour runs November 21 through 23 and again November 28 through 30. This is the home studio of "Come Paint With Me" private and semi-private lessons. And this is the perfect time to see how "Come Paint With Me" works.

"Teaching has come very naturally to me," Brooks states. "Painters are invariably fun, creative souls, whether they are beginners or the advanced painter wanting to learn something very specific. It is a pleasure to watch people grow artistically."

She continues, "I have held large painting workshops in the Foothills area and will continue to do so. But now I am adding something a little more in depth. Beginning in January 2015 I am going to start giving small art workshops in my newly expanded studio space. Four to five painters will join me and we will all paint together in my studio. We will have specific topics … for example: How to paint the foliage of the Southwest. Each painter can choose an element of the subject they wish to pursue. Everyone shares in what their fellow painters are learning. I explain everything I am doing, step by step. All supplies are included; paint and brushes, and a variety of canvas sizes can be purchased for a nominal fee. It is a great chance to try oil painting without purchasing all the needed materials. I can also host painting parties if you and your friends desire a private event."

Private and semi-private lessons will still be available as "Come Paint With Me" adds these private workshops. Visit Brooks studio during Hidden in the Hills to get a closer look at the new studio setup. For more information and future workshop dates email her at virginiabrooks@cox.net or call 480-220-6696.